Choosing a web hosting for your online business is an important step.
You must look for a reliable service, with a 24/7 support and a good value for money. But most of all, a fast web hosting!
In this post, I'm going to share my experience with A2 Hosting, a quality service which includes all these factors.
A2 Hosting New Account Registration
I started with searching and registering a new domain name to create my account with A2 Hosting.
Note that you can do either this way, or:
transfer your domain name from another registrar;
use your existing domain and update the name servers;
use a subdomain from A2 hosting.
I was lucky to find a good domain name: smartbiztrends.com (I also got a nice coupon code to receive a huge discount).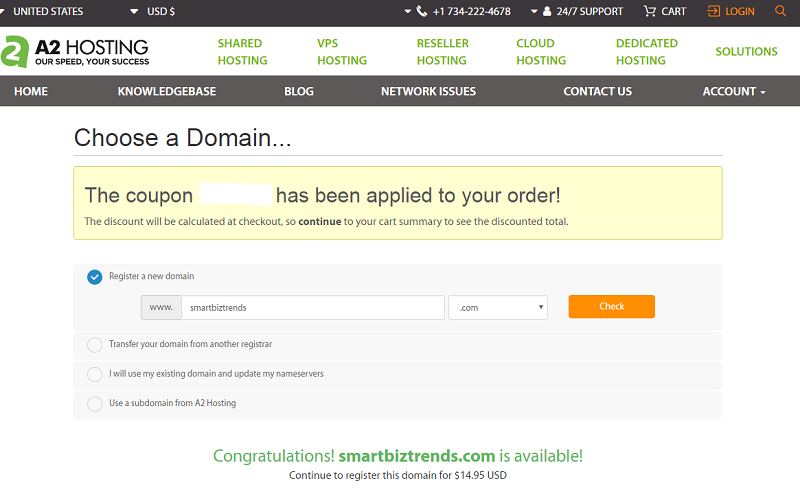 The next step is configuring the desired options.
First, you need to select the kind of package you want. I went with the Turbo Web Hosting, which include:
unlimited disk space
unlimited monthly data transfer
unlimited email addresses
unlimited MySQL databases
unlimited domains
cPanel access
LIGHTSPEED web server
SSD storage
Then, choose the billing cycle, to get a different price/discount, depending if you pay one month, 12 or 24 months.
You may want to add a dedicated IP (recommended for SSL Certificates (HTTPS).
Additional options include:
turbo boost (to get unlimited domains or 20x faster)
priority support
offsite backups
server location (USA, Europe or Asia)
Barracuda SPAM firewall
SSL certificate
Railgun
CMS auto-install applications
Cloudfare.
Once you have selected all these options, you can continue to the next step, like I did here: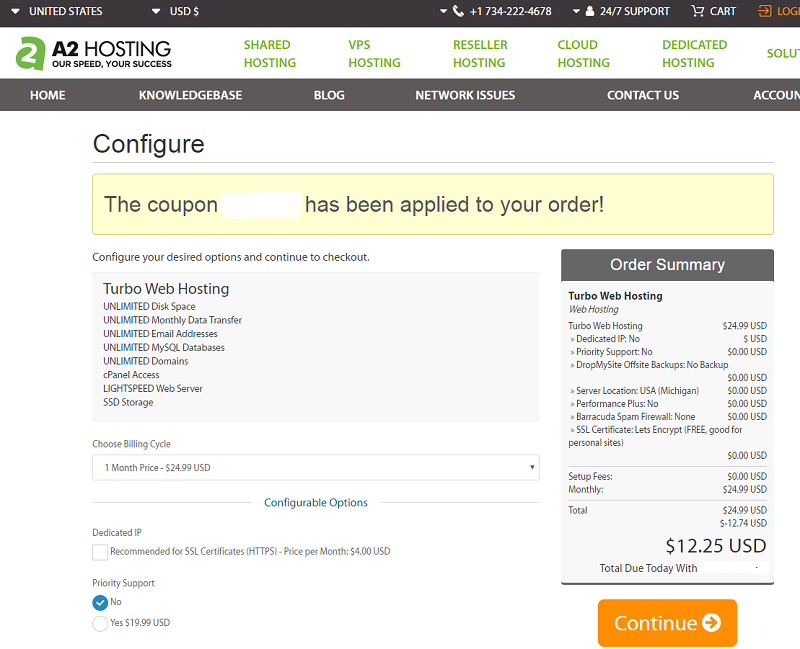 Now, you want to configure your domains, with:
DNS management (external DNS Hosting can help speed up your website and improve availability with reduced redundancy);
ID protection (protect your personal information and reduce the amount of spam to your inbox by enabling ID Protection);
Email Forwarding (get emails forwarded to alternate email addresses of your choice so that you can monitor all from a single account).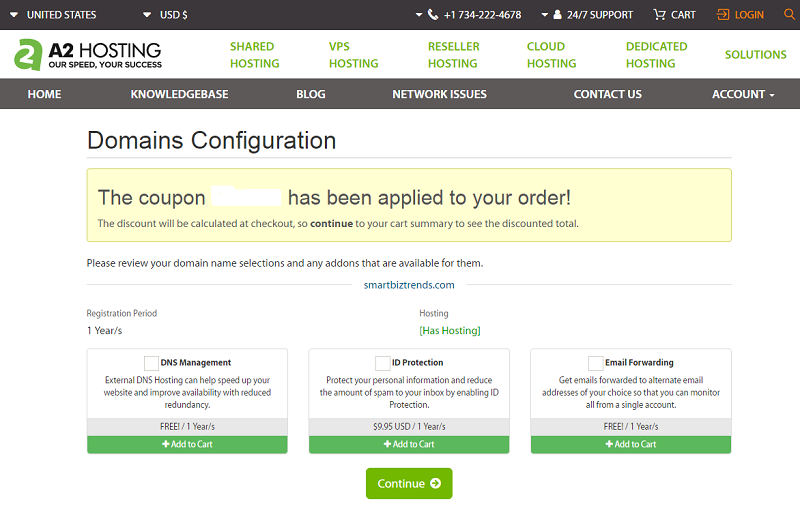 In the last step, you can review your registration order and enter your personal details to create a new account.
Last, proceed to checkout with your favorite payment method:
PayPal
bank wire transfer
Skrill
check or MO
 2CheckOut.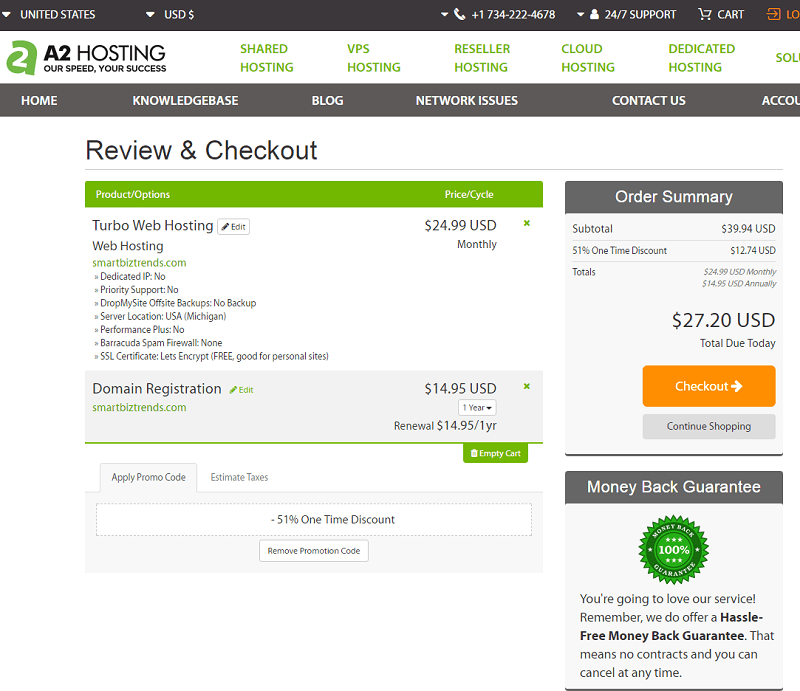 Now you can access to your customer dashboard.
A2 Hosting Customer Portal
As an A2 Hosting customer, you can just about find everything you need to manage your account by logging into the Customer Portal account. Just use the email address and password you set when signing up to log in.
Once logged into your A2 Hosting account, click the Services link in the navigation bar to access your Services, including any control panel(s).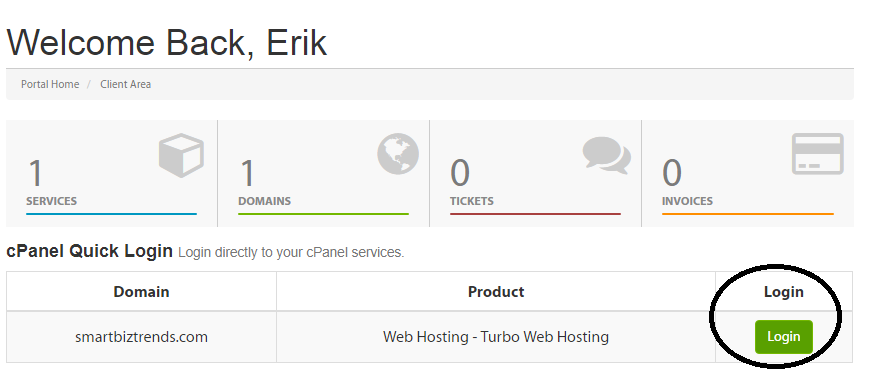 In your A2 Hosting dashboard, you also can:
access all logins and product details (including cPanel/Plesk, FTP, SSH, IMAP/POP);
view invoices and billing information;
add additional products and services (domains, SSL Certificates, etc).
My New Blog with A2 Hosting
To show you how easy is to set up a new blog with A2 Hosting, I proceed to log now in the cPanel of my new registered domain name: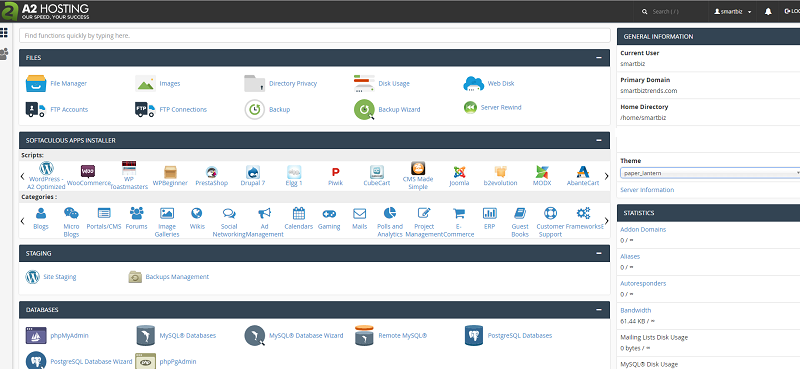 Now, I need to install WordPress.
How easy is this!
I simply click on the WordPress A2 Optimized icon, to be redirected to this page: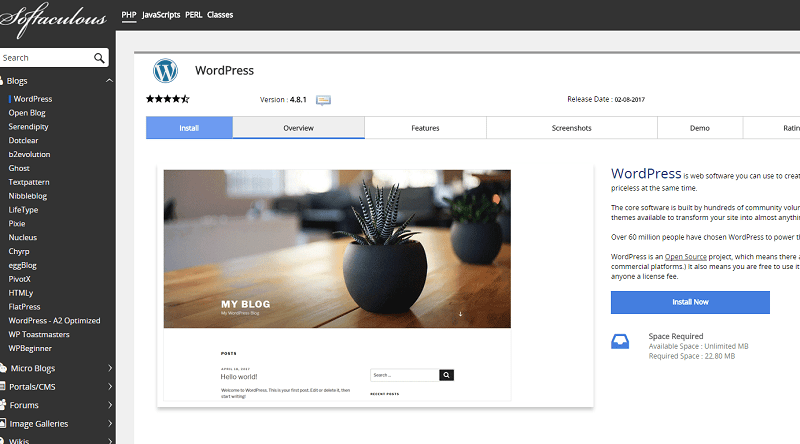 I click on "Install Now" to start the simple WordPress installation process, where I select:
protocol type (if your site has SSL, then choose the HTTPS protocol);
choose domain (the domain to install the CMS);
site name and description;
admin account settings (username, password and desired email);
language (most likely English);
desired plugins;
advanced options (leave them as default, if you don't know what they are).
Once ready, I click on "Install"!
After a few seconds, the process is completed: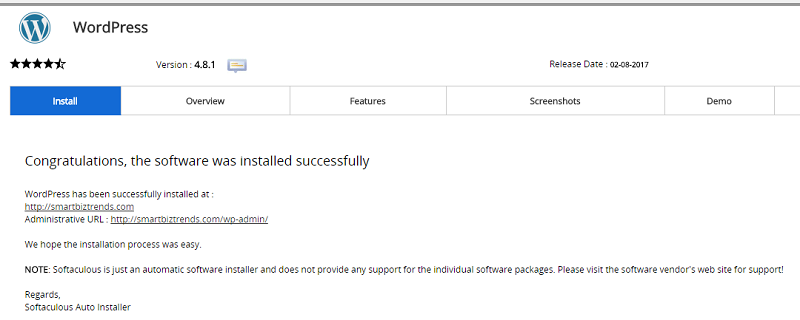 My new blog "Smart Biz Trends" is already online!
Click here to visit it.

Final Words
The loading speed of your website will strongly influence the success of your online business.
Choosing a fast web hosting is indeed really important!
I just made a test to verify the speed of A2 Hosting:

The result was astonishing: 36ms.
Looking at the following table, you can see how A2 Hosting offers a turbo speed: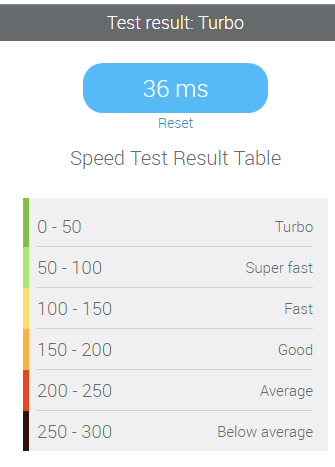 Aside than this very important factor, you will find very competitive prices!
Starting as low as 3,32 euro/month, you can get a shared hosting plan.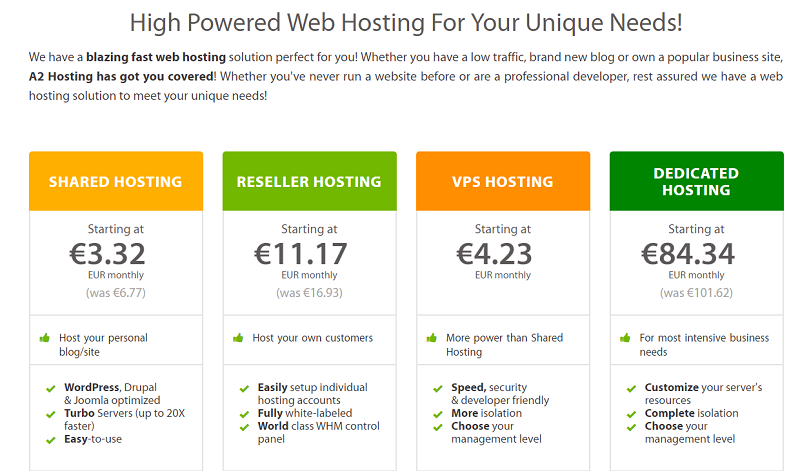 Together with a:
Guru Crew Support:  a friendly and knowledgeable support team available 24/7/365 to help;
Anytime Money Back Guarantee: give a try completely risk free;
99.9% Uptime Commitment: A2 Hosting is the host you can depend on with ultra-reliable servers.
You can't miss to give A2 Hosting a try!
And you?
What web hosting are you using?
Have you ever heard or tried A2 Hosting?
Please share your thoughts and experience in the comments below, thanks!