It's taken me years, but I've finally found a method for writing content that gets 100s of shares.
I'm not saying it's the only method, or even the best method.
But it's reliable and repeatable, and those are the most important things. Here's what happened to our traffic when we started executing this.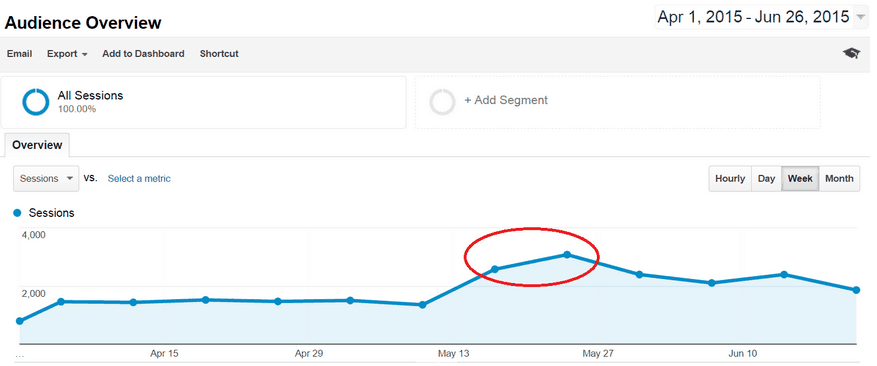 What is it?
I'm going to explain in 3 simple steps how I (and you) can generate content that gets 100s of social shares.
It could even be your next post.
Step 1: Plan It Out
A successful post starts with proper planning.
I know it sounds cliche, but the fact is most cliches are true – it's just that people hear them all the time and still ignore them, and therefore feel the need to classify them as cliches (which gives them another reason to ignore them later on).
When I just write a post out of nowhere, usually the result of a burst of inspiration, they never perform all that well.
Now, sometimes just for the sake of enjoyment it's good to run with the wind a bit, but if your long-term goal is to drive traffic to your website, you have to take the time to plan.
Results don't happen by accident.
So, what do you plan?
There's a few important questions to answer before you get started writing (but before you answer these, read the entire post, because it will influence the way you think).
What problem or question is my post going to solve?
How am I going to display the information?
How am I going to include dozens of influencers?
The last question might be the one that takes you by surprise a bit, and it leads me to my next point.
Step 2: Include A Lot Of Influencers
Of all the steps, this is the most critical. It's the secret sauce.
The influencers are the ones who carry the post.
I've seen and read a lot of great content, and it's often the great content that didn't incorporate influencers that I always feel is sitting on the sidelines, not getting the exposure it deserves.
This is particularly true if the blog itself doesn't have a ton of traffic.
On the contrary, articles that include dozens of influencers almost always perform well, on any blog.
Now, believe it or not, there is a method for including a lot of influencers in a post.
Again, it doesn't just happen. Here are a few examples.
The Expert Round Up Post

Expert round ups are when you feature dozens of influencers around a single topic/question. Here's a few examples:
39 Successful Entrepreneurs Tell Us About Their First Sale (390 shares)
These epic posts often end up being over 10k words, which allows them to rank nicely for a lot of long tail keywords.
The entire point of these posts is to feature influencers.
Long Lists Posts
Some posts sole purpose in life is to highlight other resources or posts – it's a noble existence.
For example, on Backlinko, Brian features The Definitive Guide To Linkbuilding as one of his primary resources on his sidebar.
Yes there is some unique content, but the crux of the post is the dozens of useful guides he's curated under selected categories. Mind you, these are links to posts other people have written.
I've done this myself with 126 Traffic Generation Case Studies. Despite the relatively little content of that post, it still managed to generate over 300 social shares and thousands of visitors to our post. The reason is because it featured over 100 influencers.
So what can you include in a long list post to make it fresh? A lot of things:
Blog Posts
Bloggers
Company/business websites
Tools (ex. chrome extensions)
Basically, any collection of related URLs works.
Resource Guides
Yes, there is a third option where you actually write a normal post, but you just improve it by giving it some extra leverage.
A perfect example is Hacking Triberr – How I Got A 6 Million Reach In Two Weeks With 80 Twitter Followers.
This is a nice case study and it's an example of the great content I see from time to time that under normal circumstances would go unloved.
But what helped this get almost 60 comments and 300 social shares was this at the bottom:
Simply acknowledging that this post was about Triberr, and adding a resources section at the end filled with Triberr related articles, was a great way to feature a ton of influencers without just completely link bombing the core content (which could have been distracting to the reader).
Step 3: Promotion
It's not enough to simply include influencers, you have to let them know about it.
Sometimes, like in the expert round up example, they're expecting to hear from you.
And other times, they aren't.
But in all cases, they're happy because they've just been linked it.
Normally what I'll do is the following:
A template I might use is the following:
Hey guys!

Just wanted to pop in and say that we've included you in our round up of top SEO tools.

Check it out!

ninjaoutreach.com/the-big-list-of-seo-tools-200/

Thanks for providing a valuable service, and if you feel inclined to share the post with your audience, we appreciate the exposure.

Cheers!

Dave
It's simple and to the point – no need to ramble on and on for something like this.
Conclusion
If you're wondering why no one is reading your posts, you're probably missing one of the above three ingredients.
Luckily, this is easy to fix. In fact, you can actually go back and retroactively add influencers to the post in order to allow yourself to reach out to them.
Seriously – why not? It's not breaking the rules or anything. You can revive old posts this way, and strategize for new posts as well.
Do you include influencers in your posts?