This is a sponsored post written by me on behalf of Knovio for IZEA. All opinions are 100% mine.
Do you want to create visually compelling video and audio presentations?
This has always been one of my desires since I started blogging, but considering that I'm not a big expert of technology, I always thought it was very difficult to create those professional videos I found on several popular websites.
Today I'm going to share with you an extremely easy to use tool: Knovio.
How Knovio Works
Knovio is a free online tool to convert PowerPoint slides, on desktop and mobile devices, into awesome video and audio presentations, directly from your browser.
There's no need to install heavy software, but you will need a webcam and a microphone (plus, your creativity and imagination).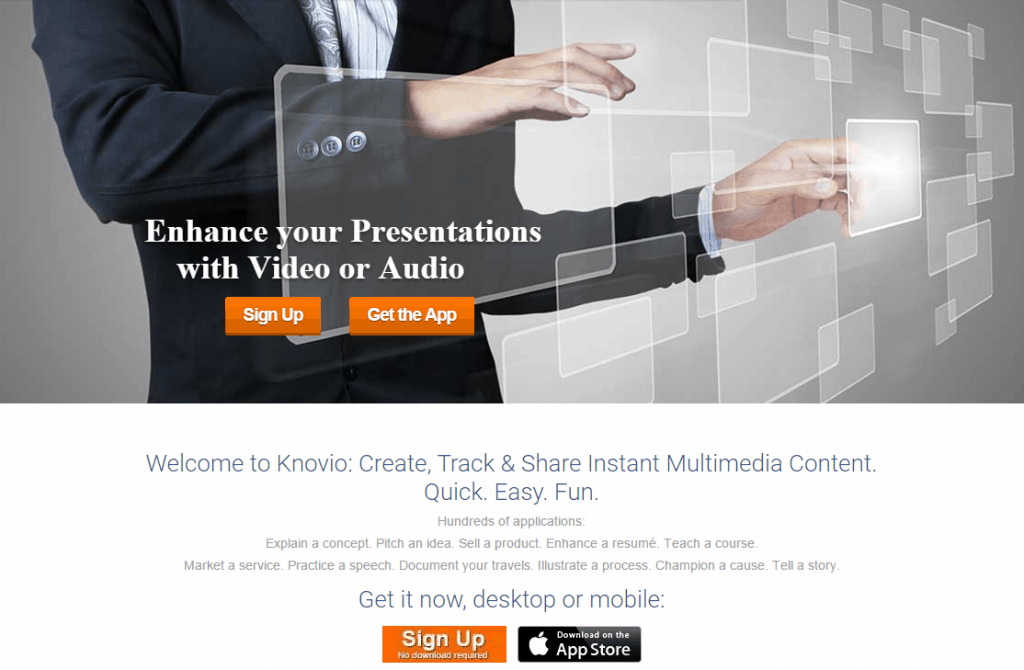 One of the features that make this application unique is the possibility to record video using your webcam and then merge it with a previously uploaded presentation.
The final product can also be quickly shared via the most popular social networks.
The term "Knovio" comes from the words "knowledge" and "vision", to highlight the characteristics of this interesting service.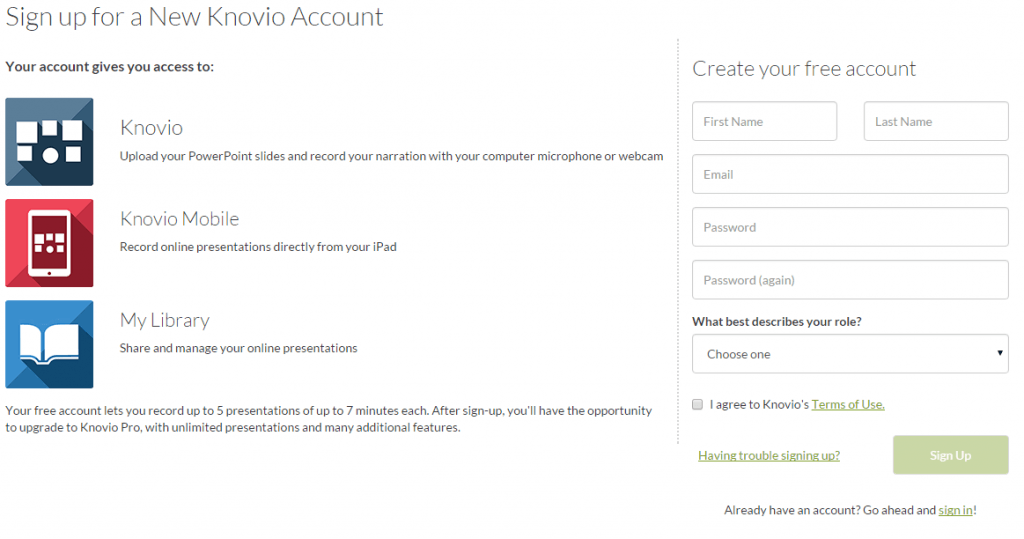 Once you sign up, you can start working on your first project right away.
The following image shows the Knovio dashboard and the first step: uploading slides.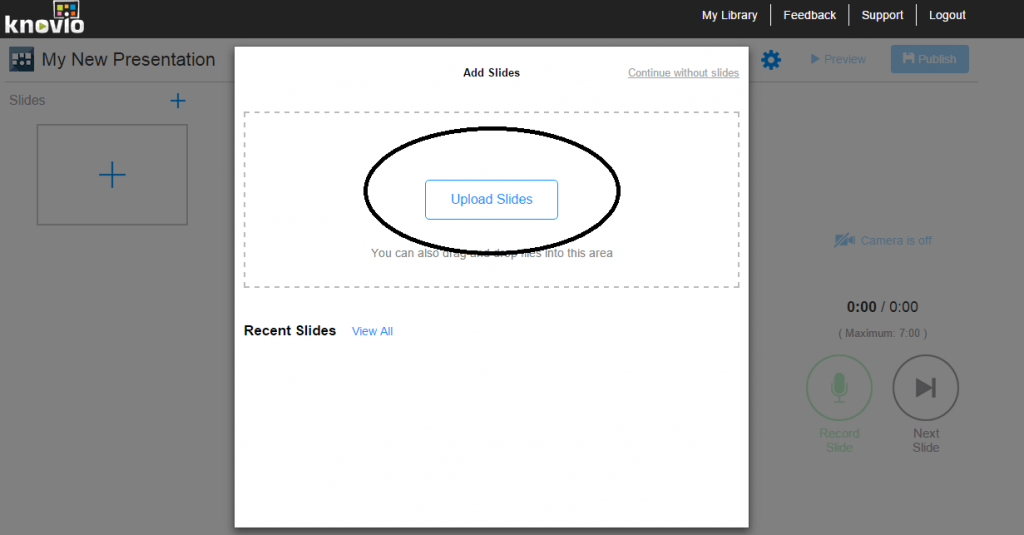 But in my case, I decided to have fun and download the Knovio app for my iPad.
It was a wise decision, because it's so easy to use!
Creating My First Video Presentation Using Knovio App and My iPad
I made a series of screenshots that will help you understand how simple to use the Knovio app.
As per deskptop version, after you download the mobile application, the first step is uploading your slides. In addition to PowerPoint files, you can use PDF's, as well as JPEG and PNG images.
For the mobile app, you have two options for this:
from the cloud (DropBox, Google Drive, Box or Knowledge Vision)
from an app (included from the camera roll)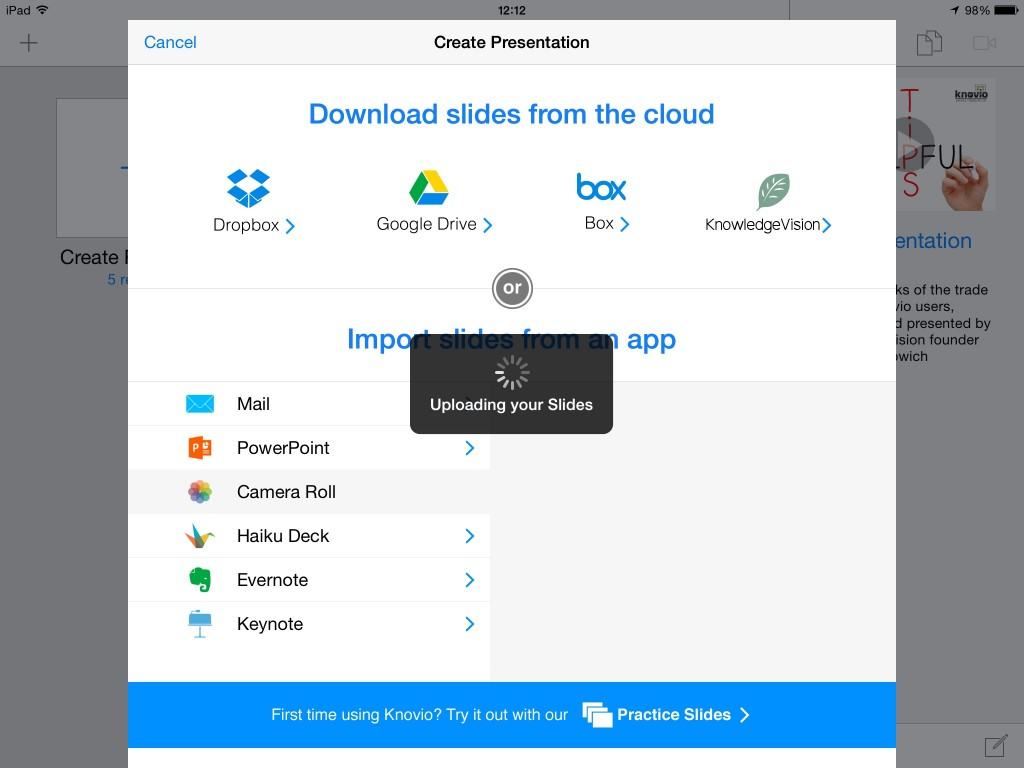 I decided to create a presentation with this title: "How To Get The Most Out Of Inbound.org Visiting From iPad".
So I took several screenshots when visiting Inbound.org from my mobile device to upload them to Knovio for my project.
Once done, I started recording my voice for each of the slide (you can even enable the camera for registering your face, but I decided to skip this option).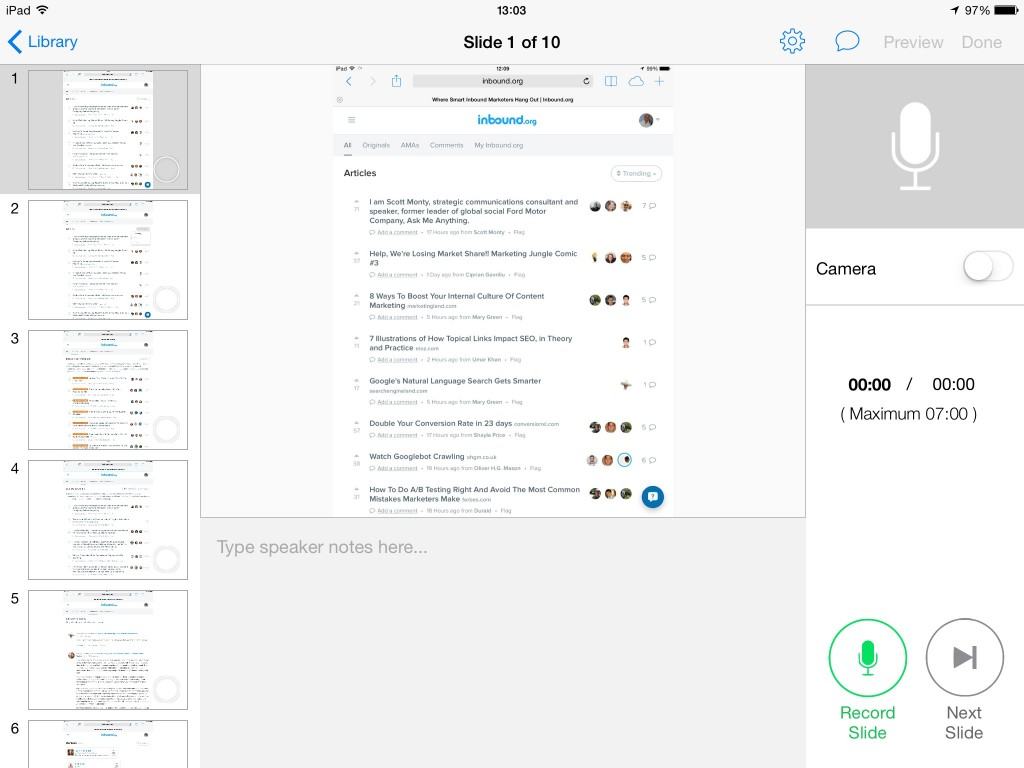 I typed some notes below each of the slides, so I just had to read once I started the recording process.
And this message from the app, made me actually smile.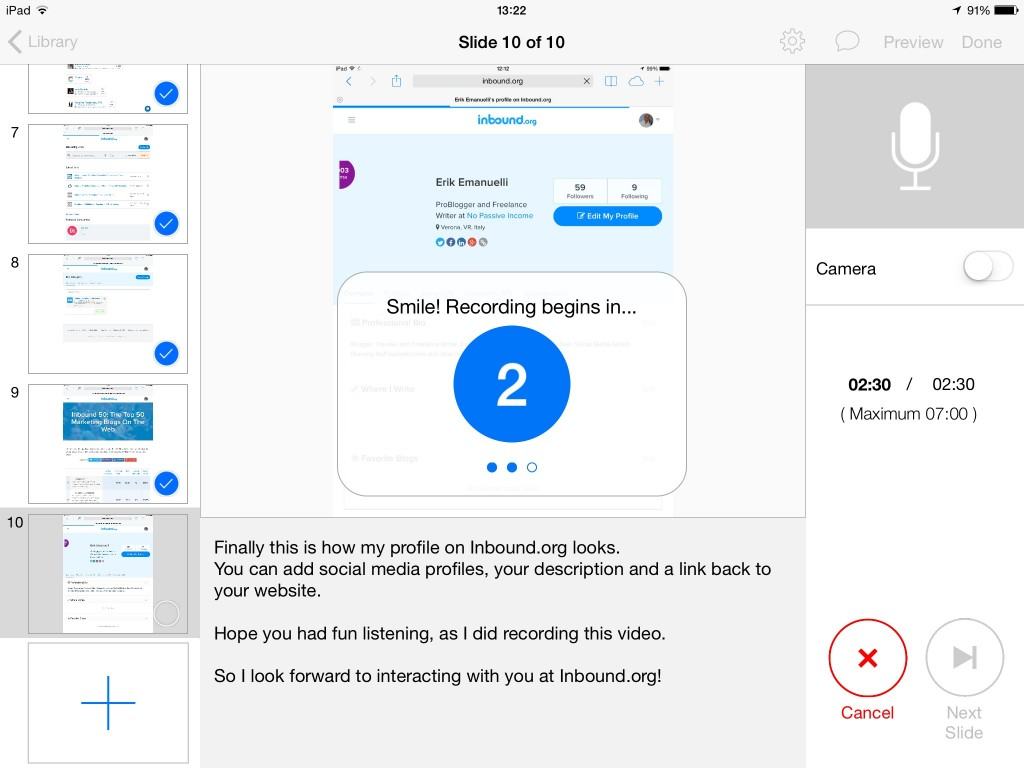 I recorded my notes for the ten slides in a matter of a few minutes and after checking the result of each of them, I decided it was time to finalize the project.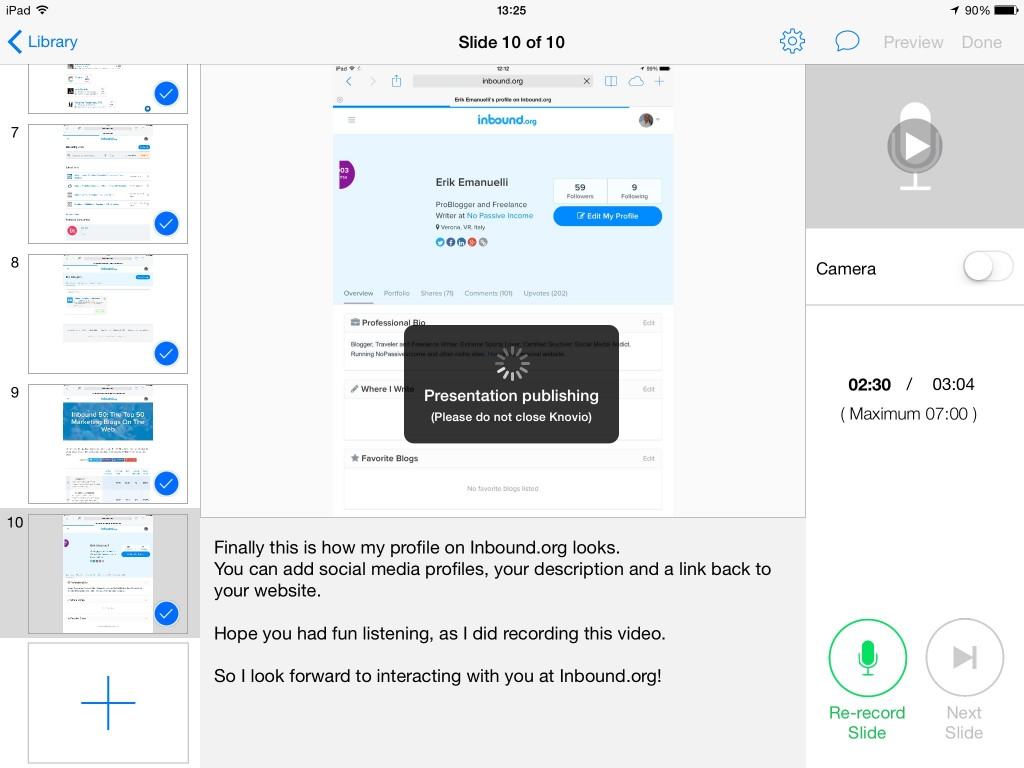 As you can see from these screenshots, the app is really simple to use and I actually had a lot of fun recording my first video presentation.
It was such a pleasure that I decided to give a 5 stars to this app at Apple store: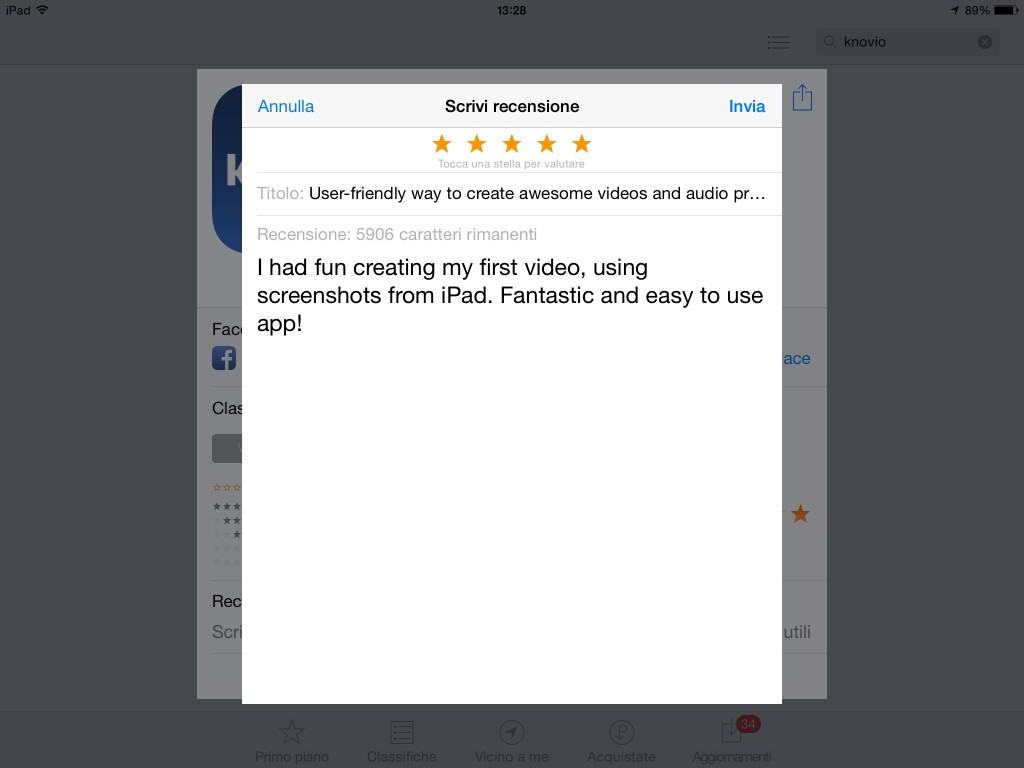 So, do you want to see see my project?
Click here or the image below to see it!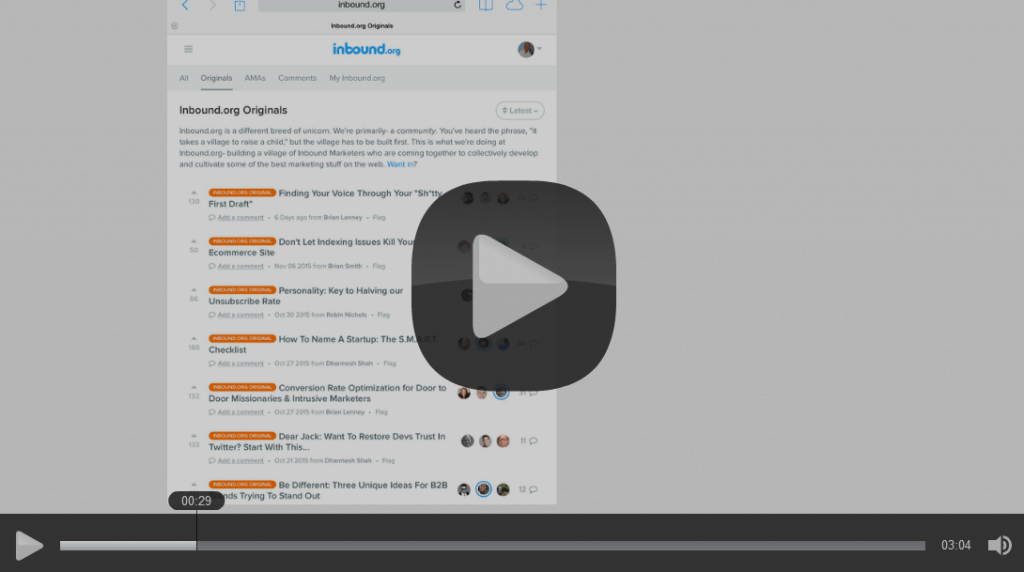 You should know that other than video format, you can import presentation files as PDF's.
Another interesting Knovio feature is that once you completed a presentation, you can edit as many times as you want after you've published it.
Knovio PRO
Knovio presentations are currently limited to 7 minutes in length for free accounts. You need to upgrade to PRO to raise the time limits or break your presentation into multiple parts.
Try Knovio Pro now!
It can really help you sell your products or teach a course, or simply introduce your business.
Here are some of the key features of Knovio PRO:
three easy steps to create a presentation
unlimited presentations
available 24/7 from anywhere in the world
easily correct mistakes and flubs with a unique no-record capability
PowerPoint animations supported
export hi-def 1080p video files
a full library of customizable design templates
Final Words
This tool can be very useful for those who use PowerPoint in teaching (Knovio is used in more than 700 colleges and universities on six continents), as it allows to explain in more depth the material presented.
But it's ideal also for bloggers and marketers, as it lets you create awesome video or audio presentations, in a matter of minutes
What do you like about Knovio?
Are you going to test the free version or the PRO one?
Do you have experience in creating video or audio presentations?
Please share your views in the comments below, thanks!