Industry Growth Over a Decade
In an industry as expansive and ingrained as the Information and Communications Technology (ICT) industry, it can be a challenge to see how it has grown and evolved over the years. Or how specialized and specific jobs like Ruby on Rails (RoR) developers and Ruby developer factor in the industry. 
Market Size
The ICT market is among the largest industries in the world. It was estimated to be worth 5 trillion USD in 2019 and forecasted to grow up to 6 trillion USD by 2022. The industry covers various tech industries; such as computer technology, telecommunication, software, hardware, and services. Telecommunications ranks as the industry with the highest generated revenue, while the "new technologies" market is the fastest growing.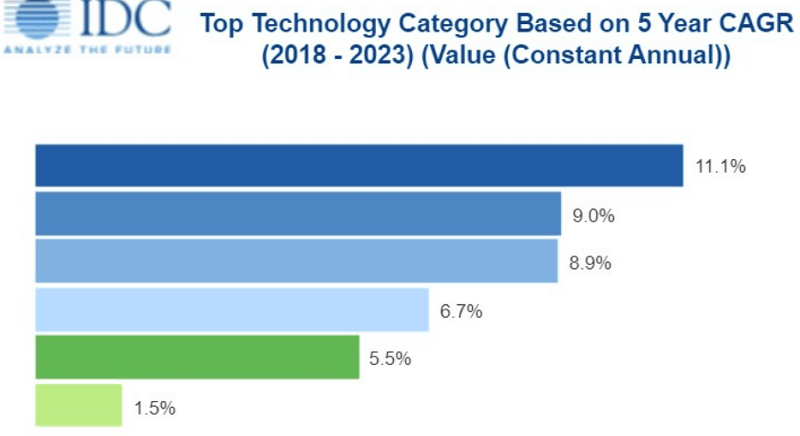 Source: Worldwide ICT Spending to Reach $4.3 Trillion 
IT expenditures have risen to meet the demand with the increase in potential revenue and branches of the industry. Worldwide ICT expenditure is estimated to reach 4.3 trillion USD in 2020. The IT service market was estimated to be worth about 765.5 billion USD in 2018 and is expected to grow in worth to about 852.7 billion USD by 2021. In 2020, the Software market revenue is estimated to reach about 504.05 million USD and around 780.5 million USD by 2025. 
Consumer growth
The rise in demand for technology has empowered the growth of the industry. The total number of mobile devices available worldwide in 2019 numbered at around 13.09 billion and is estimated to increase to 16.8 billion by 2023. China, India, and the United States rank as the top 3 countries with the highest number of smartphone users (September 2019), with Samsung, Apple, and Huawei being the top smartphone vendors globally.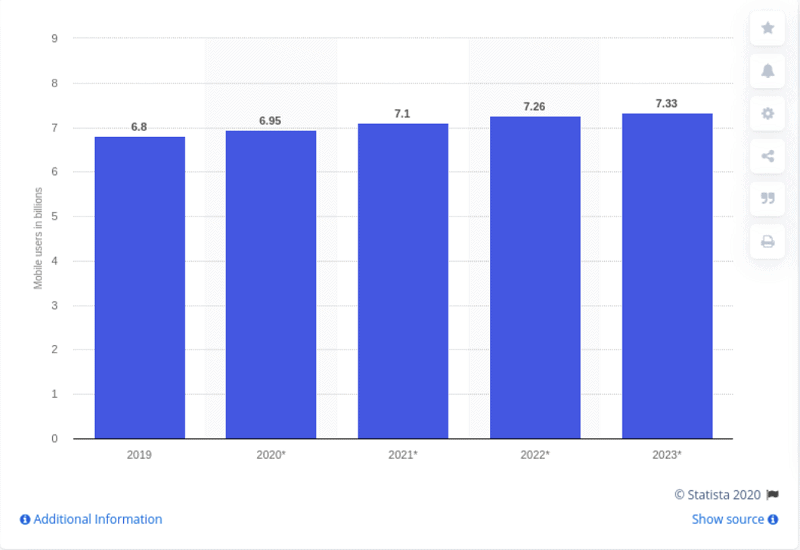 Source: Forecast number of mobile users worldwide from 2019 to 2023, Statista 
Global mobile users were estimated to be at 6.8 billion in 2019 and are estimated to reach around 7.33 billion by 2023. Worldwide smartphone users were estimated to number around 2.5 billion in 2016, 3.2 billion in 2019, and estimated to reach around 3.8 billion by 2021. 
ICT Service Expansion
ICT Services has also expanded from hardware implementation and support, training, and education towards covering collection, creation, management, processing, delivering, and presenting data and information to users. Services such as consulting, software development, software integration, and outsourced IT services have become a boon and highly profitable arm of this industry.  
In 2018, there were an estimated 23 million software developers worldwide. It is then forecasted that this number will grow to 28.7 million by 2024. The US alone is host to 1.6 million of these software developers. The US market for software developers holds around 557,000 tech businesses, and an average median tech salary 2 times that of the national medial wage.   
Drivers for Industry Growth
Innovation, development, and the evolution of new and improved technology is a major driver for growth in the ICT industry. In a 2016 study conducted by the World Economic Forum, they found that the major drivers for employment growth in the ICT industry (forecasted from 2015 to 2020), are: 
Processing Capacity

 

Big Data

 

Mobile Internet

 

Cloud Technology

 

Consumer Ethics

 

Privacy Issues

 

New Energy Technology

 

Internet of Things (IoT)

 

Flexible Employment Environment

 
The findings have held true, in that several of these continue to be sources of employment for the industry. A 2019 study conducted by the ICTC, Canada's Growth Currency – Digital Talent Outlook 2023, sites that the future of the country's digital economy will be anchored by innovating in industries such as: 
Communications Technology

 

Clean Resources and Technology

 

 

Advanced Manufacturing

 

Interactive Digital Media

 

Health and Biotechnology

 

Agri-foods and Food Technology

 
To support these innovations, they are also predicting that the following occupations will be the most in-demand jobs: 
Software developers

 

Data scientists

 

Data analysts

 

UX/UI designer

 

Fullstack developer

 

Cybersecurity Analysts

 

DevOps Engineers

 

Machine Learning Engineers

 
Aside from expanded applications and IT sectors, the major contributing element to the success of ICT is the people that make up the industry – the entrepreneurs, developers, engineers, and organizations that support the growing demand of consumers. The drive of these individuals to continue to discover, innovate, and evolve technology and its applications is a major driver for the growth of this industry. 
Success in reaching new consumers

 

Learning from new consumers

 

Optimizing internal processes

 

Expanding business lines

 

Improving sales and marketing efforts

 

Positive government action

 
Salary Trends over the Years
In the US, the median salary for a web developer in 2018 was estimated to be $69,430 annually. In 2020, the average web developer earns around $68,524/year, with the low-end being $44,000/year and the top-ranking with $111,000/year. Per the US Bureau of Labor Statistics, web developer jobs are predicted to grow with a rate of 8% from 2019 to 2029. Web developers have different skill set and specifications, such as: 
Frontend Web Developers

 

Back-end Developers

 

Full Stack Developers

 

Ruby on Rails Developers

Javascript Developers

 

Ruby Developer

 

Python Developers

 

Java Web Developers

 
Salary by Skillset
 

Median

 

Low

 

High

 

Estimated Average Salary

 

(Payscale, Glassdoor, Indeed, others) 

Frontend Web Developer

 

$77,000/yr

 

$48,000/yr

 

$131,000/yr

 

$70,000 – $75,000/yr

 

Backend Developer

 

$102,000/yr

 

$81,000/yr

 

$124,000/yr

 

$100,000/yr

 

Full-Stack Developer

 

$69,000/yr

 

$44,000/yr

 

$111,000/yr

 

$90,500/yr

 
Salary by Experience
 

Median

 

Low

 

High

 

Estimated Average Salary

 

(Payscale, Glassdoor, Indeed, others) 

Junior Web Developer

 

$59,000/yr

 

$38,000/yr

 

$95,000/yr

 

$55,000/yr

 

Senior Web Developer

 

$88,000/yr

 

$58,000/yr

 

$139,000/yr

 

$92,000/yr

 
Salary by Programming Language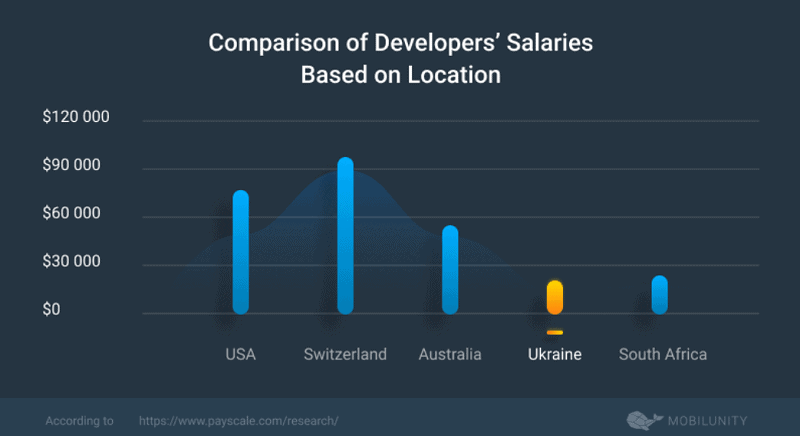 Source: What's the Cost of a Developer in Ukraine?, Mobilunity 
Grow and Build with the Industry
An example can be made using Ruby on Rails programmers. Ruby on Rails is among the increasingly popular programming languages for web development but has only been around since 2005. Despite its relative "newness", the annual Ruby on Rails developers' salary is still able to be competitive in comparison to its long-lived contemporaries Java, C#, Javascript, and Python. Ruby on Rails developer cost may vary depending on the level of skills, experience, and employment location, but it still is competitive in the global web developer market. 
And just like Ruby on Rails developers, the industry will continue to innovate, evolve, and expand in the oncoming years. This is supported by how technology continues to drive more of our day-to-day activities and minutiae, expanding on the different ways of exploring the universe, and helping save the planet.