Every blogger and a lot of website owners like comments. As someone wrote "comments are blood of blogs". Without them blog looks like empty house or dead city. We all love comments. But we like them only when they are from real people, not from spambots.
And there is a connection – the more popular blog is, the more spam comments it will get.
In this post I will try to show you how to stop SPAM in comments, most popular antispam software for bloggers and some funny examples of spammy comments.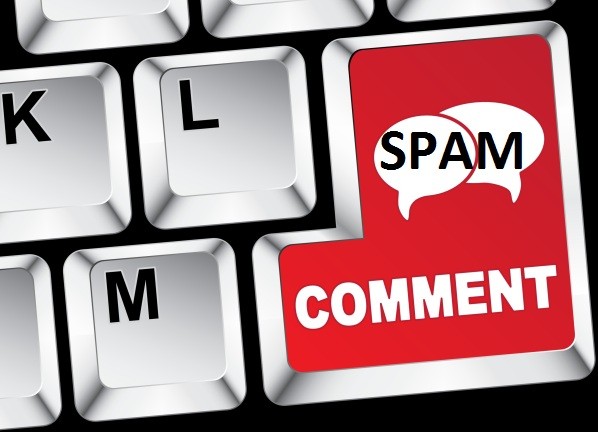 If you like this post – share your love by tweeting, liking or give + 😉
Okay, first of all – how you can operate with comments?
You can accept all of comments – Google and your readers will hate you, spammers will love you…
You can don't accept comments below your posts – I don't like it, blog should live…
You can check all of your comments manually – it's never ending job. Instead of doing it you can write a guest post for NPI…
You can install and configure anti spam software for your blog. It takes only some minutes, but it saves you tons of work
After choosing 4th answer (did you choose another one?)  we must decide, which software we can use. There are a lot of free and paid commenting systems we can use on WordPress, but I'll concentrate only on most popular systems.
1. Facebook Comments
Some of blogs use FB system for commenting. I don't like it because I'm not the host of the comments (Facebook is the host). FB changed a lot of things recently – for example landing page disappeared. Do you want to lose all of your comments?
2. AKISMET
AKISMET was the system I was using for a long time (on Polish market I still use it for some of my small niche sites).
But AKISMET isn't perfect. Sometimes it treats real comments as a spam, and sometimes treats SPAM like normal comments.
What's more, some weeks ago I made about 100 comments on a lot of blogs in two days.
After it AKISMET 's spamfilter qualified my comments as a spam. I don't know if they have blacklist or something similar, but on blogs where AKISMET was in use, my comments go to spam folder, without any information. Luckily after contacting with their support, problem was resolved.
3. Comment Luv free version with G.A.S.P.
CommentLuv free version is the commenting system I used prior to paid version. It has some features, which other systems don't have.
For example:
It gives to commentators possibility to choose from their 10 recent posts to link back to own blog (it use RSS for this purpose)
You can set who can choose from 10 last posts – only registered members, nobody, everybody
You can set dofollows or nofollows for comments
With another plugin, Growmap Anti Spambot Plugin, it protect you against spammers (there is a checkbox hidden from SPAM bots)

4. Comment Luv Premium Version
It's paid version of this tool. It has all of the features from free version and lots more. For example, in CommentLuv Premium you have:
Integrated GASP
Integrated Twitter link
You can ask your commentators to pay for some "link juice" (you will get more posts to choose from)  via Tweeting
Top Commentator Widget

It's not free, but it's worth to buy it – you can try it in comments below 😉
5. Disqus Comments
Some of my friends use Disqus. I don't use it because it doesn't give a prize for commentators – backlinks.
6. Triberr Comments
I like Triberr because it's the best social tool I use, but commenting system is not my favourite. Triberr, similarly to Disqus, doesn't reward commentators with backlinks to their websites.
7. Own AntiSpam System
If you are software programmer, you can stop SPAM by modifying code of your WP, for example by modifying   '.htaccess' file. If you don't know how to do it, you can find free guide about it below this link – it's site of my friend Sandeep Kumar
8. Other Commenting Systems
I don't know them – so I can't introduce it to you
All of above mentioned systems can stop automatic SPAM made by SPAM bots (it's about 95-99% of SPAM). But we still have manual, human spammers (in last two weeks I got ~40 handmade spam comments).
How I manage with them? – I put them into trash or spam folder 🙂
And how I separate the wheat from the chaff? Read carefully, below I reveal my tricks.
How to check if your comments are or aren't SPAM
First of all I'm looking for photo/image from Gravatar. Comments from my friends are accepted almost automatically
If name of commentator is filled up with keywords, I'm looking for another signs of SPAM
Using  author name in a comment
When someone use name of the author in the comment, I'm almost sure that it's real comment
I perform "Coca Cola" test. It means, when I'm not sure if something is SPAM or not, I imagine that the comment is placed below post about Coca Cola. When the comment is too general, it will fail this test 😉
Below you can find some examples of those types of spam comments: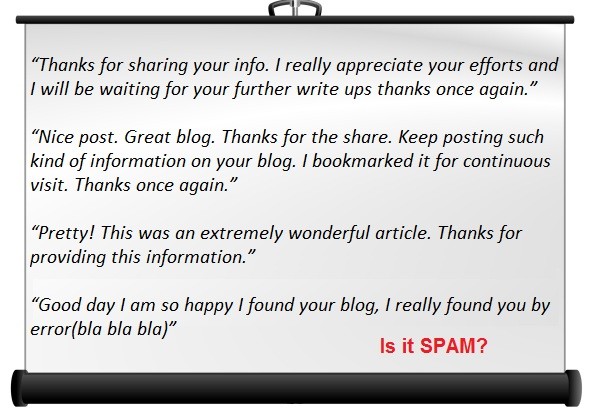 But sometime spam commentators try to be even smarter:
"good post about… (and here is a title of your post)"
 Nice comment with great value…
There is only one more issue to discuss about SPAM – should we accept automatically comments from people who made some real comments before?
Some bloggers accept it, some bloggers don't accept it.
Why I don't accept comments automatically?
There are two main reasons.
1)      I want to know who participate in commenting and I don't want to lose some comments (as you know, I'm answering on almost all of comments on NPI)
2)      Commenting systems in most cases check email, name and website to identify the commentator. But sometimes, if spammer knows some emails of your friends, he/she can pretend to be someone else and post spammy links inside the comment.
Okay, I wrote everything I want about SPAM in comments, now it's your turn.
So, please share your experience with comments and anti spam software you use on your blog(s).