When I started blogging, back in 2010, I created my first website with WordPress and I had lots of things to learn.
It was fun and instructive and while I made many mistakes, with time I achieved the first successes.
This gave me the confidence and motivation to create new projects and open new blogs.
Today, I own several successful websites based on different business models, but something that I'm surely struggling with is the management of all them.
Even if you don't regularly update each of your sites, you must take care of other serious tasks like blog security, which includes the backups and update of the plugins or CMS, just to name a few.
With the evolution of blogging (and WordPress), there are some services you can use to get help with your journey.
In this post, I'm going to introduce you CMS Commander, a powerful tool you can use to manage all your sites under one simple dashboard: post, update, add and remove plugins, install and update themes and more (it supports WordPress, Drupal, Joomla and phpBB websites).
How to Get Started with CMS Commander
To get started with CMS Commander, sign up here.
After this, you need to download the WordPress plugin.
Under your WordPress dashboard, go to "plugins", then "add new" and search for "CMS Commander Client":

Once you have installed it on each of your blogs, you need to visit your CMS Commander dashboard and add your sites there:

Simply type the URL and your admin username, that's all.
Once you have added all your blogs, you are ready to go (just you to know, there's an option to import all your websites in bulk).
Also, if you have lots of sites, you may want to add "group names" to manage them better.
CMS Commander Features
The CMS Commander dashboard gives you an overall look at all your websites.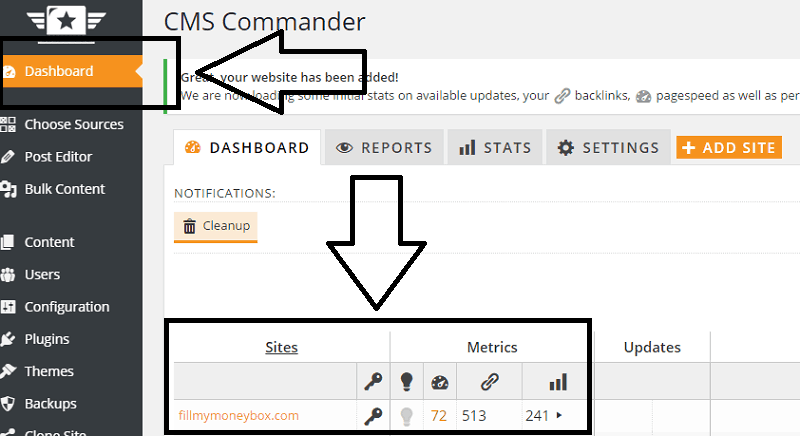 Here are some of the things you can do:
manage themes and plugins for all of your sites
1 click update for themes, plugins and WordPress – you can also setup automatic updates (this includes minor/major updates to WordPress core)
1 click admin login for each site you are managing
manage comments for all of your sites from one location
Google Analytics Integration to keep you on top of your traffic stats
uptime monitoring via Uptime Robot API
custom branding for WordPress plugin
backup your blogs automatically to Amazon S3, Google Drive, Dropbox, Email and more
supports 2-factor authentication
activate maintenance mode with 1 click
database maintenance and optimization built in
clone full websites from one domain to another
manage users for each site
know exactly what changes have been made via the platform using the activity log
and lots more.
Let's see in details some of the actions you can do in the CMS Commander dashboard (I made the test with one of my niche websites: FillMyMoneyBox.com).
If you hover the mouse on the URL of your site: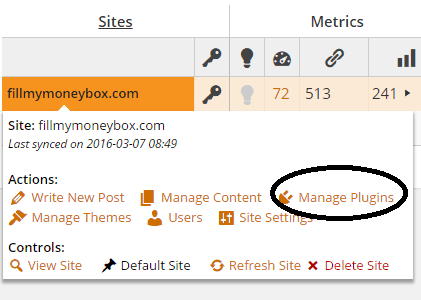 you can:
write new posts
manage your content
manage the plugins
manage the themes and users
manage the site settings
For example, if you want to manage the plugins, clicking on this option will open a new window:

Here you can update the plugins on your site, activate or deactivate them (also in bulk) and install them on selected sites.
Another interesting feature is the "Google PageSpeed Tracking".
It's important to periodically monitor your site performance, as you know that a bad performance rating negatively affects your search engine's rankings: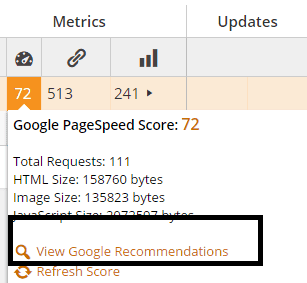 You can discover your site Google PageSpeed score, checking the total requests and viewing the recommendations to improve it.
The next feature is the "metrics". It offers a picture of how your blog's off-page SEO is going: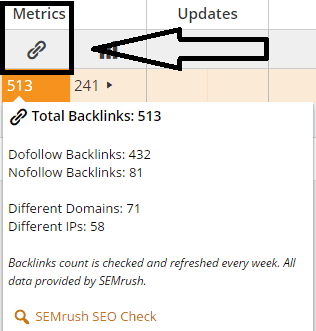 Here you can check the total backlinks of your site (with the indication of dofollow and nofollow backlinks), number of different domains and IPs.
If you authorize your Google Analytics, you can also monitor your traffic stats: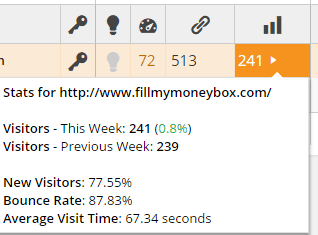 Here you see, at glance, the visitors of this week (and the previous one), checking how many are the new visitors, bounce rate and average time visit.
Another tedious task of WordPress blogs is managing comments (included SPAM).
In the "comments" section of CMS Commander dashboard:

You can simply manage comments by hovering the mouse on this feature, and approve or delete each of them (also in bulk).
An important part of keeping websites secured is the backup: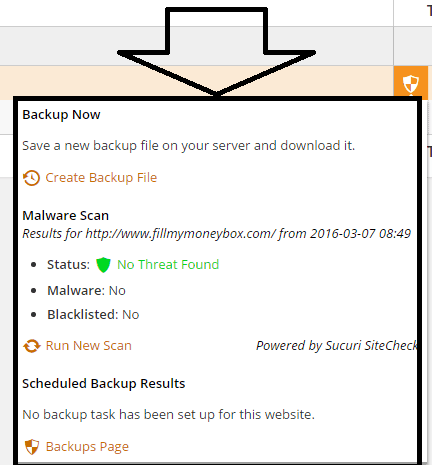 With CMS Commander you can save a new backup file on your server and then download it (you may also want to schedule your backups).
Also, there's an interesting option to monitor your sites and check if there's a malware (powered via Sucuri).
Other than the main dashboard tab, if you visit the "reports" tab, you can see all the actions done during a certain time.
The stats tab gives, at glance, a graphic with unique visitors, bounce rate, average time on site, percentage of new visits:

While the "settings" section, grants the following options:
Delete, Edit or Re-Add Your Sites
Set Up Uptime Monitoring
Custom Client Plugin Branding
Manage Automatic Updates
Connect Your Dropbox, Google Drive and Analytics Accounts
Notification Emails
Content Curation with CMS Commander
A feature that is worth a particular mention is the content curation.
CMS Commander supports more than 20 different sources, offering related images, videos, posts, affiliate products and more from enormous brands like Yahoo, Google, Youtube, Amazon and more (all these content sources have its own API).
For example, with Google News, you can pull out some interesting content, based on your keywords and choose to add it in your posts (or edit it further).

Other than that, within your CMS Commander dashboard, you have the option to update blog posts (also in bulk) and insert images or videos with a matter of clicks.
Finally, there's a rewriting and article spinning feature that you can use to spin content and create unique article variations to post to multiple of your sites.
Monetization with CMS Commander
There's an interesting monetization option, with affiliate ads and links provided by 9 big content providers, all of which will earn you commissions.

Also, there's an affiliate program that pays you for bringing new customers to CMS Commander, with 30% recurring commission and unlimited cookie duration (which many do not offer).
Be sure to sign up here.
CMS Commander Documentation and Support
The material offered by CMS Commander is extensive, explaining everything from the user point of view, since the installation of the plugin up to deal with all the features.
There are useful tutorials as well as a link to their FAQs.
If you like videos, there's a related educational section.
Check, for example, this video with an introduction to CMS Commander:
If you ever need help (that you can't find in the documentation section), you can ask the support team.
They'll answer within 24 hours and offer support during the weekends.
Plans
CMS Commander gives a free plan with some basic features, if you want to manage up to 5 sites.
You can enjoy all the premium features, with just $8/mo for up to 5 sites or $12/mo with up to 10 sites.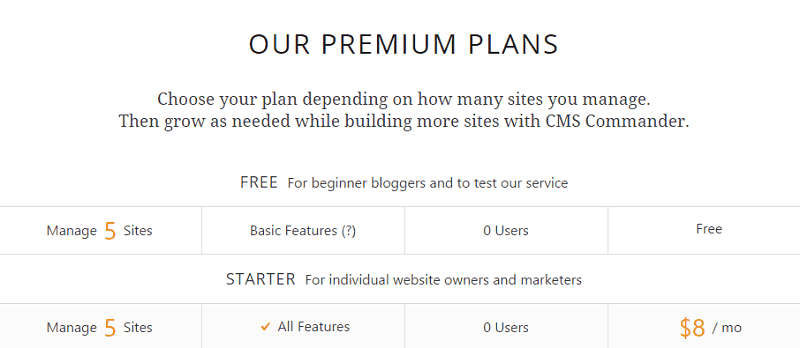 The price increases depending on the number of the blogs you want to manage.
Remember, there's a 14-day trial, so you can run a test with all the premium features before deciding to make the purchases.
Final Words
If you are online since more of a couple of months, chances are that you own more than one website.
If you want to optimize your time and avoid all those tedious tasks that any blog requires, then CMS Commander is for you.
Plus, it offers many juicy features to help you improve your online journey.
What are you waiting for?
Sign up for a 14 days trial here.
What do you think?
Have you ever heard of this tool?
Are you going to test it?
Please share your views below, thanks!