I have used WordPress from day one of my blogging. I have my reasons for sticking to the blogging tool.
WordPress is growing rapidly and many more people are excited about it. Starting with WordPress is simple.
Any website can be built with WordPress. Whether it's a simple blog, an eCommerce website, a news dedicated website, a video streaming website, etc.
WordPress is just the solid foundation that allows for the building of just any structure. Everyone using the tool seems to be happy.
That doesn't mean that WordPress doesn't have any pitfalls. It does have areas that sometimes make its users mad at it. But the advantages outweigh the disadvantages. That explains the exponential growth of the WP community.
What's more fascinating is the ease involved when starting a WordPress blog. Colin Newcomer has written an excellent step-by-step guide on how to start a WordPress blog.
There are many of such guides on the Internet. You are able to completely build your WordPress site without hiring wallet threatening developers.
Some weeks back, my guest Suzan Valez published an ultimate guide for WordPress beginners. An interesting piece to read.
Erik Emanuelli points out some 13 common mistakes that must be avoided by WordPress users. Christopher Jan shows us 5 Ways to Build a Killer WordPress Site for Your Business
I'm not the only one seeing the positives in WordPress. There are thousands of users out there. So I reached out to some of them to find out why they think WordPress is better.
Let's read their answers.
Q. Why Is WordPress Better Than Other Blogging Platforms?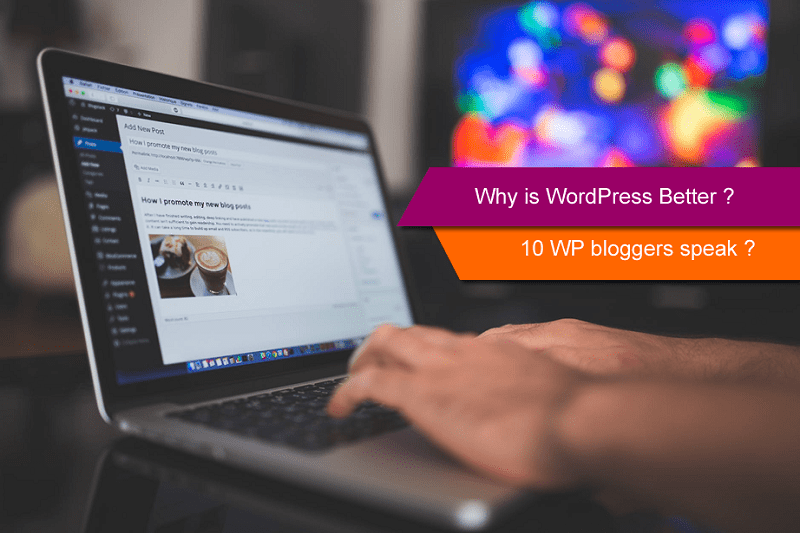 In many cases, bigger is best. That's where WordPress comes in. It's the biggest and most well-known blogging platform out there that offers a professional service to all writers and bloggers. Their blogging platform is way above the rest, is easy to use, and comes with great customer service and tutorials. It's easy to not only publish posts but to also leave comments on other blogs and become a part of the many blogging communities, which is an essential part of being a successful blogger. However, it's not only WordPress that offer support and encouragement, but so does most of its users. I'd never have gone on to publish my first collection of short stories without the support and encouragement I get from those that use WordPress.
A. Donna Duncan (SEO / Content Marketing Consultant)
I use WordPress because I can achieve results faster and less expensively than on other platforms.
The abundance of WordPress themes and plugins makes it fast and easy for WordPress-savvy users to add new features and functionality to their website at potentially much less cost than the competition. This gives WordPress website owners a distinct advantage over others who may have to design, build, test, and deploy custom code to achieve the same outcome.
Similarly, WordPress has a couple of excellent SEO plugins, free and paid, that streamline many of the technical and editorial aspects of an SEO's job. They help non-technical WordPress users learn and master on-page optimization. These benefits can lead to faster evolving, better-optimized websites that attract the right audiences and result in more or better conversions.
For years, I've used WordPress on all my blogs. I would hand code the static site, then add a blog with WordPress.
Back in 2014, I built my whole https://THGMwriters.com website on WordPress. How much easier it is! The main reason I swear by WordPress is the size of the developer community. When something needs to be created, somebody creates it. It's like magic.
A great example is when I finally got around to converting from http to https. I found several plugins to search ad replace the non-secure version with the secure version in blog posts, on pages, in images, etc. I chose Search Rejex, and it worked great. I assume the others would have worked great, too. I could not so easily have done this with hard-coded pages. I might not have been able to do it in Joomla or Drupal. But in WordPress, it was no sweat. If there's a need, somebody creates it.
A. David James (Digital marketing specialist)
Hi, I'm David.
I use WordPress across all of my websites. For small entrepreneurs that want to get a site up and running with ease, you cannot really beat WordPress. It is inexpensive, it is flexible, it is easy to manage and there are developers that are always working to make things better.
I find that it provides a low cost to enter and test a market, and can generate revenue several fold in the future.
Technically, it is good for SEO and it can be quite lightweight. You can easily add plugins to customise your site the way that you want it to be for your audience.
It's a great entry-level CMS.
A. Minuca Elena (Minuca creates awesome influencer roundups that provide quality content, brings huge traffic, and helps bloggers connect with influencers.)
WordPress is still the best, even if you have to pay for the hosting
When I built my first site, I didn't know anything about the technical aspect of managing a site or what are the pros and cons of each platform. I researched online and saw that most internet marketers recommended WordPress.org for a regular site and Shopify for an eCommerce site. So, I choose WordPress.
Since then, I have worked on clients' sites that are using other platforms like Shopify and Webbly and I must say that I still prefer WordPress. WordPress is easy to use, even if you aren't techie (like me), there are many great plugins that you can use, free and paid themes that you can customize to make the site look gorgeous and professional.
Stay away from free platforms that give you a limited control on your site and few options. There are many great opportunities for cheap and quality hosting.
A. Justin March (SEO and Chief Buddy)
For me, WordPress is the best platform because its the biggest and the best supported. It's also easy to get something started allowing novice users to easily build a blog from scratch. For me, the benefits include:
Users have loads of control over most areas and aspects of their site.
There are loads of free plugins and themes make implementation a breeze. When I think of how awesome WP is I always think Yoast SEO, need I say more.
Once you have some experience you can grow to add features like forums, membership for SAAS sites and even stores.
There are impressive premium themes like Genesis (which is super fast and easy to use).
A. Harpreet Munjal (Why WordPress Is Better than Other Blogging Platforms)
WordPress is an Open Source Platform and widely used by Biggest Bloggers to Newbie Bloggers. that's Why WordPress has more than 30% Share on the Internet. that makes WordPress the most popular blogging platform.
WordPress has some great features & advantages for a newbie blogger to professional bloggers.
First of all, WordPress is very to install & get started with WordPress. now all hostings offer one-click WordPress installation. users have no need to be expert in coding.
WordPress Blog is also affordable
then its also easy to design and customize a WordPress site or blog. anyone who doesn't know coding can do this on WordPress
Easy to Admin Panel
SEO
Wordpress is not an SEO friendly platform by default but we can make it SEO friendly by using plugins like Yoast SEO. then make changes in SEO settings. which is not possible in any other WordPress alternative.
WordPress has a large library of free to premium WordPress themes & plugins. any Other WordPress Competitor doesn't offer more choices as WordPress…
WordPress is also a suitable platform to start any type of site or blog. anyone can start a simple blog to fully e-commerce site on WordPress.
Biggest Community to Support.
That's why WordPress is more advanced and most reliable platform For blogging.
A. Janice Wald (Janice Wald, Blogger at Mostly Blogging)
Why is WordPress the best blogging platform?
1. Resources: WordPress offers more resources than other blogging platforms: For example, many blog posts are written about WordPress in case you need information. Also, Facebook groups and forums that are devoted to WordPress exist you can turn to for help.
2. Plugins: So many plugins are available for WordPress, people have written books about them as well as blog posts. I know; I read one! WordPress has actually been criticized for having too many plugins!
3. Strength in numbers. Since more people use WordPress than any other blogging platform, you know it's valuable. All these people can't be wrong.
4. Choice: You can use WordPress.com if you're not ready to invest in your blog. WordPress.com offers live support if you have questions. For more serious bloggers, you can use WordPress.org.
Whatever CMS you use, you should definitely use WordPress.
A. davidrazak (David teach others how to make passive income online through tried and tested strategies)
Why is WordPress better than other blogging platforms?
Ease of use and set up
WordPress is a one-click installation. The dashboard is also very easy to navigate thanks to menus, drop down menus, tags, categories, and widgets.
Real community
There are WordPress communities all around the world (known as WordCamps) where developers, designers or users meet and talk about their experiences and help each other out. Since the community is very localized, you will always find a helping hand within your locality. If you want to see WordPress love, just go to Twitter and search for #wp15.
Customization, customization
There are over 48,000 free plugins that you can use on WordPress. The best part is that the plugins are all validated, whether they are WordPress or third-party plugins. WordPress plugins themselves have been downloaded over 1.5 billion times. One of the most essential plugins, Jetpack, which gives you insights into your blog traffic, and keeps your site secure was installed on over 2 million websites in 2017 alone.
SEO Friendly
When you use WordPress for your blog, you are a step ahead in terms of your SEO. This is because the CMS is already optimized for some SEO aspects like speed and easy adding of title and alt tags to images.
It is open source
The fact that WordPress is open source gives it an edge over other blogging platforms. This is because developers are free to contribute and make the platform better.
Frequent updates
WordPress updates keep being rolled out which points to the efforts being put in to make the CMS the best and get rid of any bugs and security issues. Since its inception, there have been at least 32 major versions released. On average, a major version is released every 152 days.
Design friendly
WordPress has highly optimized and responsive designs that will look great on all devices, thanks to the variety of templates that are easily available on the WordPress theme directory and 3rd party vendors like ThemeForest which has over 11,000 themes.
A. Helvijs Smoteks (seo,digital marketing,growth hacking)
I have over 10 blogs on WordPress and I love it.
But it's not all rainbows and unicorns when it comes to scaling your blog on this platform.
It can s*ck.
So here's why WP is the best platform but at the same time why it can be quite challenging:
If you have set-up WordPress website once – later on it gets super easy. Now I can create a website using WordPress within an hour. But as you might know – first time hurts the most and I remember when I made my first WordPress blog it took me almost an entire day.
Themes – uploading a new design or re-doing the old design is as easy as shopping on Amazon. Go to Themeforest, find a WordPress design you love, buy it and upload it through the WordPress dashboard. Done!
Plugins – You can find a plugin for literally anything. So customizing your website, adding new features, etc. with WP is a walk in the park.
SEO – Thanks to Yoast WP plugin – getting organic traffic from Google couldn't be easier. We usually create a new website and build several marketing funnels and after awhile at least one of the funnels turns into a nice source of revenue.
Connecting Apps – If you want connect Google Analytics, Mailchimp, Facebook pixel or any other tool – everything can be done with the help of plugins.
Scaling WordPress – More plugins, more traffic, more articles, more pictures eventually will slow down your site and making changes on WordPress when you have a ton of content and traffic can be a pain in the a*s.
So to sum-up, if you are starting out – WordPress is the best platform but if you are planning to grow to one million visitors per month very quickly then WordPress might not be the best fit. But of course, less than 1% of all sites ever see that many visitors.
A. Adam Connell (Founder of Blogging Wizard)
I've used WordPress (the self-hosted version), since 2009. And during that time I have dabbled with other platforms but I've always preferred WordPress.
There are a few reasons why:
1) The community – WordPress has a huge community, particularly of developers. This community helps to keep pushing WordPress forward, and they contribute code to the core. And a number of them create free tutorials. So, even though I'm not a coder, I can usually find the answer to any challenge I might face.
2) The themes – There are no shortage of themes. This means we're not all limited to like 10-20 different themes. We have access to thousands – this helps out websites stand out from the crowd.
3) The plugins – Plugins offer the ability to add endless functionality. Whether you want a plugin that makes CSS tweaks easier, you want to add an opt-in form, or improve your website's security – there's a plugin that can help you. Some plugins even go so far as to allow you to build more complex websites such as job sites or even dating sites.
While WordPress isn't perfect (no CMS is), it makes so much possible.
Conclusion
So that's it from experienced WordPress users. If you are a WP user, let me know why you think it's better in the comment box.
If you also have something against WP, do comment and let us know.