Stuck in your affiliate business?
You're feeling frustrated because people are not looking at your affiliate products, let alone buying them.
I can relate to it because in 2013, I tried my hands on affiliate marketing but didn't succeed.
To be honest with you, I failed.
The highest monthly income was in September of the same year when I earned $308.99.
The months before have experienced staggering failure – it's common to see just $74.22 or less on my merchant account at month end.
However, things started to change in 2014 when I signed up to promote recurring high-ticket offers.
Trust me, offering a high-ticket product for sale is the ONLY way to work less, drive fewer visitors to your 'money page' and still make decent income to live by.
You want proofs from ordinary people who are succeeding in this business model?
Okay, Pat Flynn makes over $30,000 monthly from Bluehost. Their affiliate program pays out $65 per referral.
An affiliate could earn up to $150 if the person they referred orders.
In this post, I want to share with you the 4-step plan you need to make at least $2,000/month, promoting high-ticket offers.
A quick definition, before we jump right in on the easy steps.
What are high-ticket affiliate offers?
These are products/programs or offer that you promote as an affiliate and earn up to $100 when a sales order is completed.
For instance, most of Brian Tracy's video training courses and seminars are sold for $599 and beyond.
You could join as an affiliate to promote the program and earn commissions in the process.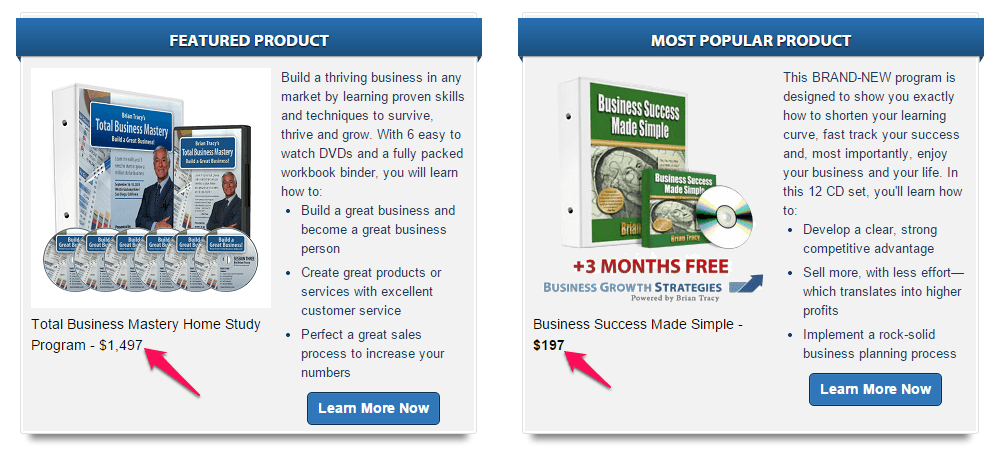 Typically, you'll be paid 50% commission no matter the cost of the product. But in this case, it's $1000+.
A 50% commission rate will net you $500 or more, depending on the upsells and backend offers
Important fact: if you've been promoting a $37 e-book in order to earn $18.50 commission per sale, then it means you're already qualified to earn $200 commission per sale.
That's what high-ticket affiliate marketing is all about. Stop wasting time on peanuts.
You deserve more from your hard work cowboy!
But the question is: how do you ensure the money keeps rolling in, assuming you're new to the game?
Just follow this 4-step plan and you'd be smiling to the bank by next month.
Step #1: Get a custom blog theme
The difference between a high-ticket and low-ticket offer is the impression you create in the minds of buyers.
According to Forbes, people only do business with who they like and trust to some degree.
Whether you're a blogger or business coach, impression is everything.
What people say about you is much more powerful / important than what you say about yourself – more importantly on the internet.
That's why you must get a custom blog design from day one that's compatible with mobile devices. Econsultancy.com saw 65.71% increased conversions when their design was improved, and revenue increased by 101.25%.
You may be asking why some people succeed online without having a custom blog, right?
Well, you have to understand that even a free wordpress theme is all you need to persuade people to buy an e-book that sells for $27.
Buyers may not trust you yet, and it's because of the low cost of your product – they'll just buy it.
But when the same people are expected to spend up to $100 and more on a particular product/program, the fear of losing money will set in – and discouragement is the next thing.
To curb this challenge, use a custom designed blog to build influence and speak the same language your readers love – BEAUTY!
Step #2: Research high-ticket offers
There are several platforms to select high converting offers that will generate a high commission for you. Make sure in the beginning not to waste your time on low-ticket affiliate offers and instead focus on high-ticket offers.
My favorite merchant is offervault.com. On the homepage, just type the niche you want and press search.
In this case, I'm looking for a product that will pay me $150 per lead/sale in the home business niche:

Now you'll see a lot of opportunities to earn more money as an affiliate.
Don't be scared to pick any of the offers that pay out handsome commissions.
If you work hard for it, you'll earn it.
Screenshot: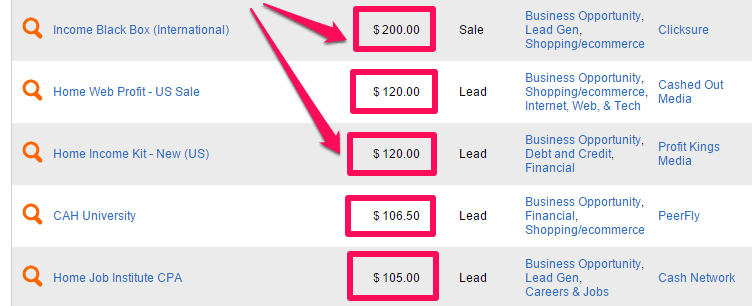 In affiliate marketing, choosing a niche and product to market is usually seen as the most delicate of all, because the wrong niche will drown your efforts.
Moving forward…
Step #3: Create video tutorials weekly
I love this. Video tutorials will set your posts on fire, and trigger action almost instantly.
Have you ever watched a video and got inspired to try a particular product?
For instant, if you watch Derek Halpern instructional videos, nothing can stop you from moving ahead in your online business.
Don't just write a product review and relax.
It's not going to work that way, and your sales conversion will be low. Remember that text-based content has a limit on how much it can engage and portray you as the go-to expert.
But when you create videos tutorials weekly, you're reinsuring readers to hold you accountable for the things you said, not just what you wrote.
And if that happens, they'll definitely buy your high-ticket affiliate products.
I find it pretty difficult to trust a blogger just because he wrote a useful post.
It's possible that s/he outsourced the content to a ghost writer. Don't you think so?
Can an affiliate marketer, blogger or business coach outsource video creations?
Yes they can, but on that type of video, it'd simply be a guide, not on personal relationship.
Step #4: Target low-hanging keywords
Since "home business" is our preferred niche for this case study.
How do we generate low-hanging keywords, which are less competitive and profitable at the same time?
Just go over to Google and type, "home business" and watch the auto generated search queries.
See what I'm talking about:

I think I like 'home business opportunities'.
I'll click the keyword, copy as it is and go to Google Keyword planner (here).
Once I get there, I'll paste it, and hit "Get ideas."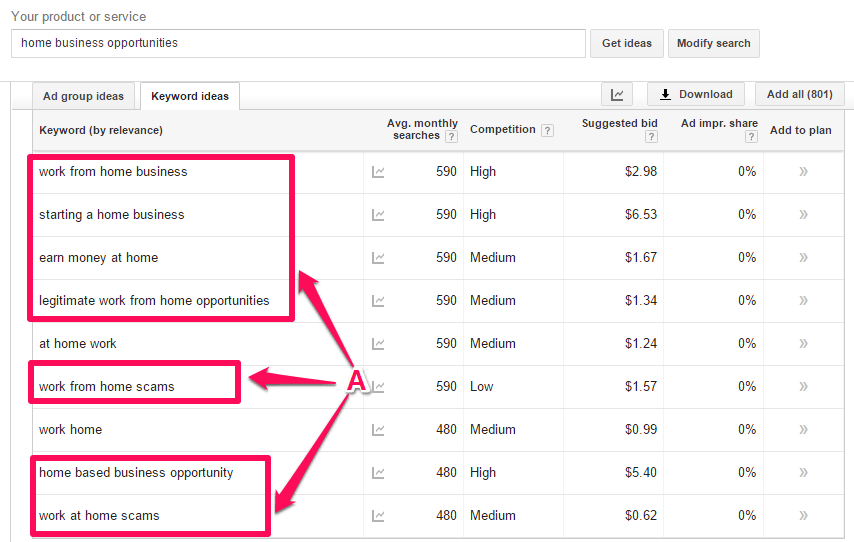 From the screenshot above, the low hanging keywords (a.k.a. long tail keywords) you should target if you were to promote a home business program/offer are:
Work from home business
Starting a home business
Legitimate work from home opportunities
Home based business opportunities
Work from home scams
Note: Targeting a long-tail keyword doesn't mean you're over-optimizing or stuff keywords.
In fact, Google recommends that you research the top search queries people are using to search for you. So it's vital, it's fundamental!
If Google is against keyword research and targeting, why are they still allowing us to use Google keyword planner.
Step #5: Create excellent content
Now, based on the keywords you found, as suggested in the previous point, you are ready to start the part that takes the most time (but potentially the most profitable) of producing the affiliate content. This is where the phrase abused but more true than ever comes into play: "Content is king".
Your goal will be to turn your website into an authority in your niche and the most effective way to do this is to create fresh, unique and high-quality content.
Now, do not write to sell, but try instead to create a relationship with your audience.
Your reader, before being converted to a full-fledged buyer, needs to be attracted to your brand (or simply your name). That's why when you create content, it must never be purely for the sale of your product or service. On the contrary, it should be always aimed first at creating a relationship of trust, encouraging your reader to follow you over time because you have something interesting to say and tell and that can be really useful to him in his life.
Only when this relationship of trust is created, only then, you can start earning with affiliate marketing.
Conclusion
In all, you've to understand the psychology of persuasion, as laid out by Robert B. Ciadini; Author of Influence.
Whether you're selling a $17 product or a $1999 high ticket product, knowing what prompts people to press the buy button is a powerful force you can't do without.
Most of the time, people buy out of emotional signals going on within their minds and afterwards, they justify it by giving cognitive reasons why they bought it.
If you want to succeed at selling other people's products, start speaking to the minds of your target audience.
Use your videos, posts, podcasts and slide presentations to evoke curiosity, captivate potential buyers and nudge them to action.
If you continually do this, nothing can stop you from making $2,000 per month through high-ticket affiliate offers.
As always, what is the biggest commission you've ever made per sale in your affiliate career so far?
Share your value-based thoughts in the comment box below. See you ahead!