The security of your website should be among your first priorities.
You don't want to waste all the hard work you put into your online business and have it hacked, for example.
This is even more a necessity if your income comes from working online.
There are a few steps you can take to secure your WordPress blog. I can suggest some important tips:
– use a ultra-safe password (using letters, numbers, uppercase, lowercase and special characters);
– erase the "admin" default user and create a personalized one;
– install "Limit Login Attempts" plugin, which limit the number of login attempts, including by way of cookies, for each IP (customizable);
– have a periodic backup (better if automatic – I do it three times, one on the server, one on my desktop computer, one on my 2 Tera external hard disk).
These are just some basic suggestions to help you secure your website.
But if you want to sleep soundly and if your business justify the cost, then you should invest on a premium service.
In this post, I want to introduce you Defencely, an online security firm founded in 2012.
About Defencely
Defencely.com is focused on safeguard the vulnerability of your website, offering security solutions.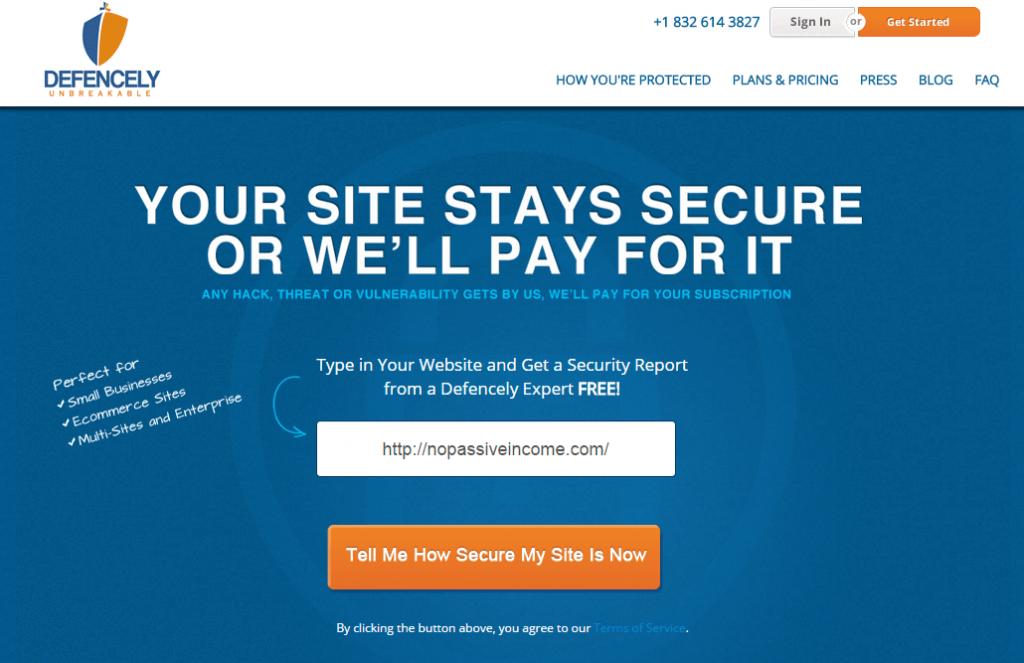 The team runs a manual code review (most of the times the vulnerabilities come from problems with coding).
Their main goal is to look for weaknesses in the security system in order to solve them before ill-intentioned begins any attack.
While many companies in the same market use automated scanner tests, Defencely works with manual testing (many issues or vulnerabilities can be found just with manual testing, while are not detected if scanned by automated systems).
Zero False Positives
False Positives are web scripts or other common problems, that may appear as a threat, but they are not.
Have you ever run an antivirus software and got an alert of malware for files which actually were not an issue? That is an example of false positives.
Defencely ensures to avoid any cost or time spent on this matter.
0 Day Scanning
Are you using WordPress? Or may be Joomla or Drupal?
It's common that any development team still leaves bugs in the code (it happened to me with Klinkk, created with Pligg CMS).
Whether the content management system you have chosen, you are going to be secure from the first day.
Clean Dashboard
You'll find everything you need in your dashboard.
It's clean and user-friendly.
Each tool you have at your disposable serves for a specific reason.
Actionable Reports
The reports you'll get are not just a list of fixes, but reports with steps to take in order to improve the security of your website.
If you are not a code expert (and if you have not a developer), the experts of Defencely will assist you during the solution of vulnerabilities.
No Number of Page Scan Limits
There is no limit to the number of page scan.
Whether you have a small or huge online property, you are going to get the same service for all your properties.
Vulnerability Scanning
Defencely make use of OWASP Top 10 and WASC Classes 26 to secure your online assets.
Any problem related to downtime due to attacks, viruses or malwares, can lead your business to lose money and online visibility.
Easy-to-Follow Guides
If you know nothing about vulnerabilities prevention, Defencely offers you simple and clear guides to solve the issue and take any measures so the problem won't happen again.
Prices and Plans
I like Defencely motto:
Sign up and your site stays secure or we'll pay for it!
Here are the monthly plans: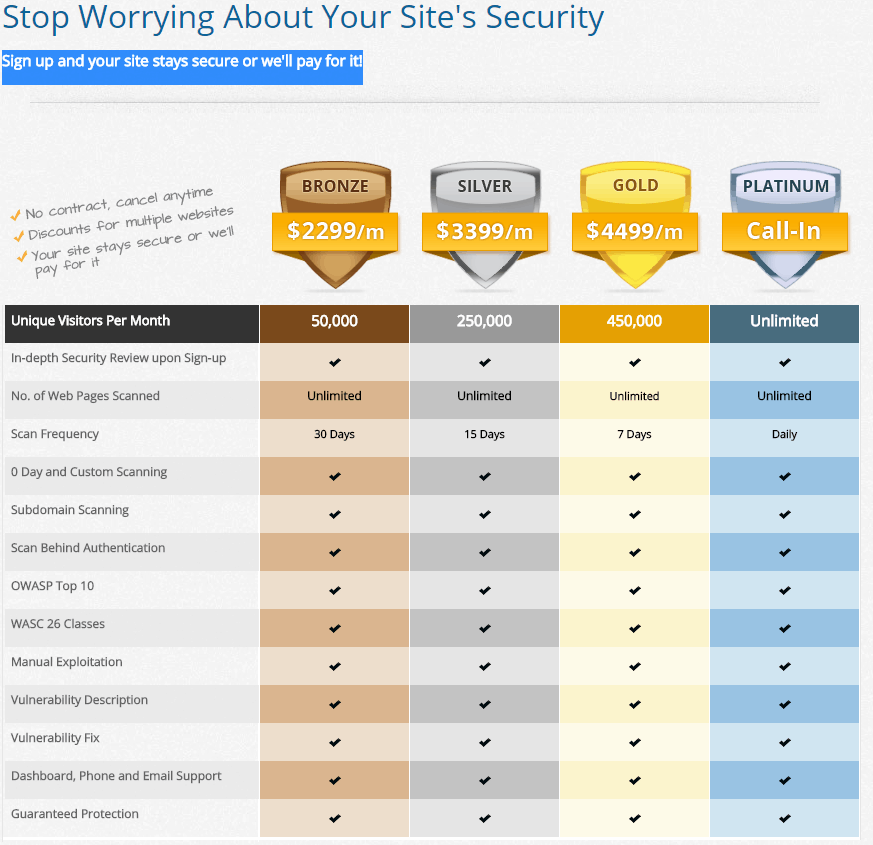 Conclusion
Based in U.S., Defencely is growing very fast, having more than 1000 clients who are using their services.
If your online business turnover permits it, then you should invest your money and get a premium security assistance.
PayPal wall of fame page, Google application security, Zynga whitehats: they are all mentions to honorable job done by Defencely.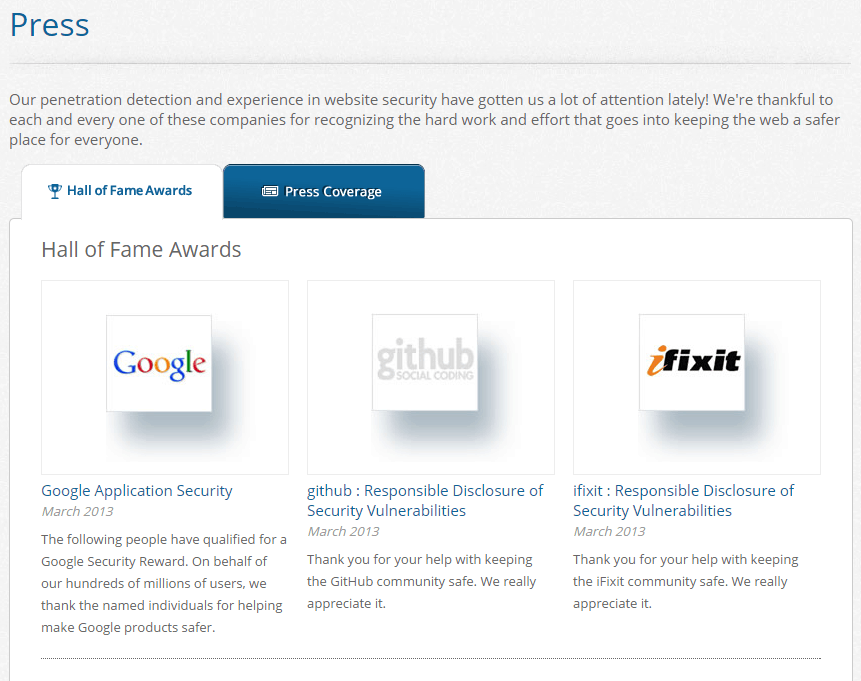 As a reputable company, you don't have to worry investing in their services.
What about you?
Which actions are you taking to secure your online properties?
Please share your experience in the comments below, thanks!