Finding the right media (while complying with the legal rules) is one of the most difficult parts of the creation of an article.
You have to choose the right subject, identify a picture free of copyrights (otherwise citing the source or the author), verify that the image has sufficient pixels size (I go for 600 px within my blog posts, and a little more for the featured one) or even resize the image if needed.
And despite all the time you spend on this process, sometimes the results are mediocre (well, it always depends on your expectations).
Photography is the only language that can be understood anywhere in the world – Bruno Barbey
A beautiful picture can make the difference between getting clicks and visitors or being ignored.
Wanting to go into detail, a well-edited image within your web pages provides:
a greater amount of hits from Google Images (upon proper completion of the alt tag);
a better perception of the "quality" of your article;
an overall professional look of your website;
an increase in the CTR. Just think, for example, when your content is shared via Facebook or Google Plus. The featured image of your post, together with its title, are the determining factors to get clicks.
Here is a list of 20 websites to find free photos, without copyright, to use in your content.
1. Photopin

Photopin takes all the pictures from Flickr under Creative Commons, which means you can use them by quoting the source (with a very short code already provided).
Just proceed with the keyword search in any language.
But pay attention as on Flickr, as well as great photographers, there are also fewer good users publishing media, so try to scan for quality pictures.
2. Free Images
Free Images is simple to use, albeit a little unattractive.
Do your keyword search and download your preferred images.
There are also tutorials to learn how to "do things", with the possibility to modify the pictures.
Over 410.000 photos online.
3. Stockvault
Stockvault has currently about 54 thousand pictures (so a few compared to other repositories of images).
For each media, you are notified of the conditions of use, but it is not possible to choose the size of download.
Good variety.
4. MorgueFile
MorgueFile is among the most popular sites to get free images.
With over 350 thousand photos, it's nearly impossible not to find what you want!
Insert a keyword and do a parallel research on iStockPhoto, Getty, Dreamstime, Fotolia and Depositphotos.
5. Pixabay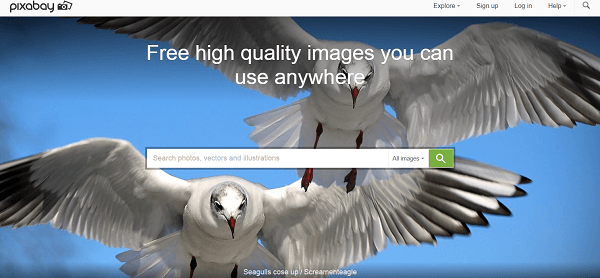 Pixabay is easy to use: just add your keyword in the search field to find the picture you are looking for.
Not bad also the "Editor's Choice", which contains the images chosen by the Pixabay team.
Other Websites
6. Photo Rack: http://photorack.net
7. Free Pixels: http://www.freepixels.com
8. Free Digital Photos: http://www.freedigitalphotos.net
9. Pic Jumbo: http://picjumbo.com
10. New Old Stock: http://nos.twnsnd.co (good if you are searching for "vintage" photos)
11. We Function: http://wefunction.com/category/free-photos/
12. Gratisography: http://www.gratisography.com (Brian McGuire and Bells Design provide many photos, with a particular taste. Copyright-free, even for commercial uses).
Download for Free, After Registration
This is a widespread formula.
If you find the site that intrigues you, just register and you will be able to download quality images.
Here are some:
13. FreeRangeStock: http://freerangestock.com (even for commercial purposes, with a minimum size of 2400 x 1600 pixels)
14. RgbStock: http://www.rgbstock.com (wallpapers, images, textures)
15. StockPhotosForFree: http://www.stockphotosforfree.com (with the ranking of the most downloaded. Interesting preset categories to choose from)
16. StockFreeImages: http://www.stockfreeimages.com (more than 1 million of images and illustrations)
17. PixelPerfectDigital: http://pixelperfectdigital.com (not just photos, but also background, textures, various elements of design)
Free Images, But With a Newsletter
In addition to classic search engines for images, there are also sites where you need to subscribe to a free newsletter, in order to get images directly in your inbox.
18. DeathToTheStockPhoto: http://deathtothestockphoto.com (just enter your email and automatically, every month, you will receive free photos)
19. Unsplash: https://unsplash.com (after the subscription, you'll get 10 photos a day)
20. LittleVisuals: http://littlevisuals.co (7 photos every 7 days, with no limit of use)
I hope you will find this list of resources useful.
So now you have no excuses to add catchy and nice images to your website.
And you?
Do you have a special place where to find excellent free images?
Please share it in the comments below, thanks!