As a blogger, you know how it's hard to create well researched and helpful articles for your readers.
You spend hours in writing, editing, adding images and relevant resources and then you finally hit the "publish" button.
You get visits from your post, but then, after few weeks or months, your content is archived, may be you even don't get any good traffic from search engines.
So, that's it?
Are you just leaving your best content in the oblivion?
I don't want you to do that.
And I am sure you would love to find a solution to propose again your old posts, automatically sharing them without losing your valuable time.
I've the solution.
It's called "Revive Old Post" plugin, created by Themeisle (previously "Tweet Old Post" by Codeinwp).
This is a fantastic WordPress plugin that revive your old posts by automatically sharing them, bringing fresh visits from different social media networks.
Let's see the main features.
Ah, and don't forget to enter the giveaway at the end of the post. There are 3 single site licenses for the Pro Version of Revive Old Post plugin waiting for you (each worth $49,00)! 🙂
How Revive Old Post Plugin Works
First, be sure to download and install "Revive Old Post" plugin (the free version, see below).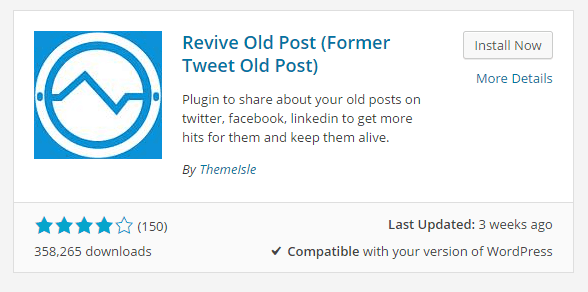 Then, you want to connect your social media accounts (it supports Twitter, Facebook and LinkedIn – with the free version you can link just one social media profile).
Also, be sure to check the settings.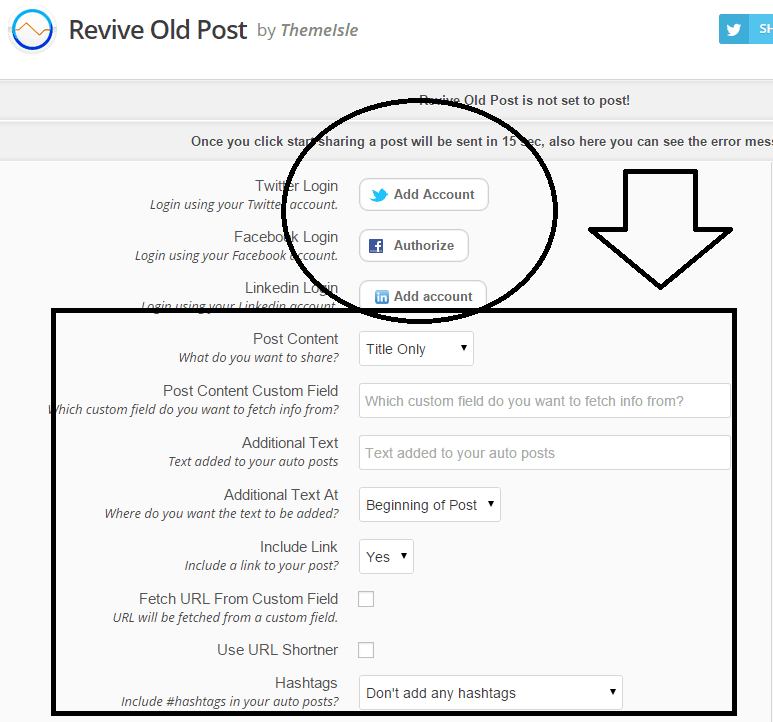 I did not modify much the default settings.
But you can make several personalizations in the fields as I am going to explain now.
Post Content
You can choose what you want to share, among title only, body only, title and body, or custom field.
If you select the latest, be sure to fill the "Post Content Custom Field" area just below.
This is the text you want to be added to your auto shares, before or after the post.
Include Link
This is set by default at YES.
Of course you want your post to be visited, right? This option will include the link of your content.
Use URL Shortner and URL Shortner Service
If you have particularly long blog post URLs, then you may want to tick "use URL shortner" and the window with the available services will appear.
Just choose the option you like more among the shortner services:
– wp short url;
– is.gd;
– bit.ly.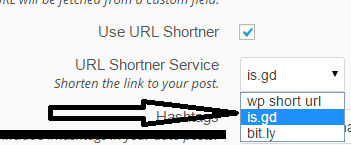 Hashtags, Common Hashtags and Maximum Hashtags Length
You can simply leave is as it is and don't add any hashtags.
Or you can choose to use common hashtags for all your shares, specifying them on the proper field (as you can see in the screenshot below).
Or else, you may want to create hashtags from your categories or tags.
Also, you can create hashtags from specific custom fields.
Finally, you need to set the maximum hashtags length, setting the number of characters.
It's really up to your preferences.

Minimum Interval Between Shares
This is the option where you want to add the minimum time between your shares (hours).
It's set by default to 4 hours.
Age Of Post To Be Eligible for Sharing
Here you want to set how old should be your posts to be chosen and shared.
You can want to write "0" for disable this option and get all your posts eligible for sharing.

As default, the minimum age is set to one month ("30") and the max to "0", this means is disabled and will take all your old posts.
Just make your choice and move on to the other settings.
Share Old Posts More Than Once
I ticked this option.
I believe is a good move to share your content often.
By default "Revive Old Post" is set to share a post just once, until you stop and start the plugin again.
Google Analytics Campaign Tracking
Enabling this option will let you track the traffic generated by the "Revive Old Post" plugin.
It's set to be tracked by default.
Don't forget the power inside your Google Analytics tool, as you can really find interesting and useful data from your blog traffic.
Exclude Specific Categories
This is my most favorite option.
You can set which categories to be picked for sharing your posts.
You can even create a new category in your blog (as "featured"), and set just this one.
For example, because you want to enhance particular brilliant articles.

Exclude Posts
If you take a look in your WP dashboard, you will see the "exclude posts" option, under "revive old post" plugin.
This is useful, if you don't want to share particular articles (like sponsored posts, or any content you think won't be useful for your audience).
See where to find this option :

And that's all!
Just click "save" and "start sharing" buttons, to have your first post shared automatically.
Revive Old Post Plugin – Pro Version
While most of the features are still free, the Pro version ($49) gives you some interesting options.
Post to Multiple Accounts
You can post to different social media accounts with this option.
You can connect more than one Twitter profiles, and your Facebook and LinkedIn accounts.
Share with Image
This is another awesome option that lets you add a photo to your shared posts.
And you surely know the power of a good media!
Share Custom Post Types
Aside post type, you can share also pages of your blog with this option.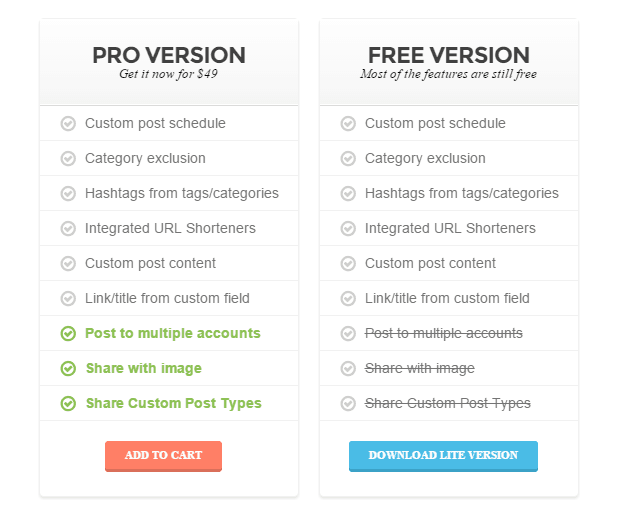 Conclusion
I would recommend the free version to every blogger. There are no downsides of this plugin.
I mean, you don't pay anything and you get automatic shares on your old blog posts, getting fresh traffic.
That's great!
Also, I like the "exclude specific categories" option. You can choose to promote certain posts, while skipping the others.
If you want to boost this plugin power, then get the Pro Version and you will be able to access to interesting features.
The free plugin is awesome, but the most important option of the pro version is that you can add more than one social media account.
In this way, you can multiply your shares!
The price for the Pro version is definitely reasonable and worth the investment.
Awesome Giveaway – 3 Single Site Licenses for the Pro Version
And for a chance to win one of the three single site licenses offered, be sure to enter this giveaway, following the steps included in the PunchTab (mandatory is only leaving a comment).
UPDATE (Dec 15th 2014) And the winners are :
– Reginald Chan;
– Umapathy Sekar;
– Siva Ramakrishnan.
What do you think?
Have you ever heard about this plugin?
May be you were already using "Tweet Old Post" plugin?
If you have never heard of, do you think it's a good idea for your blog?
Please share your views in the comments below, thanks!