I'm not going to lie and say that John Lennon ever used a computer, but I can assure you that he was a far better blogger than you. It's not even close – he is better than you in every single way.
You might find it pretty interesting that I am so willing to whole-heartedly make that statement. It's nothing personal, it's just… The truth. Every characteristic of the great British musician would set him in stone to be a better blogger than any of us.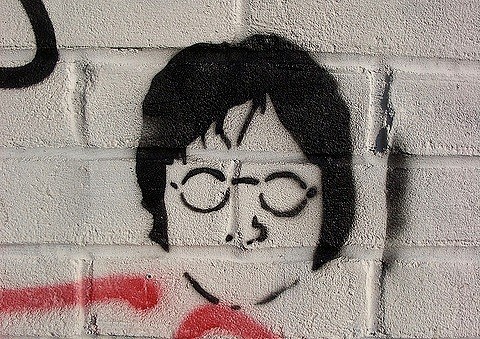 He Spoke His Mind
Whether it was about religion, war, or women's rights, John Lennon was an active authoritative speaker on whatever it is he had a strong belief in. That's a pretty rare trait in bloggers, today.
I'm willing to bet that you are afraid to go against what the majority of "pro bloggers" think. For example, if Darren Rowse went ahead and said that any blogs that aren't purple suck, you probably wouldn't have the heart to disagree.
I highly doubt you'd have the nerve to shout, "But Darren! Purple is an ugly website colour!" even though you honestly believed it.
John Lennon would yell at Darren – he would know better. Even when everybody disagreed with his stance on a subject, he would blurt out his opinion. Although he got a lot of hate for it, he got a lot of respect, too.
Be more like John Lennon – speak your mind. Don't be afraid that others will be angered at your position. Isn't the entire point of blogging voicing your opinion?
He Was Unique
You have a better chance at finding Elvis Presley in 7/11 than you do finding diversity among the larger chunk of blogs on the internet. It's kind of embarrassing.
John Lennon and the other three boys from Liverpool revolutionized the music industry. The great force behind the movement, though, was definitely on John's part – he was extremely diverse.
In his school years, John stuck out as the troublemaker who would do anything for a laugh during school. He then grew an urge to create a Rock N' Roll group in a day and age filled with swing and classical music, John seemed to defy the general movement of society.
From his odd style of music (that isn't meant to be of offence – The Beatles are my second favourite band), to his will to speak out about whatever he wanted, John defied uniformity.
Everybody and their mother has a blog about every niche under the sun – yours has to be different. Without diversity, you will fall to the hands of being yet another [insert niche] blog.
He Was Awesome
When asked their thoughts on John Lennon, nearly anybody who knows anything about him will call him a complete and utter bad***. It's true – he really was.
He had everything going for him – musical talent, the love of every girl under the sun, and a wonderful family. It wasn't a bad gig.
Upon The Beatles' split, millions were devastated – it had a big impact. If you left your blog, I am pretty sure millions of people wouldn't care – they'd probably laugh at best.
Not only was John awesome, but he knew he was awesome. He put it to his advantage.
To succeed at blogging, you need to become awesome (that sounds pretty vague, right? Still, please do try it).
And What You Can Learn From John?