Numbers don't lie: worldwide, there are over 1.86 billion monthly active Facebook users, with 1.18 billion daily active users – from managers, to students, to small businesses.
What does this mean for you? In case you have any doubts, Facebook is too big to ignore.
However, simply posting an update on a fan page is not enough. What brands need, especially when starting out, is to create Facebook ads, optimized to reach the right audience.
But how to properly run an advertising campaign on this wide social network?
In this post, I'm going to introduce you The Campaign Maker, a platform that will help you optimize, automate and simplify your Facebook ads.
How The Campaign Maker Works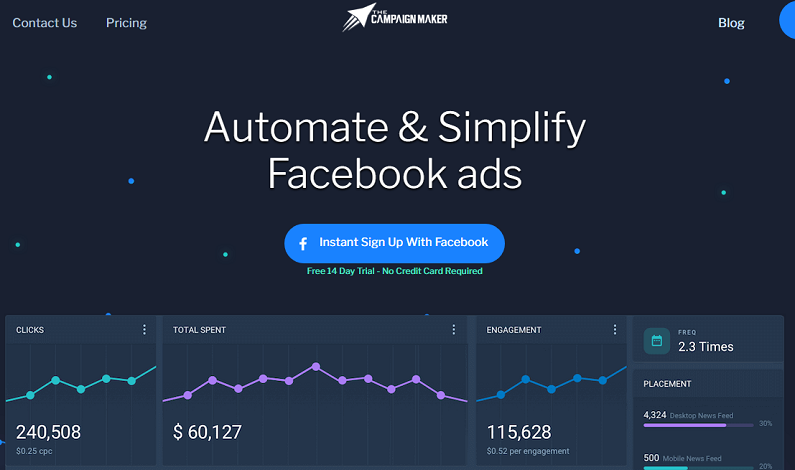 Registration is really easy. Just use your Facebook profile to sign up and get a free 14-day trial, with no credit card required.
Once you have authorized your account, you will be redirected to the dashboard.
Here you have, at glance, everything you need to know about your Facebook ad campaigns:
clicks;
total spent;
engagement;
page likes;
impressions;
CTR;
conversions;
placement;
locations;
age groups;
time;
gender;
status
Also, you can filter all the data with specific time frames.
From here, you can set up a highly targeted optimized campaign in just 5 steps. Let's see them in details.
1. Objective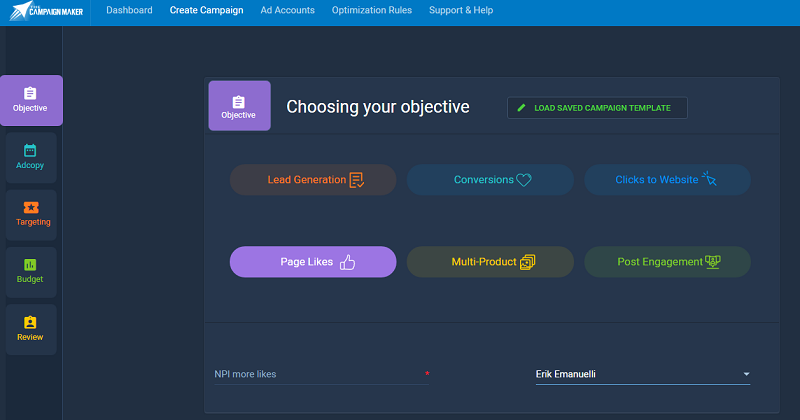 Start your campaign by choosing one of The Campaign Maker 6 most used campaign objectives:
Lead Generation
Conversions
Clicks to Website
Page Likes
Multi-Product
Post Engagement
Then name your campaign and choose the ad account you want associated with it (average time spent on this step is less than 30 seconds).
2. Adcopy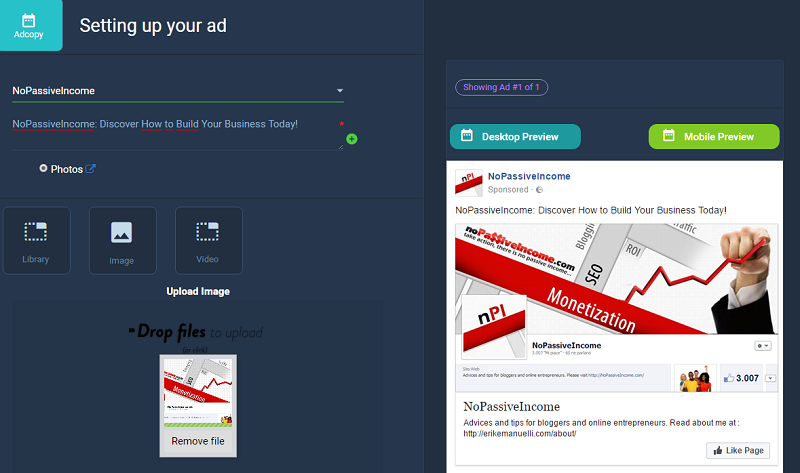 Write your adcopy and set up your ad.
A/B test your headline, body text, description, URL and image/video with a simple interface. In addition to split testing, you can also see how each ad will look in both desktop and mobile screens.
This is great for beginners (average time spent on this step is less than 5 minutes).
3. Targeting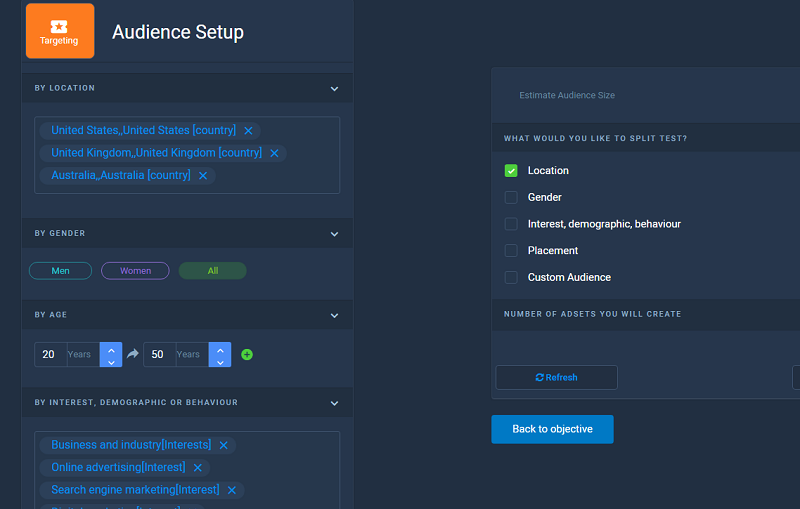 Set your target audience with tons of features, like interest, demographic and behaviour suggestion engine.
Here are some of the filters you may want to add:
by location;
by gender;
by age;
by interest, demographic or behaviour, included the "advanced targeting" feature (I loved the automatic suggestions here);
by placement;
be relationship status;
by education;
by language;
by workplace;
by job title;
by custom audience.
You can also split test every single aspect of your audience all the way from their age to where they work (average time spent on this step is less than 5 minutes).
4. Budget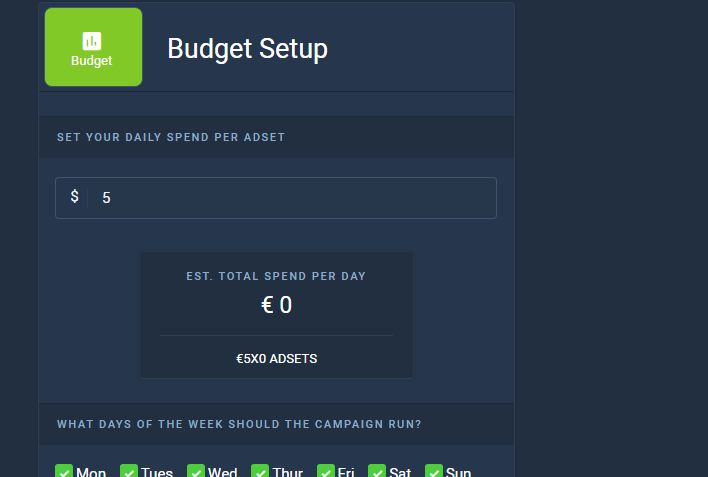 Specify how much you want to spend per day per adset. This is especially helpful if you are split testing a lot of adsets at once.
You will also have the option of telling the software at what day of week and time of day it should run the campaign (average time spent on this step is less than 1 minute).
5. Review and Publish it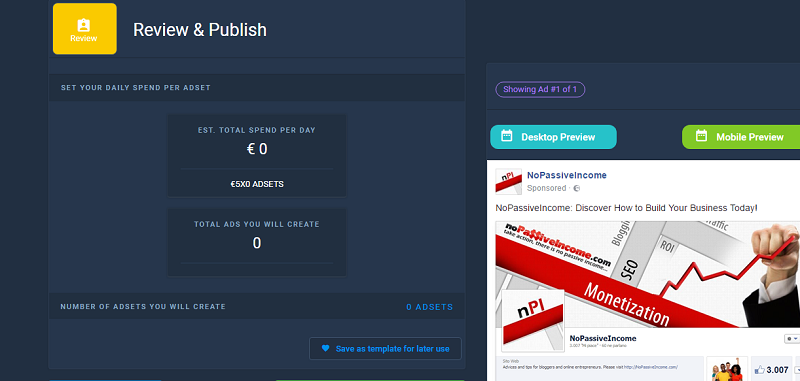 The Campaign Maker lays out everything you have done so you can review everything and if you spot a mistake you can easily go back and fix it.
Once you finish reviewing it just click publish and let the software do all the hard work! (Average time spent on this step is less than 1 minute).
More Features
There are lots of more features you can use inside your The Campaign Maker dashboard.
For example, you can set new automated rules for your Facebook ad campaigns.

Just choose the campaign you want the rule applied to, and enter the automated rules, with filters like:
More things you need to know about The Campaign Maker platform:
Day-Part Your Ads: you can now specify what days and times of the week your campaign should run!
Simple Scaling: quickly and easily scale your profitable ads to maximize value.
Image & Video Library: upload once and done! All your videos and images are stored securely in your FB's library.
Super Fast Support: The Campaign Maker support staff is available 24/7 for you and can actually help you.
Interest Search Engine: as soon as you add just one interest, the campaign maker will generate interests related to exactly what you need. Then you can easily split test between as many interests as you need.
Automated Adcopy & Targeting Split Testing: The Campaign Maker automated split tester will at blazing fast speed split test your ads and targeting for you, saving you hours and giving the pin point accuracy your campaign needs.
Targeting Intensive: The Campaign Maker is built around creating pin point targeting for your campaigns, with the ability to split test alll the major aspects.
Custom Audience Testing: every experienced FB marketer knows the massive benefit of custom audiences and with the campaign maker you now have the power to split test each one seamlessly
Simple To The Point Reporting Structure: the account dashboard is extremely simple and minimalistic, focusing on only the important points that can make or break your campaign.
Convenient Budget & Delivery Change: within your account dashboard you have the ability to easily change your daily budget and quickly activate or deactivate your campaign, adset or even ad.
Scale profitable campaigns /adsets in one click: the best part of finally making the ultimate campaign is the satisfaction of finally scaling it to maximize your ROI. We made this very easy for you.
Mobile Optimized (HTML5): when you don't have access to a computer, you can access The Campaign Maker from every device you have.
Pricing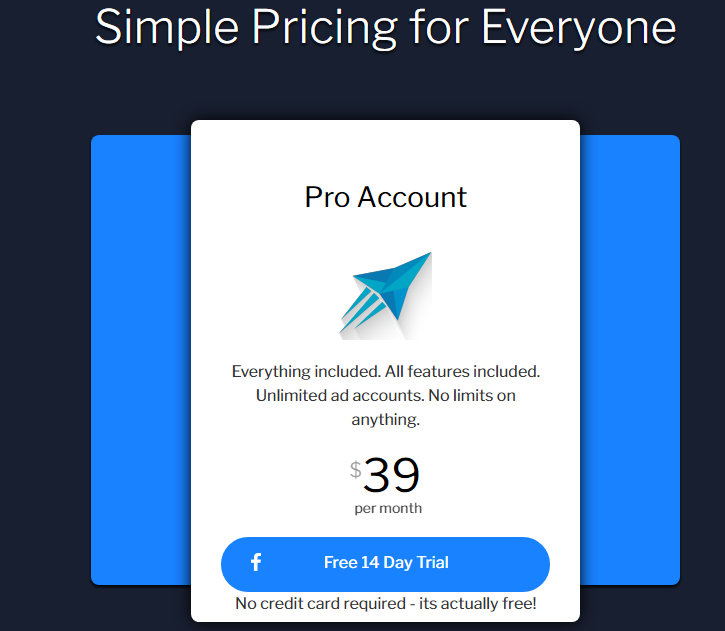 There's a simple pricing plan for everyone: at $39/mo.
Everything is included, with all features mentioned here. Unlimited account and no limits on everything.
Final Words
I found The Campaign Maker extremely easy to use, even for beginners Facebook ad users like me.
Wasting tons of money in campaigns that end up being no profitable is really common, but with a software like The Campaign Maker you will no longer experience this kind of issue.
Other than an affordable pricing, I particularly liked the split testing options, such as placement, behavior, demographic and custom audience.
If you need any kind of information, not included in this review, you can contact The Campaign Maker here.
Now over to you.
Have you ever run a Facebook ad campaign?
What was your objective and what about the results?
Have you ever heard of The Campaign Maker?
Please share your thoughts in the comments below, thanks!