Are you struggling in getting more deals and making more sales?
Then you landed the right place, as I'm going to share with you a tool I recently discovered:
SalesMate, an all-in-one sales management software for businesses of all sizes.
How SalesMate Works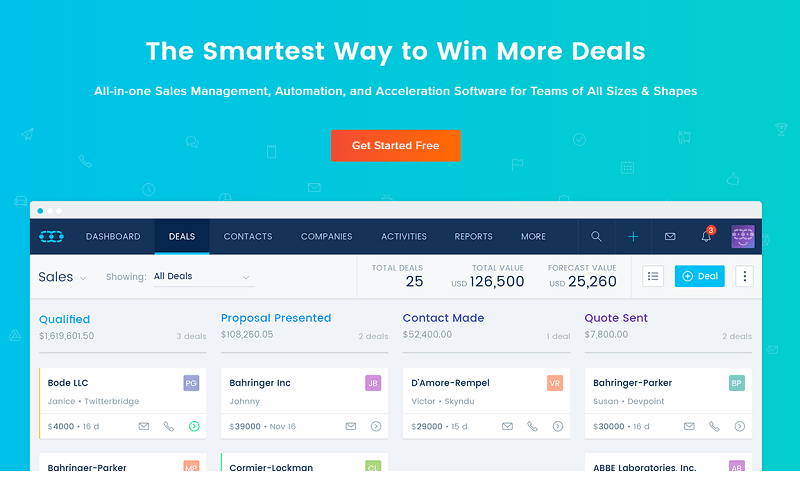 Every company can benefit from sales intelligence. SalesMate helps you close more deals faster, with an easy to use interface and automated workflows.
Use this tool to enrich your customer interactions and boost sales productivity with data science.
A few of the things you can do with SalesMate:
replace the ugly spreadsheets and CRMs with insightful sales pipeline;
take the guesswork out of the actions to win more deals consistently;
contact suggestions based on your email communication;
auto gathering contact information from email signatures and using third party services;
easily manage and track deals, the progress of individuals and team from the pipeline;
get a real-time view of your entire sales funnel;
Gmail plugin to manage your data directly from your inbox;
integration with 500+ apps with Zapier.
But now, let's see some of them in details.
Pipeline Management
You don't have to use anymore ugly spreadsheets, instead, benefit from an intuitive sales pipeline that follows your business strategy.
Be practical with your sales activities and close more deals in a consistent way. You will be able to quickly add, manage and track activities, as well as monitor the progress of each person in the team in real-time.
Sales Activities and Goals
You can use Salesmate to plan ahead activities, track your team and automate your sales process steps.
For example, plan and track your meetings, calls or emails for every contact. Manage the work of each team member by easily assigning activities. Be updated on past and future actions for each deal using the built-in sales management tools.
Setting goals is really important in a business. It's the first step when you want to turn your sales target into a tangible plan.
Synchronize your sales team with clear goals and measure them at any time. Turn the sales into a game to find the most performing seller in your company.
SalesMate will be a powerful weapon to beat your competition and motivate each person in your team to always improve.
Smart Emails
Imagine if you could understand each of your prospects through email tracking, sending a perfect follow up in seconds to get more emails opened, meetings scheduled and deals won.
Thanks to SalesMate you will be able to do this! And even more.
Automate your sales playbook and save time by creating engaging emails using professional email templates, tracking and organizing every conversation.
By measuring your email performance, you will be able to improve the sales process. While open rates are going to help you understand which subject works best with your clients, the clicks will tell you more about the popularity of your content.
Use the BCCs to logging your email conversations without any efforts. Whether you are using Gmail or any other email provider, you simply need to forward your email to the personalized smart BCC address to add them to the relevant timeline. Then Salesmate will automatically recognize the involved recipients to attach the emails with the right deals or contacts, in real-time.
Also, you can send emails with your address or personalize email address for each record.
Data Entry Automation
Automate your workflow and set your sales process on autopilot.
Also, SalesMate can do for you a series of low-value tasks, saving a lot of time.
For example, enrich your profiles. Do you spend time searching on the internet the missing information for each of your new customer profiles? Salesmate can free you up from this tedious task, by enriching every single customer profile automatically.
Spend more time sending emails, making calls and taking actions, not logging them manually. Everything you do in Salesmate is simple and without effort to automatically track the respective deals.
Sales Intelligence
Every business can benefit from sales intelligence
Improve your complete sales funnel by using interactive, pre-built, and customizable sales reports. Use data to eliminate guesswork and make smart decisions.
Other than using professional and insightful sales reports, you can stay informed about your sales growth, also measuring the entire sales funnel from lead to closure.
Get real-time sales forecasting:
Use sales forecasting insights to spot the problem early on and direct your team's focus toward the deals that are more likely to close while time is still on your side.
Improve your sales performance with activity insights. For example, understand the number of emails sent, calls made, and meetings held for each month. You can then use these insights to improve your sales process, training, and messaging.
Create activity or sales leaderboard to engage with your team and motivate them to do better:
Coach your people to close more deals faster. And the best part is that all activities are automatically tracked for you.
Mobile Apps
Use SalesMate on your tablet or smartphone.
The iOS and Android mobile sales apps give you everything you need to keep selling no matter where you go.
When you call your customers from your mobile phone, your call will automatically be tracked in Salesmate. Incoming customer calls can be tracked too. All meetings and tasks are synced with your mobile calendar. Tap on addresses to get directions on your native GPS apps.
Apps & Integrations
Salesmate is built to perfectly work with thousands of applications and platforms.
The software is even more powerful when used with your mailbox, Google apps suite (Gmail, Drive, Calendar, Contacts, Docs, etc.), Zapier, WordPress or Clearbit: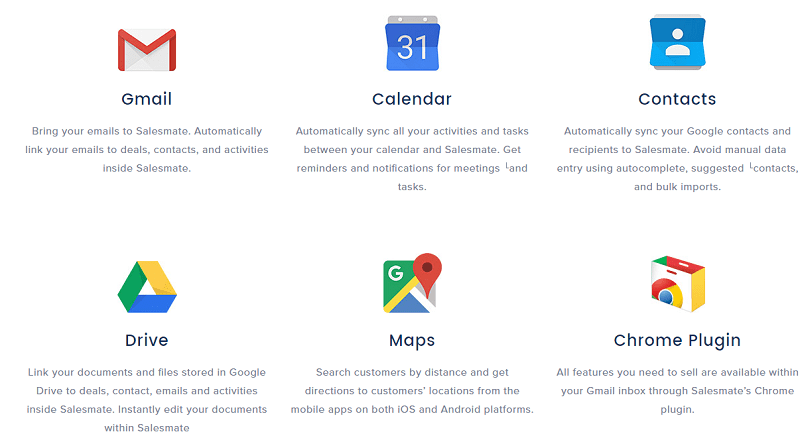 Easy to Sign Up
To sign up, simply visit the SalesMate registration page, to start your free 30-days trial with no credit card required: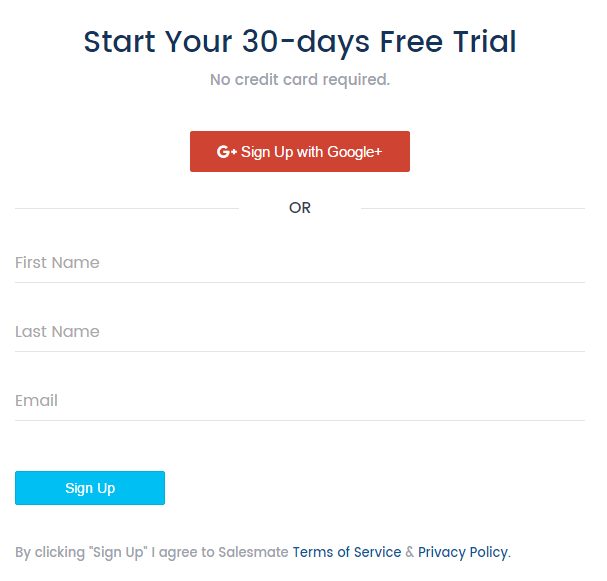 I signed up with my Google+ account to make the process faster.
Now what you need is to set up your access:
Now you can access to all SalesMate features for your testing.
SalesMate Pricing
SalesMate comes with an easy and straightforward pricing:
$12 monthly, if billed annually;
$15 monthly, if billed each month.
Both plans offer all the features available: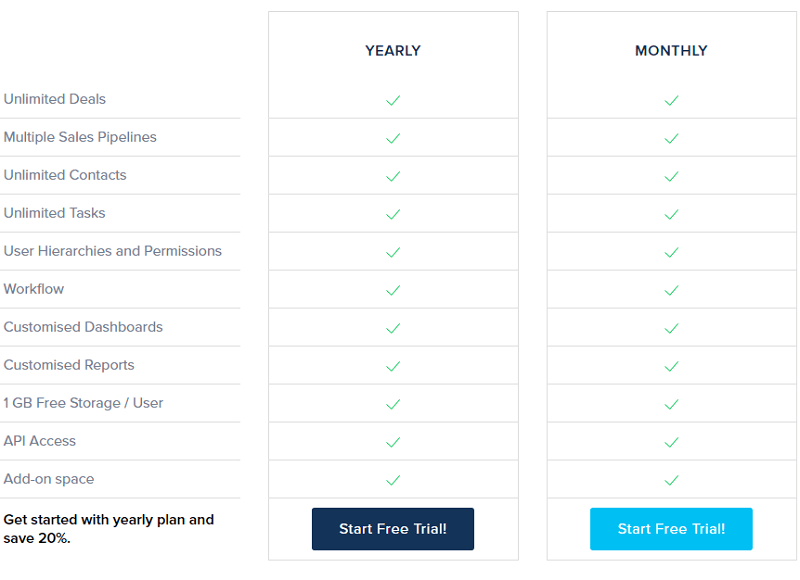 Final Words
More than 1200 sales teams use Salesmate to increase their top line.
I find this software easy to understand and simple to use. The drag and drop system is fun and practical.
I definitely recommend it to any businesses of all shapes and sizes to boost sales and make more deals.
Here's the page of ticket system for any particular request and here is the knowledge base page to dig even further.
Get your free account here and start your trial right now!
Now to you.
Have you ever heard of SalesMate?
I'd love to hear what you think.
Please share your views in the comments below, thanks!