It's been a long time since the day I got my CommentLuv plugin and I've really enjoyed its many benefits on all my blogs.
If you are an experienced blogger, I am sure you are already using it on your site.
But if you are pretty new in the blogosphere, many be you don't know it or you don't have your copy yet.
Now it's the convenient time to get your unlimited license version of CommentLuv!
(just use the coupon code "helpandy" when checking out for receiving a $52 discount).
CommentLuv Over the Past Years
Over time bloggers have changed a lot their minds over CommentLuv.
At beginning, everyone loved this plugin so much, as all the most popular sites started using it and this surely helped increase the buzz around it.
I remember the time when most of the bloggers invited visitors to comment on their posts to receive in exchange free "dofollow" links.
Maybe both on their name (using the keywords) and in the commentluv link pointing to their posts.
There was a time when bloggers have been writing a lot of articles about the benefits of commenting on CommentLuv enabled sites, there were many blog posts about list of sites having the plugin enabled with the "dofollow" status granted and even directories about it.
Then, after some time, people started granting the "dofollow" status just for those visitors who have left at least 3, or 5 comments on the blog.
Later, for the continuous changes in Google's algorithm or either for the increment of spammers on these sites, bloggers started to add "nofollow" to the comment links, then also to the commenter names and finally many people removed completely CommentLuv from their blogs.
Now, think about this.
Theoretically, a site should have all the outbound links with "dofollow" tag, unless they are affiliate links or advertising.
Of course your external links should match the topic of your content. So the commenters links.
In your articles, you should link to authoritative sites, and there is no reason why you should not do it.
In fact, if you do not, and your site is completely "nofollow", then there is something you're hiding in the eyes of Google, do not you agree?
The fact is that 99% of the sites around have received at least a penalty from Google and so many have decided to cut the Gordian knot, and add the nofollow status of all links.
Moreover, how much does it cost in terms of money and time searching for what actually penalized your blog?
So why still using CommentLuv?
Reasons I Still Use CommentLuv
In my opinion, the pros of using CommentLuv overcome the cons.
Here's my five reasons you should use CommentLuv.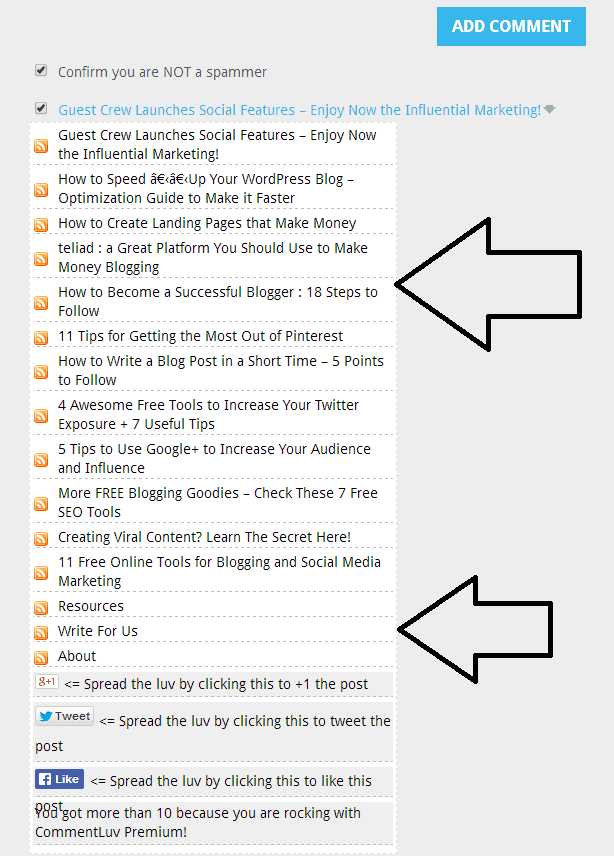 1. You can catch spammers very fast
In fact, they normally do not have gravatar and they link out to bad sites in their comments. Without mentioning that they write poor and useless generic comments.
2. You can quickly identify your commenters
Just take a look at their posts titles, you may find out in an easy way what is their niche, if they have a gravatar, if they link to useful articles.
3. Commenter's links generally match your post topic
That's right, people usually add in their CommentLuv comment a link back to their blog article which share the same topic of the post commented.
4. You reward your readers
If people read your site, then granting them a way to receive something in exchange is a reason more for them to come back again. Of course, as well as reading your interesting content!
5. It helps your commenters to market their site in your blog
People may want to search within the commenters links and pay a visit to their posts. This is also a pretty quickly way to find bloggers within your niche when visiting the post comments of a popular blog.
Why You Should Get Your CommentLuv License (If you still do not have it)
Aside the reasons I mentioned before, these are the main features of CommentLuv plugin.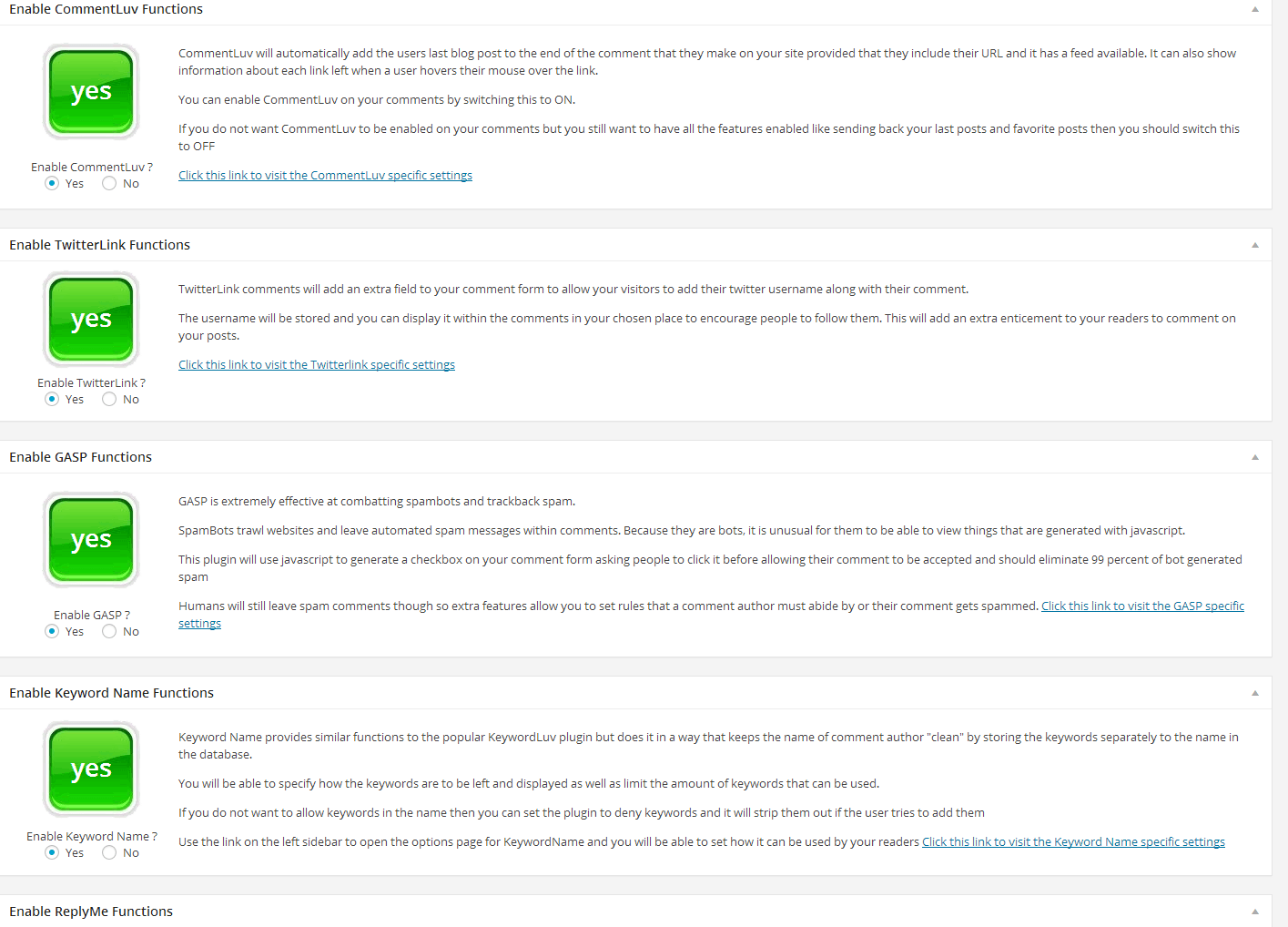 1. CommentLuv Premium itself
This is the main feature of the plugin, adding the possibility for your readers to link out to their favorite posts, receive more traffic and increasing the chance to get your post go viral.
2. G.A.S.P.
This is a premium version of the popular anti spambot plugin GASP. If you have troubles with spammers on your blog, this feature will help you fight them.
3. KeywordName
You can use this feature to allow your commenter use their keywords in their name. You can set the number of comments needed to receive this reward.
4. TwitterLink
Your commenters can link out to their Twitter profile if you use this feature. In this way, you let your readers receive more followers.
5. ReplyMe
I love this feature. It will send an email to commenters when they receive a direct automatic reply to their comments.
CommentLuv Premium vs Free Version
You can still use the free version of CommentLuv, but I suggest you to get the
premium version of the CommentLuv plugin
and the chance to sell it via its affiliate program.
You don't get all the main features I mentioned before, if you decide to use just the free version.
By the way,
I just found a useful and most of all RECENT article, with a list of CommentLuv blogs which grant "dofollow" status to their commenters:
List of dofollow CommentLuv Blogs 2014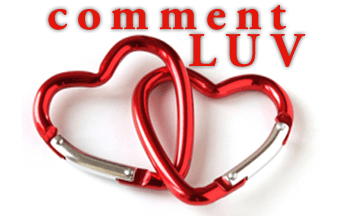 Your Turn
Are you using the CommentLuv plugin on your blog?
Do you have the free of premium version?
What has been your experience?
Please share your thoughts in the comments below, thanks! 🙂