Are you making money with your blog?
Do you know that selling ads if one of the easiest ways to earn with a website?
In this post, I'm going to talk about OneClerk, the new network which lets you monetize unsold ad space whilst you are waiting for ads to get sold on the AdClerks marketplace.
Very important to know: an AdClerks account is required to use OneClerk.
What is AdClerks?
AdClerks (formerly known as PublicityClerks) is a completely automated and self-service platform that connects publishers with advertisers.
As a blogger, you sign up to this marketplace to directly sell your ad space (or as an advertiser, you create an account here to find the best websites available on different categories and purchase ad space).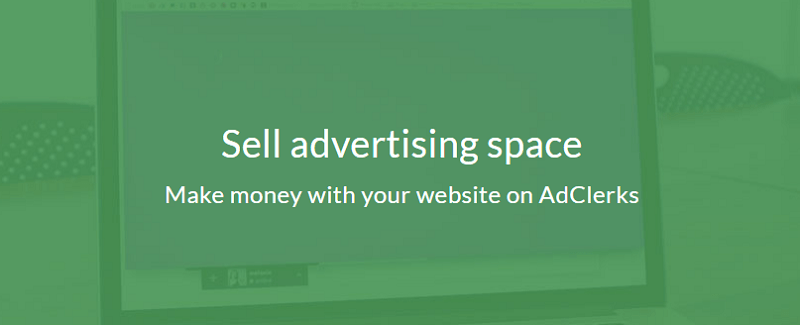 Registration is free and very simple, it just takes a minute. There's no sign-up or monthly fees, with absolutely no contracts.
After you have created an account, add your website and AdClerks team will check it and eventually approve it.
Once you have received the approval notification, you can edit your website listing, entering:
site title;

URL;

the proper category;

a nice description;

related keywords;

Facebook and Twitter profiles.
Here's a screenshot of my blog Reviewz'n'Tips listed at AdClerks marketplace.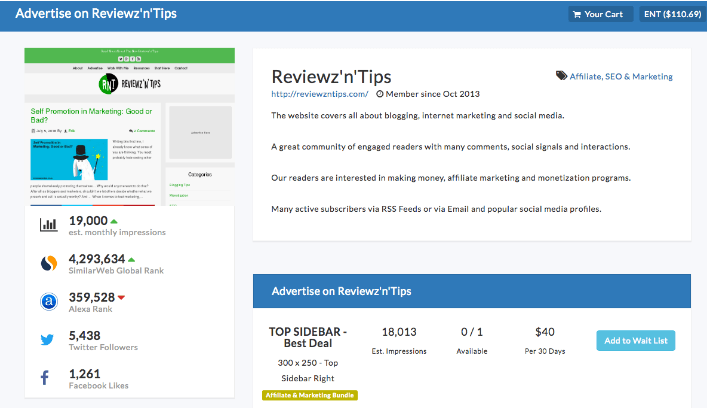 Now, you want to decide what type of adverts you want, and how much you wish to be paid (either a 30-day monthly ad or a CPM ad with a minimum order option), creating as many ad zones as you want.
There's a selection of pre-set industry standard sizes that you can choose from, or you may want to create a custom size.
If you are already using Adsense, you can backfill unsold ad space with it.
Place the asynchronous JavaScript code for your zones on your website and your advert slots will be available to purchase in AdClerks marketplace.
Now sit back and start making money automatically!
Note: you can set to get ad sales to be approved automatically or decide which one you want to approve or reject, before they go live on your website.
Also, you can set up an on-site shopping cart allowing advertisers to buy ad space direct on your 'Advertise' page (managed via AdClerks). Here's Reviewz'n'Tips advertise page, as an example.
You may want to know that AdClerks has partnered with SimilarWeb to show the site rank, which is a website traffic scoring method developed by SimilarWeb to determine a website's rank.
As an example, here's a screenshot of the current SimilarWeb global rank of my blog Reviewz'n'Tips:

Also, AdClerks has developed GEO traffic location data to provide advertisers a top 5 list of traffic sources for each website.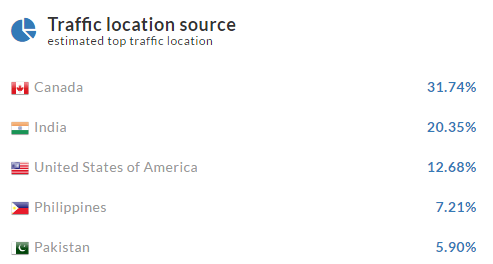 How Can You Earn More on AdClerks?
I'm a happy publisher of both AdClerks and OneClerk, making money automatically from my best online properties.
So here is a number of suggestions to help you improve your chances to make money with AdClerks:
Use the latest ad zone code

(the last update was September 30th, 2016) to be able to collect more impressions from your site.

Be sure to optimize your site listing details.

Things like an informative title, a proper description and related keywords help advertisers find you.

Do not place too high prices or too many available ads.

This will only scare advertisers. Just visit your similar websites of yours in the AdClerks marketplace to have an idea of how much ask for each ad space and how many ad spaces you want to create.

Choose prime locations.

Advertisers are more likely to purchase ad space above the fold or on top/best locations on your website. A footer banner is least likely to be purchased as opposed to a header or top sidebar ad.

You may want to offer CPM ads.

As an alternative option, advertisers may want to try out CPM, instead of a fixed 30-day monthly ad. You can also set a minimum order quantity to prevent small ad sales (e.g min of 10k impressions purchase).

Always display at least one default 'Advertise here' banner.

You don't have to do this for all your ad zones, just do it for one of them.

Create the on-site shopping cart.

This is perfect for your '

advertise

' page, as it allows advertisers to buy ad space directly without leaving your website (the whole process is managed by AdClerks).
And for any other request you have, don't hesitate to contact AdClerks and talk to an account manager to find out how you can successfully make money by selling ad spaces on your website.
Website Requirements for Approval
To get more chances of being approved on AdClerks, your website should follow these points:
Your website should be live, finished and if applicable with frequent updates or content.

Your website should be receiving more than 100k impressions or page views a month. If less, your website may still be considered based on AdClerks advertisers demand.

Your website should currently have minimal advertising and feature a well designed layout or template (responsiveness is a plus).

Your website should have its own domain and not be hosted on a free subdomain (e.g blogspot, blogger, weebly etc. are not allowed).

Your website should be

written in proper English

.

Your website traffic must

not

be generated from bot traffic sources or traffic exchanges (e.g HitLeap or any other traffic exchange systems are not allowed).
Now let's talk about OneClerk, the new way for bloggers to monetize their unsold ad zones, all while making the ad zones available to purchase on the AdClerks marketplace.
Introducing OneClerk
OneClerk is a CPM ad network created just for AdClerks users which monetize your existing ad zones with just one click.
Once you have sent the approval request and get your account activated, you instantly and automatically monetize any unsold ad space while still making them available to purchase on AdClerks marketplace.
You can see then family-friendly, related ads with an 80% fill rate (of course, you can decide to opt-out at any time).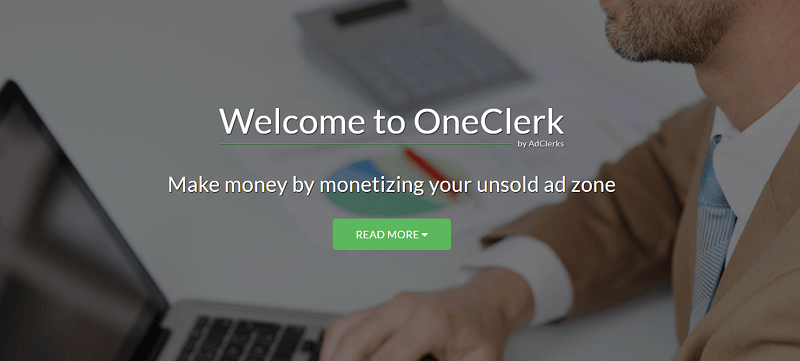 How to Get Started with OneClerk
First, once logged in, visit your OneClerk dashboard.
Then, click on "ELIGIBLE ZONES", as the screenshot below shows:

If you haven't created an ad zone for your site yet, then you can do so on the following step, click on "Create new ad zone", as below:

To be able to opt-in for OneClerk, you need to create a 300×250 ad space.
So fill in properly the empty fields, like:
Ad block name

Ad size

Ad location

Ad type

Price per ad

Total number of ads

Ads displayed

And the advanced settings (if needed).
Now, after you have created the new 300×250 ad space, you'll be opt-in:


Just click on "Opt-in for OneClerk" and you're done!
Simply wait for the approval and start earning money by monetizing this unsold ad zone!
Once you receive the approval by email, you can visit your OneClerk dashboard, that will look like this:

Click on the "stats" button to access analytics data, like:
impressions

clicks

revenue
Note that:
Viewable ad impressions and revenue data are recorded and updated every hour on this page

Newly approved active zones may take up to 3 hours to display data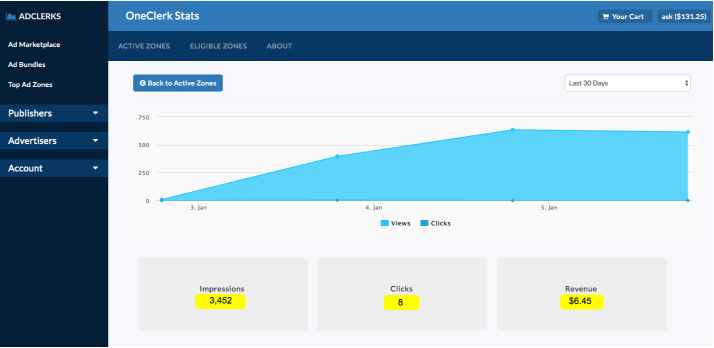 About OneClerk, in Short
In short, here are some important points you want to remember about OneClerk:
Ad zones must be 300×250

Once you get approved, OneClerk is automatically activated (nothing for you to do)

Revenue will be generated via a dynamic CPM

Consider that OneClerk ads vary and are GEO targeted, so you won't always be able to seem them

You can always check ad impressions and revenue data in your OneClerk dashboard, visiting the stats page

Earnings will be credited to your AdClerks account balance net 60 days (after 2 months)

Your ad zone will still be purchasable on the AdClerks marketplace and will override OneClerk ads if purchased

You can opt-out or disable certain ads anytime by contacting support
Final Words
I definitely suggest you create an account at AdClerks, if you don't have one already.
Submit your websites and then opt-in for OneClerk, visiting this page.
I'm a happy publisher of both AdClerks and OneClerk, making money automatically from my best online properties, so I suggest you do the same!
Now, I'd love to hear what you think.
Do you have already an account with AdClerks or OneClerk?
If so, please share your experience with them!
Leave a comment below and don't forget to share the post, if you liked it. Thanks!