Twitter is another name for the internet traffic superhighway.
Its 302-million-plus active users are hungry for information, and love to click on links that fascinate them.
500 million Tweets are sent per day and 80% of Twitter active users are on mobile.
If you just started using Twitter or have been using it for some time, and it seems like a deserted place to you, read on, because you are going to learn about some simple and free tools that help you attract more followers with each one of your tweets.
Getting the Basics Right
Before we start, let me share my favorite Twitter tools (click on each of the links listed to read more about them):
– Triberr;
– JustRetweet.
Also, I want to remind you about the importance of tweeting smart. Your tweets should be catchy and timely.
Composing interesting tweets is largely a subjective matter and depends upon the audience and their choices.
If you are doing everything you can to make your tweets interesting, the timings of your tweets are the second most important factor.
There's no use tweeting at a time when none of your followers are online.
The third most important thing is the frequency of tweeting. All your followers cannot be online at the same time. You should try to achieve a balance between letting every one of your followers see your tweets without flooding the stream.
Remember to follow people who are influential in your particular subject. Interact and engage with other users. Learn from other people's tweets and observe the kind of stuff they are sharing.
Once you are doing these basics right, you'll be able to make the best use of the following free tools to supercharge your Twitter marketing.
1. HootSuite
You might have heard of this one. HootSuite lets you manage up to five social media profiles for free. The profiles can be added from Facebook, Twitter and Google+.
HootSuite has a pretty elaborate dashboard with multiple displays. When you add your Twitter profile, for instance, the interface shows you four separate feeds.
You can select from 8 different streams including home-feed, mentions, direct messages (inbox and outbox), sent tweets, favorite tweets, retweeted tweets, and scheduled tweets.
Apart from accessing four different streams, HootSuite also lets you schedule tweets in one go, so that you don't have to login to your Twitter profile every time you want to send an update.
If you have an idea about the best timings to tweet, you can use HootSuite to schedule tweets on those timings.
Also, it supports up to 35 popular social networks.
I use HootSuite PRO. Try it for free and set up to 100 social profiles, up to 10 enhanced analytics reports and up to 10 team members.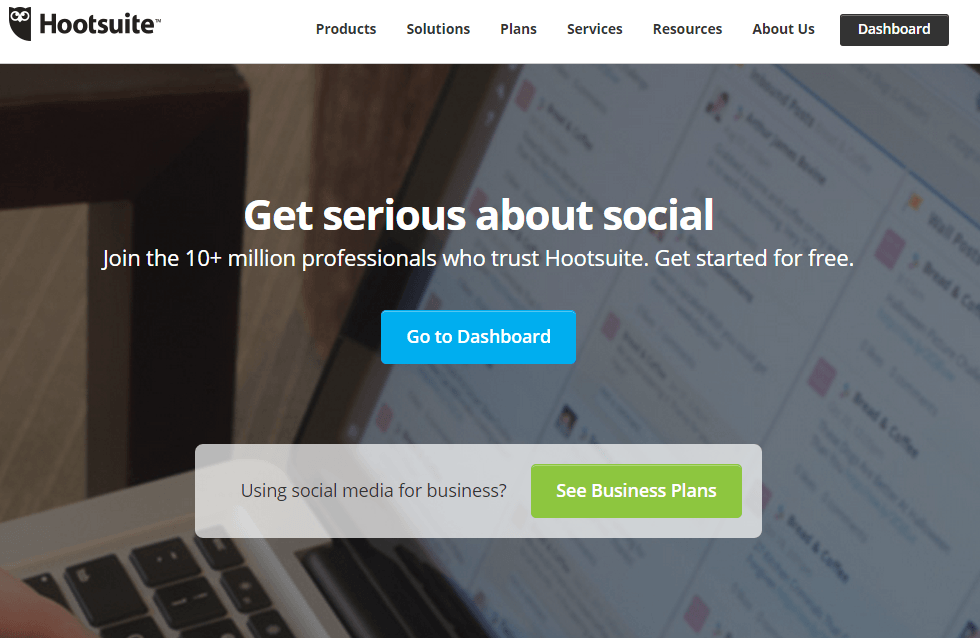 Pros and Cons
HootSuite allows you to manage multiple social media profiles including Twitter, but it is not exclusively for Twitter. You can access Twitter activity via 4 screens and manage your profile better, maximizing exposure.
The downsides are that you still don't have a clue about the geographical location of your followers and the time when most of them are online.
2. Buffer
Buffer is the mobile and desktop app that is proven to get 200% more clicks, reach and retweets on your tweets.
Although similar to HootSuite, Buffer is much easier to use, and of course, free. You can sign in using your Twitter account, but you can also include your Facebook, LinkedIn and AppNet profiles and pages.
Buffer also gives you the option to install a browser plug-in using which you can share anything on the web to your Buffer while browsing.
When you add a tweet, it goes into your "buffer" and is retweeted multiple times, depending upon the schedule that you set.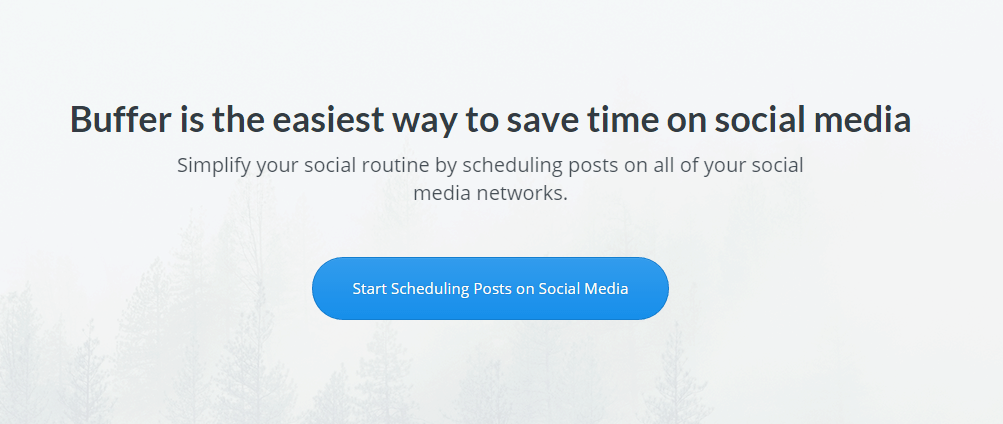 Pros and Cons
Buffer is a delightful app for managing your Twitter and other social media accounts. Simple to use, you can even install it on you mobile and be on top of Twitter all the time.
The downsides are that you still have to figure out the best timings to tweet. The free buffer account also puts a restriction on the maximum number of tweets that you can put into your buffer.
Of course, you can "go awesome" any time by subscribing to the paid service, which lets you add up to 12 social media channels and limitless tweets to your buffer.
3. Tweroid
Tweroid is still pretty basic in terms of the algorithms it uses and the variables it takes into account when analyzing the best times for you to tweet.
Tweroid is another free service that you can join just by signing in with your Twitter account.
It takes a couple of hours or more to analyze your profile, depending upon the number of followers you have.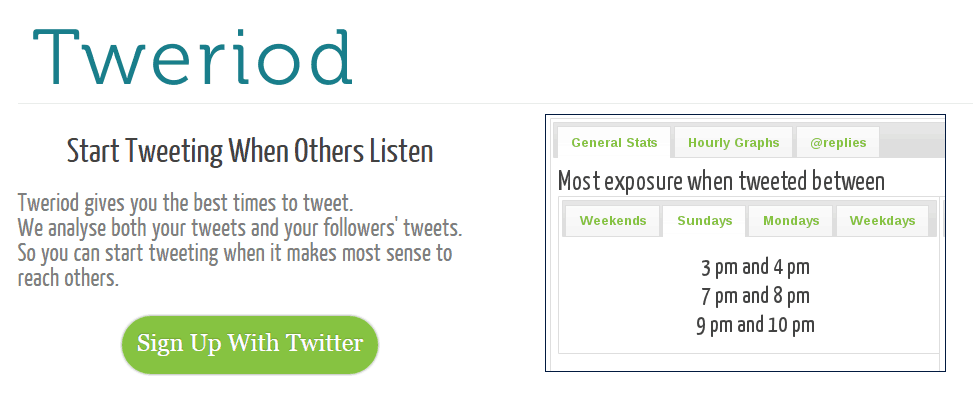 Pros and Cons
Tweroid analyzes your tweets as well as those of your followers in order to calculate the best times to tweet for you.
It includes up to 1000 of your followers, so the results are more accurate. Tweroid also filters out non-humans (bots) that might be following you on Twitter, so the results are more focused.
The not-so-strong side is scheduling and geographical targeting, for which you have to rely on other tools.
4. TweepsMap
TweepsMap is a fantastic free tool that helps you do just what it says: map your followers.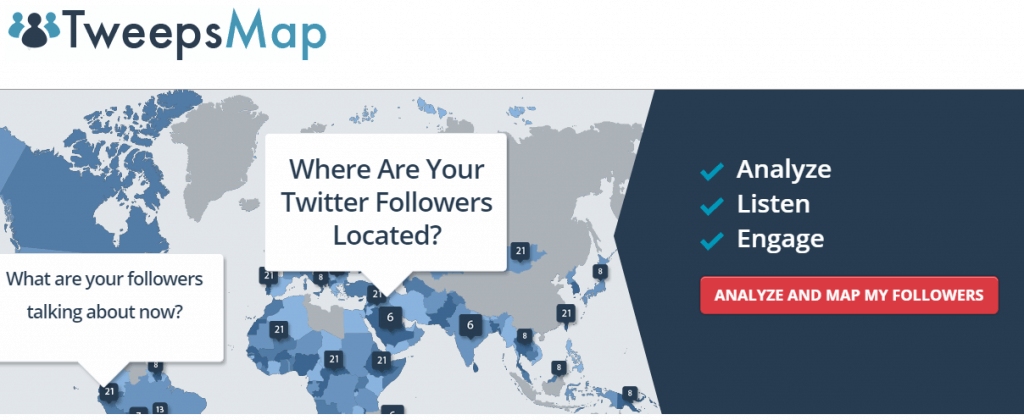 Just sign in using your twitter account, and wham!
You have a comprehensive map showing your followers' locations right before you.
Pros and Cons
The app is pretty amazing if you want to have an idea where your followers are located. The information can be used for optimizing your tweets in terms of timings and effectiveness.
The downside is that you need to use this tool in combination with other tools to get the best results.
Summary
Twitter is my favorite social media for increasing my audience and market my blog content.
Don't miss to visit these informative posts in my archive to discover more tools you can use:
How to Use Twitter Cards to Improve Your Visibility and Social Media Audience
Twitter Chat : a Complete Guide for a Powerful Marketing Tool
How to Write an Effective Twitter Bio : 7 Essential Ingredients to Use
And you?
What are your favorite Twitter tools?
Please share your suggestions in the comments below, thanks!