So you want to make money online, uh?
When you start blogging, you probably do it just for passion.
But when you begin to invest your efforts in your blog, then you feel that receiving "something" back is the right thing.
That "something" can be a monetary compensation for all your hard work.
If you have some experience in blogging and internet marketing,then you know that using the right tools is the secret to accomplish your goals.
In this post I am going to talk about one of the must have tools for your blog.
MaxBlogPress Ninja Affiliate Plugin
MBP Ninja Affiliate plugin can make your blogging life much easier.
This is one of the plugins you are not going to realize how useful it is until you install it in your site.
The huge benefit is having all your affiliate links under one place, checking the stats and saving the time to go find the right affiliate product when you write a new post.

Once you have set up the affiliate link, you can choose to add it manually every time you write a new post, see: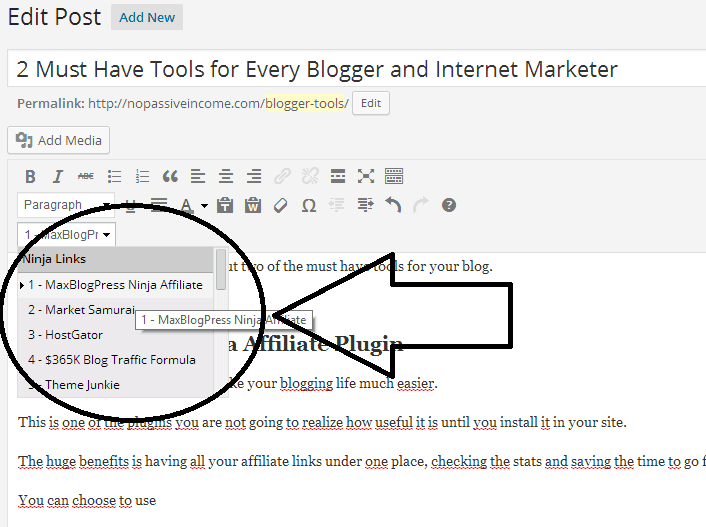 or simply let the plugin add automatically links in your posts, depending on the keywords you have chosen.
So you need to write your affiliate code just once, going into the admin area and filling the settings available as you see below: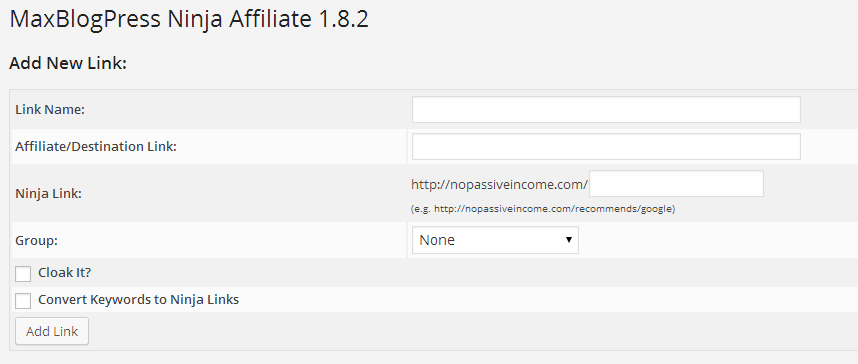 You may want to write all the keywords or variations that your link will apply to.
For example, for web hosting product, you can select "host, hosting, website hosting", and so on.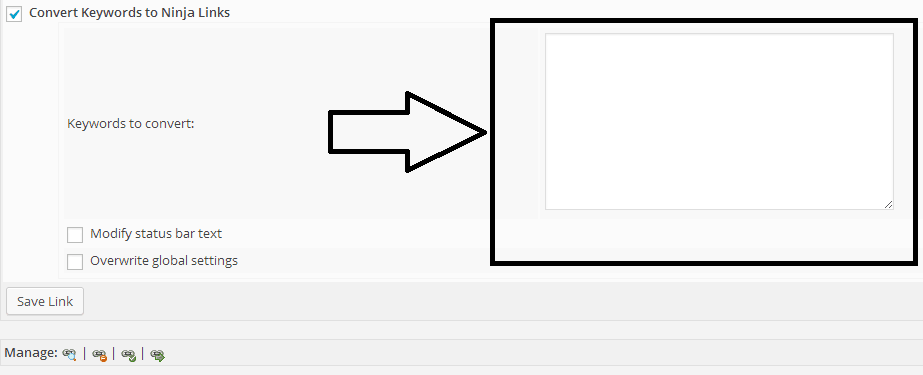 When the plugin recognize any of these keywords in your content, it will automatically convert them to affiliate links.
A great feature is that you can select the number of links you want the plugin will automatically add per post.
I have chosen to replace at most 1 exactly same keyword per article and to not add more than 2 ninja links in my posts.
Of course it is good to not have more than 2-3 per page : you don't want to be marked as spammer! 😉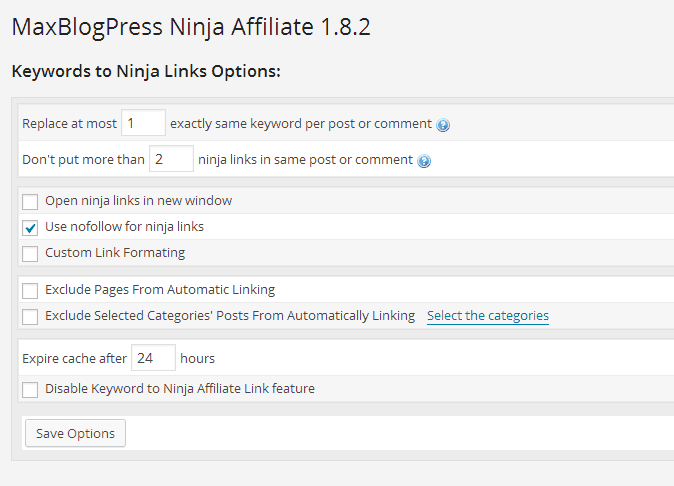 Another fantastic characteristic of the Ninja plugin is that you can add variations of any of your affiliate links in order to track the different sources.
See for example, how I manage the variations of the HostGator link as below:

You do not have to create an entirely separate link : you just add different variations of the same link.
More Usage for MBP Ninja Affiliate Plugin
There are many other features in the Ninja Affiliate plugin.
For instance :
1) Cloaking : some internet marketers want to cloak their affiliate links in order to increase conversions, and with MBP plugin you can do it;
2) Fight Theft : cloaking your affiliate links will help you fight any possibile sabotage of your account;
3) Create Groups for Your Links : MBP plugin allows you to make groups to manage your links easily;
4) Rename Your Affiliate Links : you may want to set up different easy-to-remember names for each of your affiliate links;
5) Customization : you can customize the text that will appear on your visitor status bar when they hover on your affiliate links;
6) Use NoFollow : you have the opportunity to select the "nofollow" tag for all your affiliate links (which is a good choice).
And remember, Max Blog Press Ninja Affiliate plugin use a smart caching, which won't slow down your blog.
Conclusion
If you are going to treat your blog seriously and you want to promote some products, then I suggest you to use MBP Ninja Affiliate plugin.
It will improve your affiliate earnings and will help you transform into a professional or better internet marketer.
And you?
Are you already using this plugin?
What's your feedback?
Please let me know what you think in the comments below, thanks!