It's been 3 months, since the day (October 16th 2013), I created Klinkk. It seems like few days ago!
When you are busy, time flies!
This morning, I finally opened my new company here (KIRE scarl), related to import business, and I will have many things to do, but I want to keep always some free time to dedicate to my online activities.
I have always believed that putting your eggs in different baskets is the safest thing to do in business.
I have many projects for the future and for the development of Klinkk, and one small step at a time I am going to realize them.
As you know, Klinkk is created with Pligg CMS (like many other popular blogging communities : BlogEngage, BizSugar, Blokube, DoSpash, etc), which is quite popular, but with very little amount of coders involved.
The big challenge here is playing with the code and build a stable site, without bugs.
At the moment, Klinkk main features are properly working and I am pretty satisfied with the results until now.
How Klinkk Works
It's easy to register at Klinkk. And completely Free!
You have three options, logging in via Twitter or Facebook, or registering via email.
With any of these options, the registration process is really fast.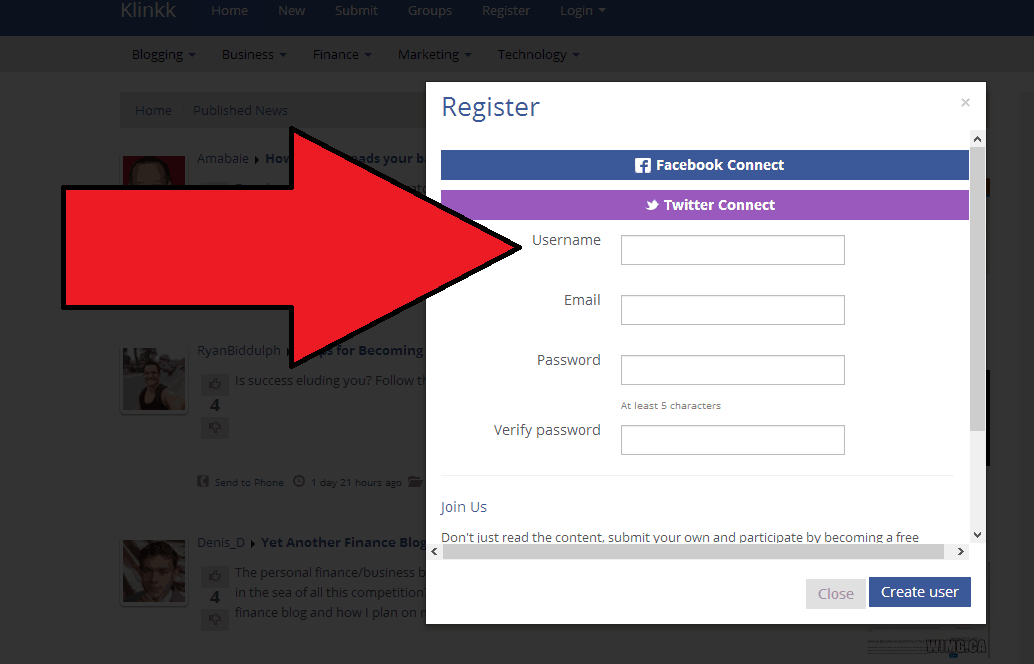 Just choose your username and that's all, you are already a member!
Now you want to polish your account, visiting the settings page and adding a picture, a description of yourself and your social links.
You may want also to follow other members, in this way the message system will be working and you can start sending private messages.
With "Karma Wrangler" feature recently activated, after you register, before submitting any of your articles, you need to vote at least 5 existing stories.
Then you can add your own posts. There is a walk-through tutorial here at Klinkk blog:
How to Submit a New Story to Klinkk
But it is really simple, don't worry.
Basically you just need to add your URL and in the "article details" page, you will check automatically the story title.
See: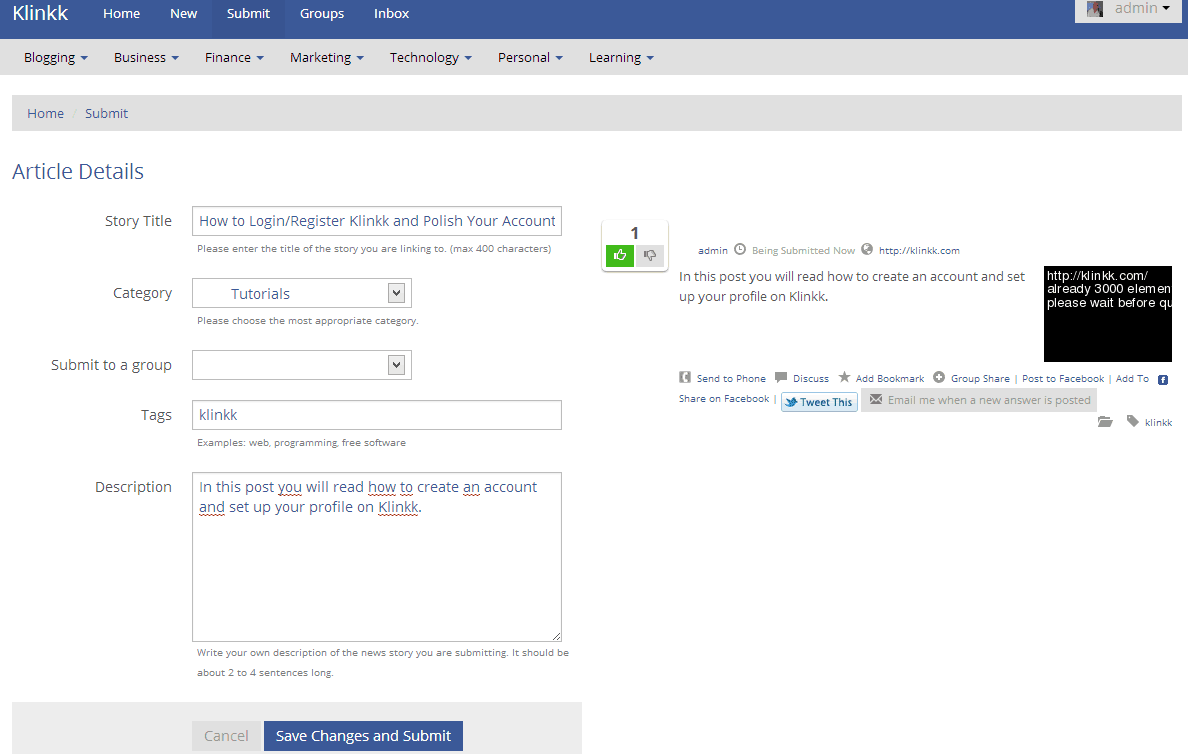 You just need to add the proper category, with tags, and insert a unique description.
You are ready then to click on the "submit button" and your story will be on the "New" section of Klinkk!
With 5 votes, at the moment, you will have your story published on the homepage (later on, with more members, I am going to increase the number of votes needed).
Benefits of Using Klinkk
As a blogger, you will see many benefits after joining Klinkk and being active in the community.
You surely understand the power of networking, meeting new people and sharing your stories, you will get traffic and SEO improvement for your blog.
Traffic
Your story will be visible to all the members in the new section, and if published, you can get more exposure in the homepage.
With the "weekly featured story" introduced, the post with the most votes of the week is showed at the top of the Klinkk homepage.
So more exposure for you, above all for free!
SEO
When you submit a story in the "new" section, the link is nofollow.
When a story is published in the homepage, you will get a dofollow link from Klinkk.
At the moment, just 3 months after the site was created, the Alexa rank is already below the 50k, check it here.
The number of backlinks pointing to Klinkk is increasing naturally everyday, and I really mean it : many bloggers already has featured the site in different articles on their blogs and I really appreciate that.
This means Klinkk is already loved by many webmasters (let's see which PageRank it will get with next update).
Networking
With many popular bloggers who are using Klinkk, you have the chance to meet them and engage conversation within the comments, groups or directly on their blogs, starting from the stories they share on the community.
In this way, you can increase your connections and your audience, just using Klinkk every time you need to share one of your blog posts.
I remember that the first big suggestion I received when I started blogging more than 4 years ago, was to build relationships with bloggers within your niche, as you can learn a lot from them.
You may receive a lot of help and the benefits in term of a real friendship you can build is huge.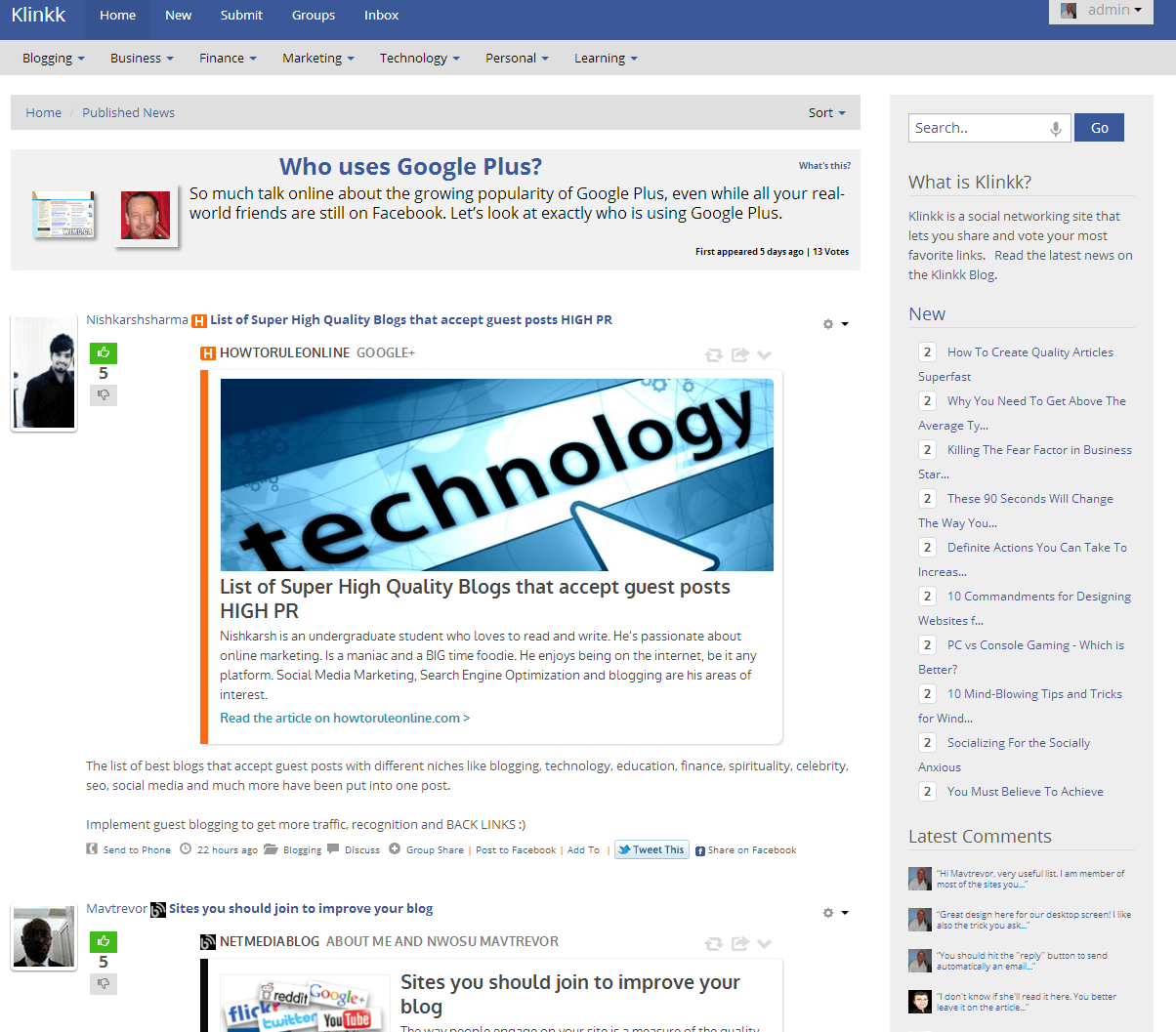 Conclusion
Whether you need to increase traffic to your blog or improve your SEO, or you want to expand your connections, then I suggest you to join Klinkk today.
It's free and you just need to dedicate each time 5 minutes of your marketing efforts.
You do not have to simply share your posts, you want to vote on other members stories, comment on them, visit their blogs.
In other words, simply be active in the community.
In this way you will expand your audience, and this is priceless!
I really hope Klinkk will keep growing really fast as it is already doing at the moment and I am sure if you decide to join, you will be satisfied of the results.
You can like Klinkk on the Facebook page, or follow on Twitter, or circle on Google+.
You may also read about the latest news on the Klinkk blog.
What do you think?
Have you already joined Klinkk?
Please share your experience in the comments below, thanks! 🙂