Traffic, traffic, traffic! Every webmaster needs always more!
We all know how organic traffic is so unstable, so one of the most effective methods to build a base of users is via social media.
Most bloggers with experience definitely use this tool, but for the few of you who do not know about it, in this article I write a guide about JustRetweet.
JustRetweet is a fantastic platform where you can expand your social media audience, by sharing other members posts and gaining credits, while you want to submit your content and get it shared by other users.
How to Get Started with JustRetweet
It's easy to create an account with JustRetweet. You just need to sign in with your Twitter credentials and indicate your email. That's all.
After this, you will start with 100 credits. It's up to you, then, earning more credits, by sharing some content searching between categories in the homepage or just submit your first post.
Your first submission will be moderated. If it will be fine, your next tweets will go directly to users dashboard.
Be sure to not submit affiliate links, sales pages, homepage of your websites, in order to avoid getting blocked.
You might want to check JustRetweet guidelines here.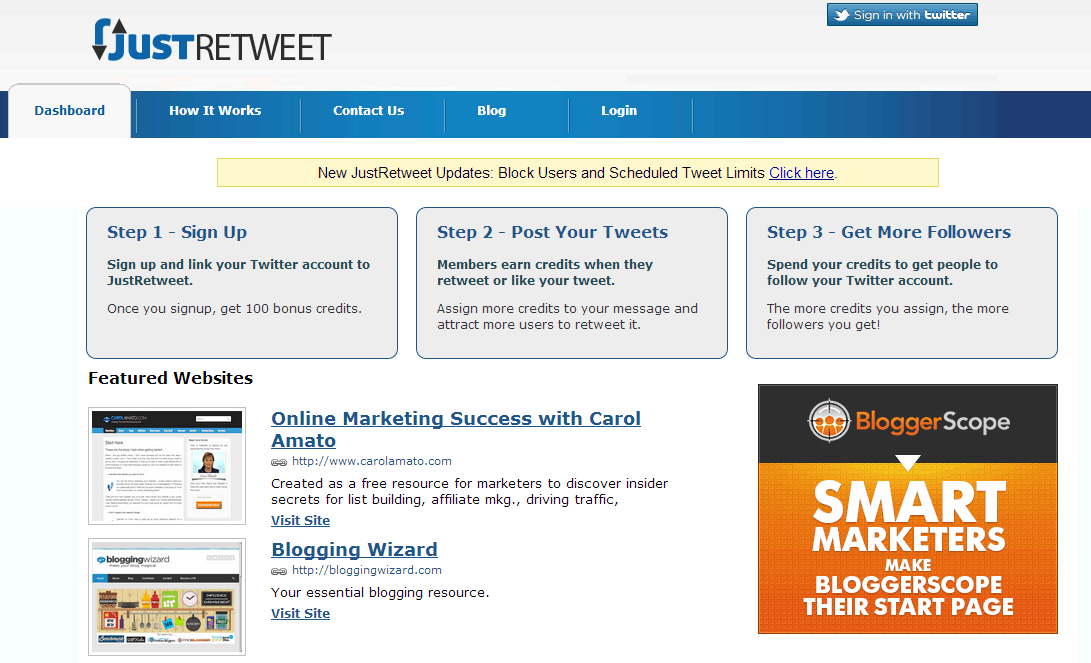 Benefits of Using JustRetweet
It's not hard to understand the benefits you'll receive using JustRetweet :
– you'll receive more ReTweets for your content;
– you can choose to have your posts recommended also on Google Plus and liked on Facebook;
– you may gain more Followers on Twitter;
– you receive more traffic to your blog;
– you increase your social media audience;
– you build new connections with real and popular bloggers of your niche.
So when you have new posts to share, or if you want to promote your old content, you can submit your link to this great platform.
JustRetweet Settings
It's very easy to set everything.
In "settings" menu of your account, you may set the "tweet interval" (I have choosen 2 hours), or if you want to tweet your own submissions automatically, there is an option for it.
You can set how many credits per follow you would like to give to your new followers gained thanks to this site.
You might want to add your website title, URL and description.
Also, when you have to submit new content, just be sure to follow the site guidelines and choose the proper category for your posts to share.
If you need it, you may even block users if you do not like their content. This is one of the last new features added to this site.
Another news on JustRetweet is that there is a scheduled tweet limits of one day.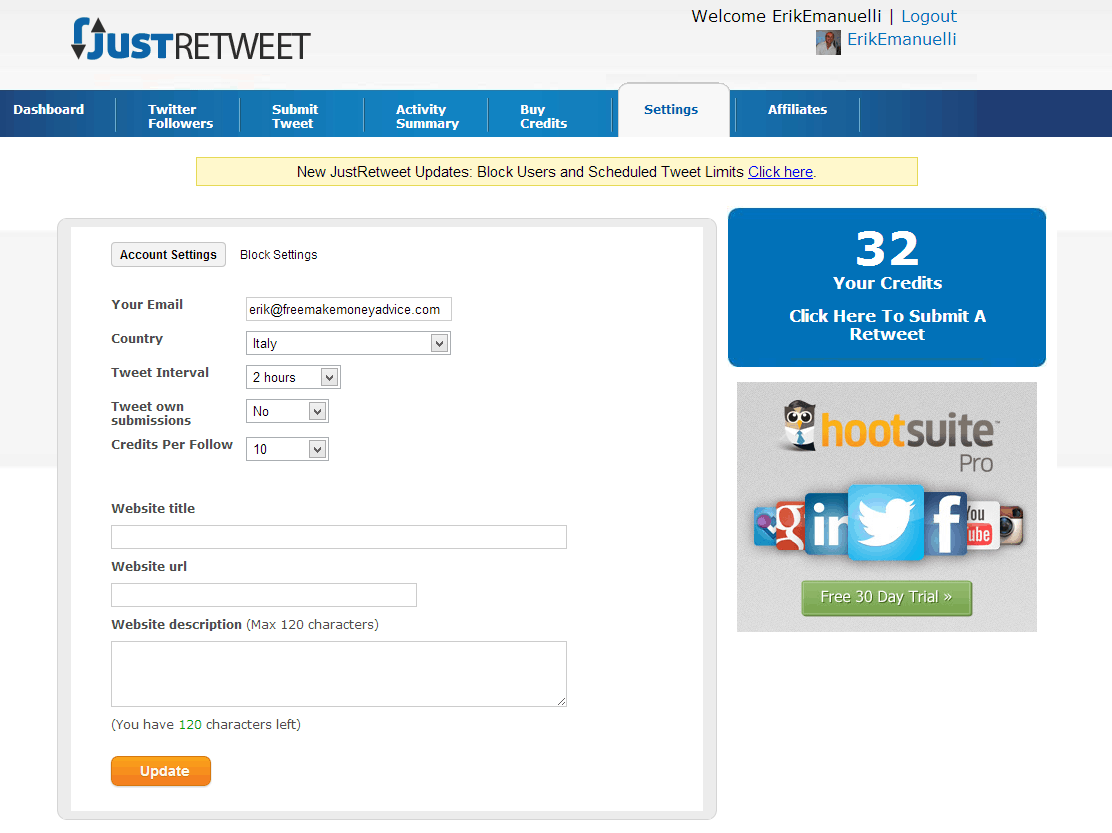 Who are using JustRetweet?
It is visited and used by real people, and you can even expand your connections here.
A lot of popular bloggers use JustRetweet, as for instance Justin Germino, Jane Sheeba, Ileane Smith and many others.
This is a real plus, as your content will be shared by these BIG names of your niche and your blog may be visited by the audience of these popular marketers.
As you see, there are so many benefits of using JustRetweet, that makes it a really useful and valuable free tool.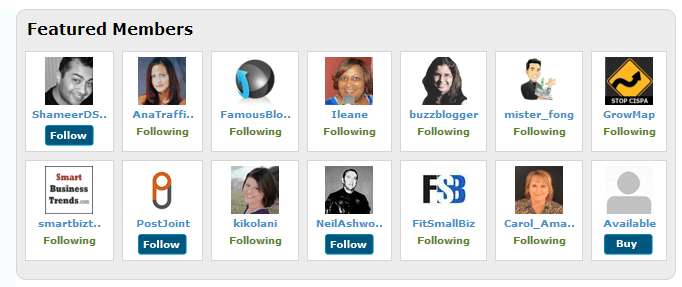 Premium Services at JustRetweet
If you do not have time or you just want to be featured on the site homepage, you can purchase a package choosing between the premium services.
You may want to be featured for 3 days as VIP and gaining 5000 credits for just 30$ or you may choose to simply buy 2000 credits for only 10$.
If you have some funds to invest, there is a big package :
1 Month VIP + Website Featured + 20,000 credits for just $99.
Conclusion
Whether you want to expand your audience or share your last post, be sure to visit JustRetweet.
It's very easy to understand and you just need few minutes to gain huge benefits from using it.
What about you? Are you already a member of JustRetweet?
Please share your point of view in the comments below, thanks!