A lot of blogs are created each day over the internet and if you want to have a chance to reach success, your site needs to differentiate from the others.
You do not have a second chance to make a great first impression, and a beautiful dress will help you a lot.
The same principle is applied to a website : you need good graphics!
Of course the beauty of your blog must be reflected in the excellent content, otherwise you will have wasted the opportunity to gain a devoted reader.
You can choose to invest somewhat around few thousand of dollars to hire a web design agency and get unique graphics, or decide for the alternative way, and build the site yourself with WordPress (saving a lot of money).
You may want to start with a free theme, but the smart choice is opting right away for a professional and premium WordPress theme.
BlogsTrend of InkThemes
InkThemes is a great choice if you want to get a responsive, easy to use and simple to set up professional theme for your WordPress blog.
There are 47 different themes you can choose from.
You can also request a test in order to verify the best theme for you (the trial mode is a unique option from InkThemes).
From the many available, I liked their "BlogsTrend" theme, which is suitable for different niches, like technology, food, fashion, travel or a personal development blog.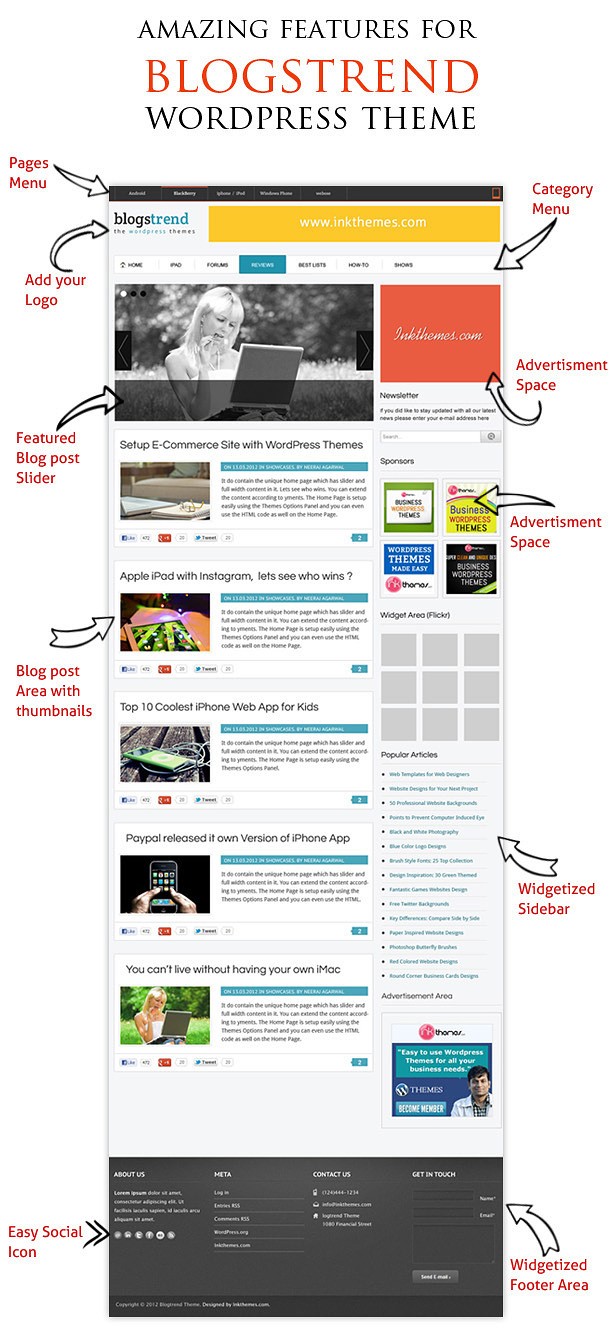 With this theme, you have many colors available to select from and the beautiful slider at the top of homepage enriches the user experience.
There are two different menus, one for your pages and the other for your categories.
Below the main slider, there are displayed the blog posts with thumbnails.
In the sidebar you can place the popular articles, or the advertisements.
The footer area can host up to four widgets, with easy social icons option.
At the end, there are many styling options and custom widgets.
In a nutshell, BlogsTrend is a great choice for your nice blog.
InkThemes Core Features
All the themes have some important core features.
Easy to Use
Each theme is simple to install with just one click.
You may build your niche blog or your business site in a handful of minutes.
It's very easy to set up and personalization does not require technical skills.
Completely Responsive
With so many visitors coming from mobile devices, it is imperative that you install a responsive theme on your site.
InkThemes are completely mobile responsive, which means they adapt themselves to a visit coming from a smartphone or from desktop.
This way, you will increase the user experience!
Perfect for Any Niche
Whether you are going to build a technology blog, or a travel site or a place for your business company, InkThemes has the solution for you.
There are many themes available you can choose from.
Theme Pricing
You can select one single theme and pay for it. With just 59$ you have the option to install it on different domains.
With this unique payment, you will get online support, video guides, future updates and photoshop images.
Or if you need multiple themes, with $147 you can purchase everyone (there will be 1 new theme every month).
The biggest package is valued $247 : you will receive all the themes and the plugins in the store.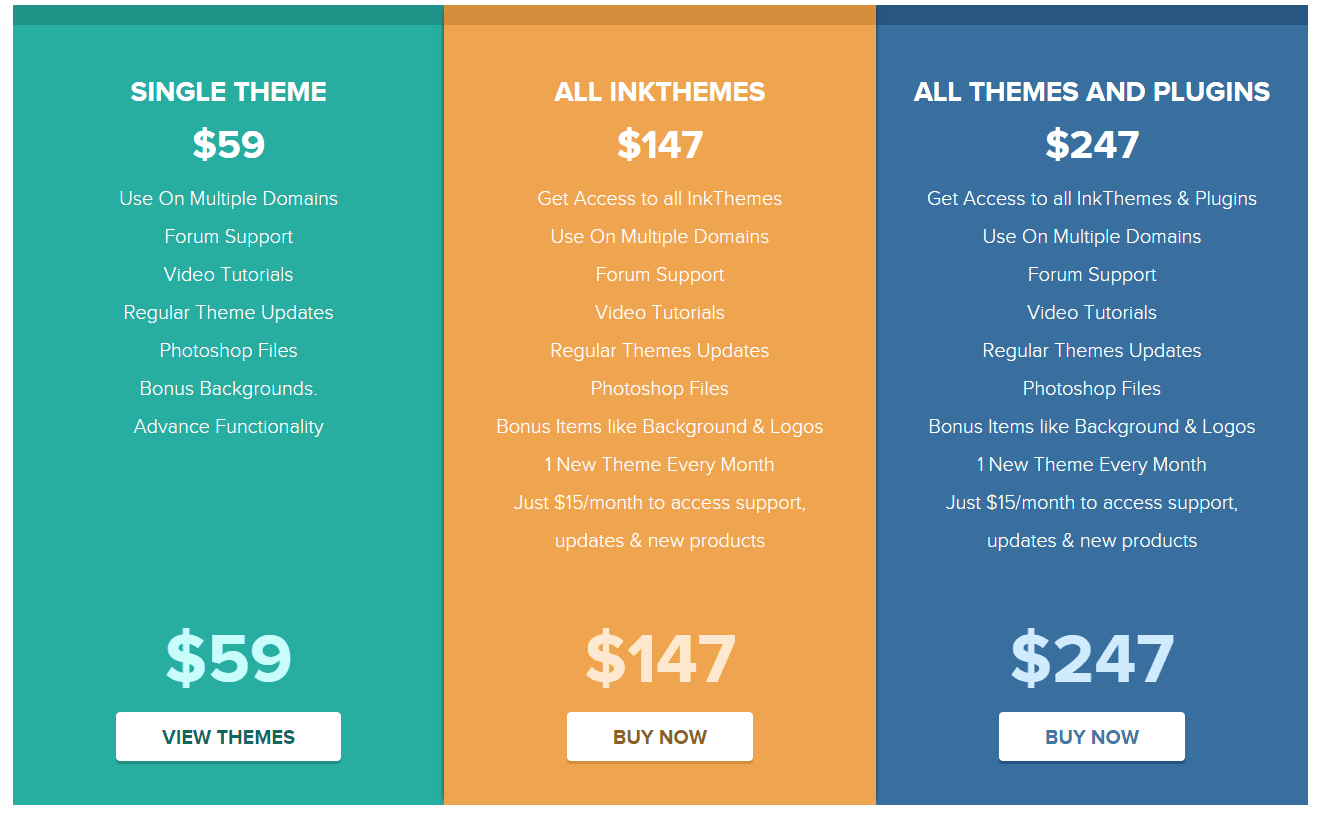 Support
Normally you won't need any support, as you will be able to tweak the theme and personalize your site without any technical skill.
But if you need any kind of help, there is a customer support available for your requests.
Conclusion
If I could go back when I started my online blogging career, I would have chosen a professional theme right away for my first site.
It may sound a difficult task for any inexperienced people, but with some efforts you will start with the right foot.
Having a good looking and professional theme is very important to ensure your visitors won't hit the back button right away.
InkThemes is a great choice for your brand new site or for upgrading your old theme to a new professional and good looking one.
My best wishes for your online activities! 🙂
What's the theme you are using on your site?
Do you know InkThemes?
Please share your experience in the comments below, thanks!