If you are into online marketing and wish to expand your knowledge and connections about this industry, then you should join Inbound.Org today.
May be you are already a member, but if you are not (or if you are not engaging enough there), I suggest you to take a look at this post, so to know more about this vibrant community.
Why You Need to Join Inbound.org
Inbound.Org is a meeting point of many popular internet marketers. It's a fantastic social sharing website where you can make new connections, increase your authority and discuss the best articles dedicated to online marketing.
It has born as a news based platform, where users could submit their favorite stories in this industry, but has soon turned into a must visit place for every marketing professionals.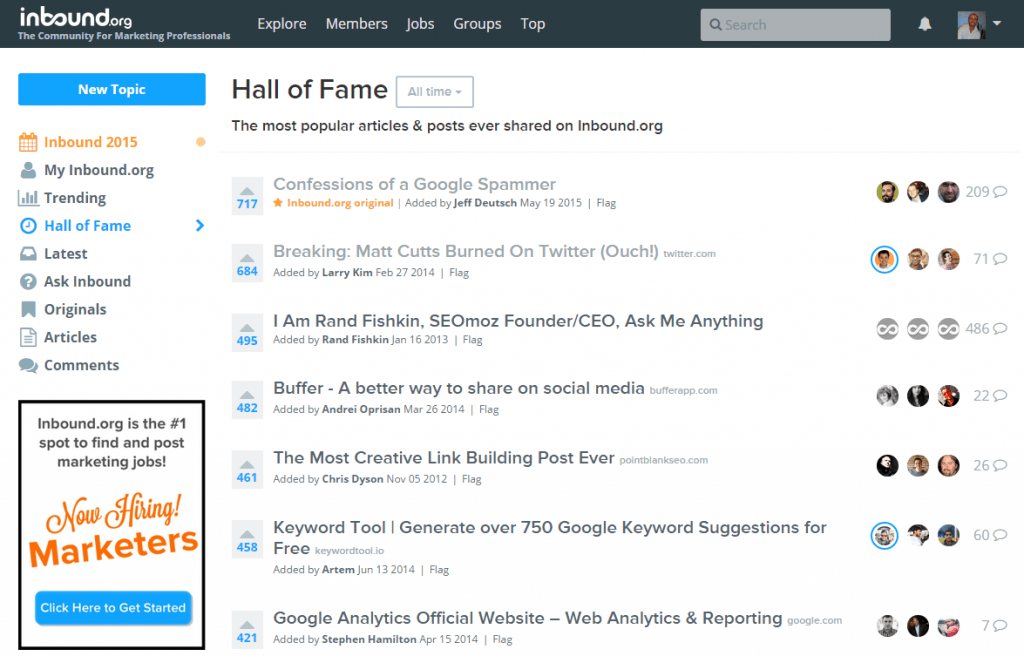 At the time of this writing, Inbound.org has more than 112,000 users (and counting).
The community was created in 2012 by Rand Fishkin and Dharmesh Shaw. Check the following video, where they discuss the origin of Inbound.org during the Boston conference:
Getting Started at Inbound.org
Joining the website is easy, just fill out the registration form.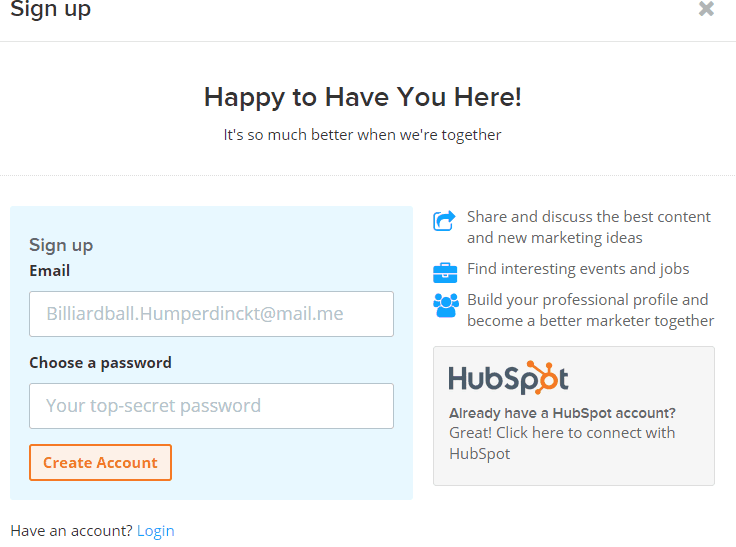 Once you are logged in, you can complete your profile.
Remember to add as many details as possible, so to get your name introduced in the community.
If, for example, some of your contributions become published on the homepage, people will start checking your profile for more information and they will likely to visit your Twitter or Facebook profile, or your website.
Inbound.org's interface is really intuitive and simple to use.
The homepage hosts the published stories, or else, "Trending" section.
Here you can check the most popular submissions of the users, based on the site algorithm (which, in my experience, includes both the number of comments, votes and age of the story).

You want to visit the original URL of the content (or read the complete story, if it's a post published on Inbound.org blog), and leave your honest and real feedback, voting up if you liked the story and adding your comment, if you have something useful to add. You can even flag the submission, if you think it is inappropriate for the community.
If you check the upper left corner of the site, you'll see the following menu: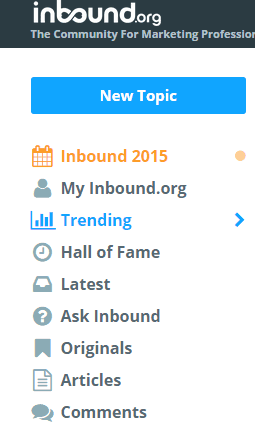 Have fun browsing within the options, visiting, other than Trending section, the Hall of Fame (the most popular stories of all time), the Latest (recent submissions), or Ask Inbound, where you can check the most popular questions being asked in the community.
Inbound.Org Voting System
The system of voting is quite easy. There is just an option, voting up.
The number of points you can give may vary, depending on different factors, like (in my opinion):
Karma
personal upvotes score
number of submitted stories
your profile
I noticed I can give 3 votes, each time I click the up arrow on the stories. Some people can bring up to 5 points, while others just 1.
Please note: this is just based on my observations.
Sharing an Article
Before submitting an article, be sure to give at first your genuine contribution to Inbound.org (votes, comments, ideas).
The "New Topic" button should be just part of the activities of users in the community. And remember to follow the 90/10 rule (90% of shares of the useful content found on the web, 10% your own articles).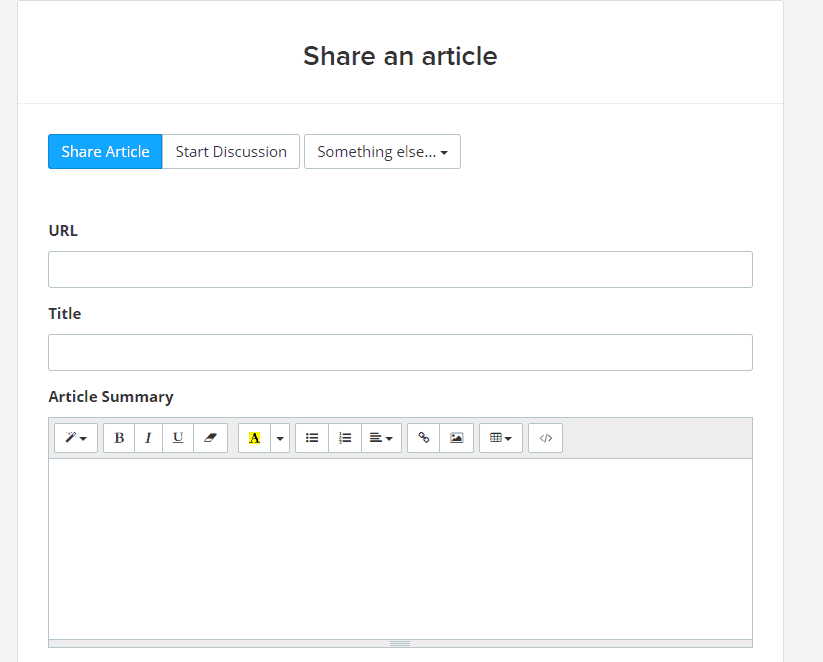 When sharing an article, add the URL, title and unique summary.
Also, be sure to check the categories and pick up the most relevant ones for your content.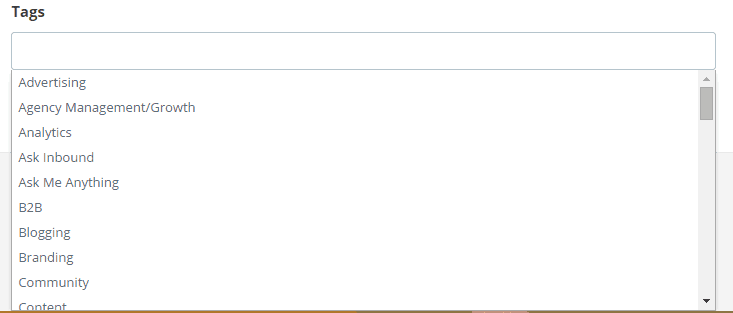 Remember that the articles shared should be interesting for the community (check Inbound.org posting guidelines here).
Also, the website offers some other extra features. Read on.
Explore

Check this section when you are new to Inbound.org, and you want to have a look around, discovering the tons of content available.
Members

"Members" feature showcases the people of Inbound.org
There are a trending, top and latest section you can visit to find new marketers and people to connect with.
Jobs

Other than submitting stories and making discussions, Inbound.Org has an interesting section where you can find job opportunities in the online marketing industry.
There are many listings, mostly from U.S., that you keep as a resource for SEOs, SMMs, content and internet marketing professionals.
Groups

At the moment, there are more than 230 groups you can join.
Depending on your interests, you can request to enter one or more groups.
Be sure to follow the rules of being a good member and not spamming those groups, for self promotion.
Top
The "TOP" section at Inbound.org shows different pages, according to the menu, as displayed in this image.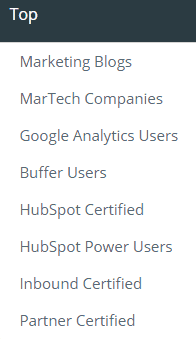 Have fun browsing within the options.
For example, the first feature, shows the best marketing blogs across a diverse range of marketing disciplines from thousands of top blogs in Inbound.org index, using search and social metrics (data refreshed once a week).
Conclusion
Inbound.org is a community and as such, is basically founded on users.
Check the guidelines, before starting to submit your content and to avoid getting banned.
These are things you should never do at Inbound.Org:
create fake profiles and manipulate the stories (moderators are actually checking users activities, keeping a particular eye, for example, at upvotes coming from the same IP address);
just submit your own content (remember, 90/10 ratio);
submit spammy or irrelevant posts;
spamming within comments.
Think to Inbound.Org as an important part of your internet marketing strategy, included the chance to build useful and interesting connections (check users profile and ping people on Twitter too).
Use the community as a place to learn new things and as a content management tool.
I'm a big fan of Inbound.org and I hope to see you there too (visit my Inbound.org profile here)!
What do you think?
Are you already a member of Inbound.org?
Please share your experience in the comments below, and help spreading the word about this post, thanks!