Creating a website is just the first step for a business that wants to land on the Internet.
Nothing comes from chance. Making lead generation and selling online are two challenging activities, which require investments in terms of time, resources and money.
So what are the things you should focus on first? Take a look at the tips listed below, inspired by a perfectly built website: SLO Smiles.
1. Make It All About Your Customers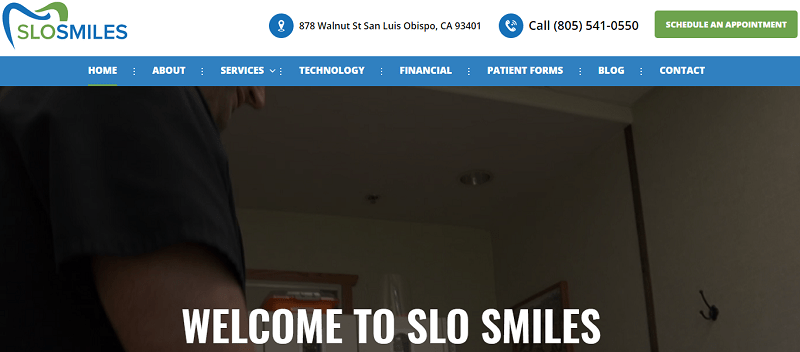 The first and most fundamental point of this list. Your business website serves to show online users what are the products and services you offer. The purpose here is to transfer a commercial message to your audience.
To cut a long story short: the business website must be designed for customers – already acquired or potential – and not by the company's management! It is internet users who need to find the site interesting, not business executives.
Therefore, communication must be focused to reach the public in the niche. Something like what SLO Smiles is doing with the message on their website's homepage:
The San Luis Obispo family dentists you trust… now with a new name!
2. Create Quality Content
The best description of your services and products is mandatory:

But you can also use the company website to make content marketing. For example, with a blog.
In this case, the suggestion is to create quality content for your audience. Which is, content that is relevant and useful to solve the problems of the people in your niche.
3. Create a Functional Navigation Menu
Ever heard of user experience? This is a fundamental concept for the success of a company website.

Satisfactory browsing is also achieved through the design of a navigation menu that is functional.
It must be easy to reach, with a nice layout and, most of all, quick to load.
4. Capture Attention With a Headline
The goal of your homepage should be to clearly communicate your business message.
It must be done through a dozen or so words. Like the following one:

5. Usability is Your Precious Ally
It is essential that a company website is usable.
It should be simple to navigate and must allow visitors to easily find what they are looking for.
Here are some of the basics of usability and accessibility:
Server uptime – It's important to ensure your users don't receive an error trying to load your site. Invest in good hosting.
Broken links – Avoid any dead links on your site (no 404 pages).
Mobile responsiveness – Make sure your site can handle visitors from different devices (desktop, tablets and smartphones).
6. Contact Details on Each Web Page
The company address and phone number must appear on every web page of your business website (especially if you have run an e-commerce).

Of course, you must also create a contact page, and make it reachable from anywhere on the site.
7. Give Your Visitors Something to Interact With
Make good use of compelling pictures.
First, because the images can better convey the message. Second, because adding an SEO-optimized image helps the web page to position itself better on Google and other search engines.
Remember: never insert images that are too heavy in an article, otherwise, the loading times of the web page will rise to the impossibility!
You can also add relevant videos, or even polls and quiz.
8. Add Your Company Logo On Each Page
As we all know, a visitor can arrive on a page of a website from search engines and not directly from the home page of the site. So, it is good that the user understands as soon as possible on what site has landed.
An effective help to be oriented is given by the company logo. Adding it on every page of the business site is essential to make visitors understand in a short time where they are and, at first glance, what they can expect from their browsing experience.
9. Add Testimonials
Including testimonials will show to potential customers that you can be trusted.
For example, how many happy clients do you have?
How many of them have left a testimonial?
Here's an example of this strategy taken from SLO Smiles website: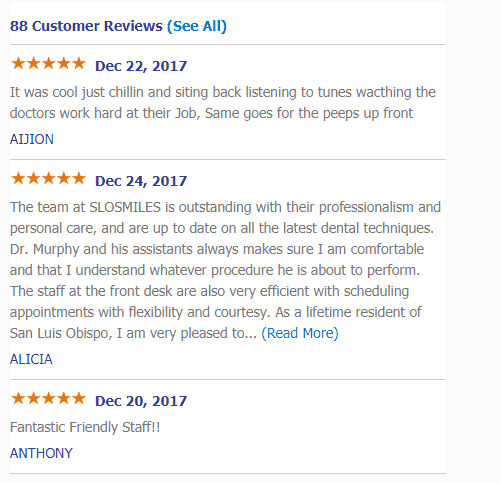 Now, Over to You …
What websites do you find amazing? Why?
Also, is your own website unforgettable?
Please share your thoughts in the comments below, thanks!