Today I want to show you, how you can find best keywords for your blog or website.
I assume that you have your "niche", so we'll focus our attention only on keywords.
And best keywords for me means that there is a lot of searches for the keyword, and competition with the keyword is not to high.
There are a lot of tools, you can use for it. Some of them are free, and some aren't.
Most famous free tool for researching keywords is Google Keyword Tool. I like this tool for three reasons – it's free, it's simple and you can use this tool on each computer, which has access to Internet.
Since one year I also use paid tool, Market Samurai. I'm very happy with that tool (it saved me a lot of time), and I want to show you how you can use it.
So, let's try find some keyword 🙂
We will try to check the competition and amount of searches for 3 keywords:
keyword tool
keyword research tool
keyword suggestion tool
Regardless the tool we will use for it, we should choose match type as "Exact" – this will give us proper amount of month searches.
In Google Keyword Tool we'll get something like this: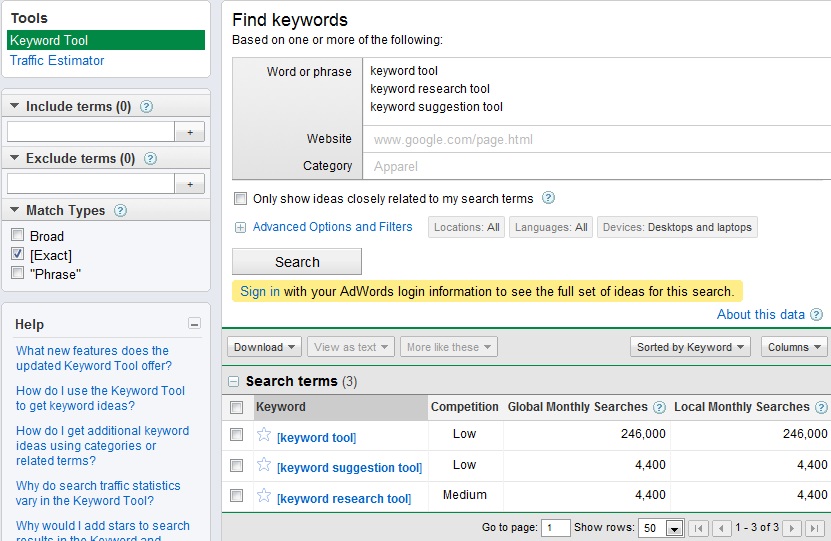 So we have a lot of searches for "keyword tool" – about 246 000 in a month, and about 4 400 searches for "keyword suggestion tool" and "keyword research tool"
Competition for 2 first phrases is low and only for "keyword research tool" is medium (according to Google of course).
You may think "Great, I found gold mine for me! There is so much searches for phrase "keyword tool", and low competition, I'll have a lot traffic on my site with a little effort".
Hold your horses, it's not so easy…
Unfortunately we must go deeper to check real competition for our keywords.
How we could do it?
Various SEO masters use different criteria to find keywords with low competition.
I use only 3, simple factors:
1) number of webpages, in which body you can find the keyword in the same word order
2) number of webpages with specific keyword in page title
3) number of webpages with specific keyword in URL of the page
If we want to check it without Market Samurai, we must use Google once more, but this time we need search engine http://www.google.com/
For finding it out, we may use Google advanced search or special operators. I will use operators: intitle, inurl and ""

So for our criteria we will have, for "keyword tool", such results in Google search:
1) "keyword tool" – About 3,910,000 results
2) intitle:"keyword tool" – About 1,060,000 results
3) inurl:"keyword tool" – About 1,370,000 results
And for each phrase we should repeat the process of typing our keyword with operators 3 times – so it's really time consuming.
We can make it faster in Market Samurai
After entering our keywords into the tool in KEYWORD RESEARCH section, we must setup our research. So we check in Total searches, SEO Traffic, SEO Comp, Title Comp and URL Comp. After it we choose Match Type: Exact and Period: Monthly. Next we click on Analyze Keywords button.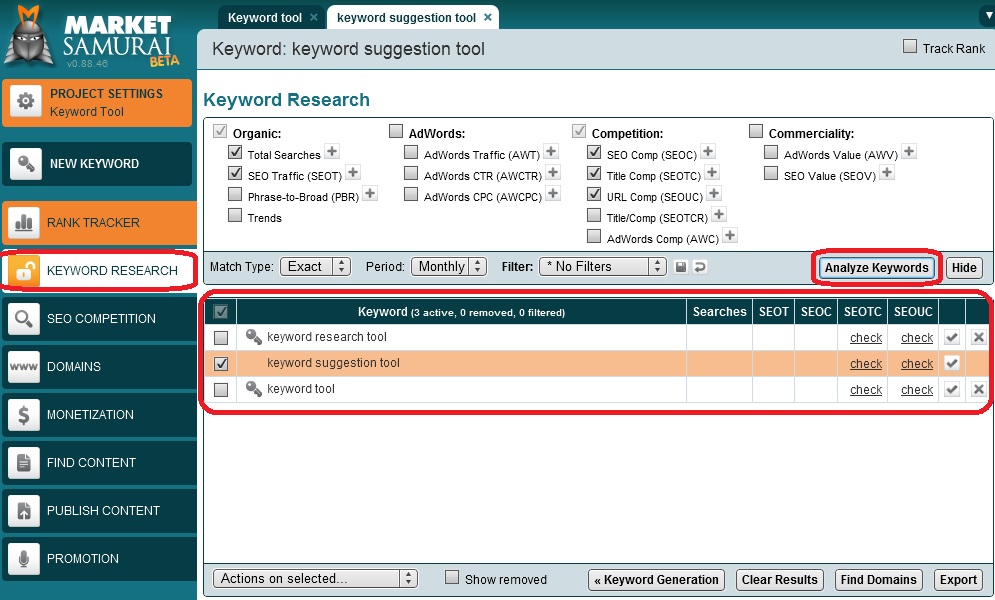 After it we got some results, but in fields SEOTC and SEOUC we have links: check. We must click on each, and we will get the whole table with interesting data: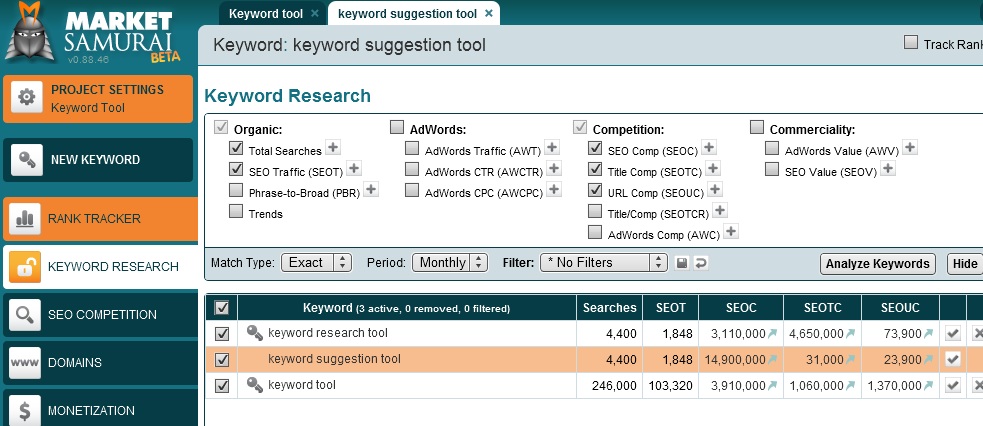 Now we can compare all of the keywords altogether. And we can see, that competition for "keyword tool" is not low, as Google Keyword Tool suggested, but is really big.

If you have questions or some notes about this topic – don't hesitate and leave a comment below.
And how do you find keywords for your website?