Are you investing a lot of your time and efforts in Google Plus?
No? Well, if you are a blogger or a internet marketer, then you should.
It's been almost three years since the launch of Google Plus (June 28, 2011) and since then, the social network of Big G is becoming increasingly popular.
In fact, Google Plus is used today by several million users.
It seems to have even surpassed the one billion registered users.
Not only you need to have a Google+ profile, but you should also concentrate a big part of your marketing efforts in it.
May be these tips will help you increase your audience and influence via this huge social network.
1. Complete Your Profile
It is essential to make your profile as complete as possible.
This is even more true if you manage a company page of a brand or a small business.
So be sure to add your company logo or personal photo, your basic information and your biography (which allows the reader to know you better), your work, education, contact information and your links, with your other social media profiles, your blogs and the website to which you contribute as writer.
The completeness of the profile is very important, as allows users to evaluate you and understand if they want to add you in their circles or not.
Do not forget that one of the main advantages of being on Google Plus is to increase your authority and influence among other users of your niche.
2. Post Regularly
A tip that you can consider in almost every area of the web and that is true also with Google Plus.
Posting regularly will allow you to achieve greater results in terms of visibility.
But be aware that the amount of the posts should be supported by an unquestionable quality.
Also, be sure to share the articles of your friends you find interesting, not just your own content.
And do not talk always just about business or "serious stuff", from time to time, share something funny! 🙂
3. Use the Hashtag
The hashtag is a word or phrase (with no spaces) preceded by the # symbol – for example, #Blogging – that helps people find and participate in conversations about a given topic.
The hashtags are therefore a great tool to reach a wide audience.
The suggestion is to always use them in your posts on Google Plus, but without adding too many in the same posts. One is more than enough!
Also, if you forget to add the hashtag in your posts, Google+ will suggest one for you.
Of course be sure to check that it is in line with the topic of your share!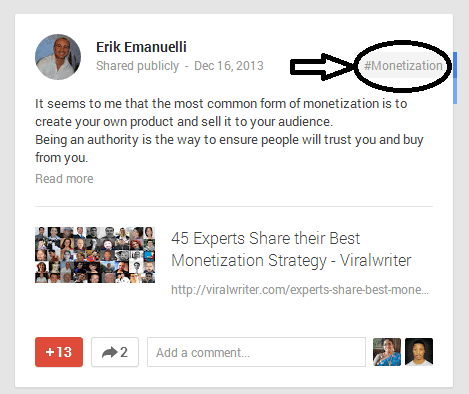 4. Interact with Your Circles
The circles are meant to organize your contacts on Google+ according to the classification criteria you choose.
They are extremely effective for your content marketing and for your personal branding.
For instance, through the circles, you can share the content you post in a way similar to what happens with the tags on Facebook.
Basically, you can share the content with a group of people who have the same interest of you for that information.
The interaction is very important.
Don't be afraid to share other users posts, if you think it is worth.
Also, give a +1 on a very useful content and leave a comment, if you have something interesting to say.
5. Set Up Your Authorship
Google uses Authorship to build a connection between you and the content you publish.
When you set up your authorship, search results will be enhanced with your picture and Google+ profile, helping readers find your content right away and let you create influence and visibility.
You have two options when you want to set up your Google+ Authorship.
You can add in your profile the email of the domain that you contribute to (you@yoursite.com, for example) or you may link your content with your Google+ profile.
If you write for several blogs, then it is suggested the last option.
This is what you need to do:
first include a link to your Google+ profile in the author bio of each of your articles, adding rel=author tag;

then, visit the

Contributor to section of the About tab of your Google+ profile and add a link to your author page for each blog that you write for

.

After you have claimed your Authorship, your Google+ profile picture will be placed automatically next to each of your posts in the search results.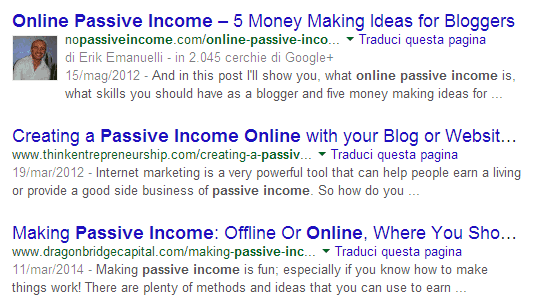 You will receive definitely benefits from claiming your Google+ Authorship : enhancing your visibility in search results, creating authority for your content and getting more attention from your audience.
Conclusion
There are many reasons why you should be present on Google+.
I am sure you have already set up a great profile and you are doing a fantastic job, but if this is not your case, then I suggest you to create your profile right away and start receiving the benefits you deserve from this social network!
Do not forget to let me know what you think in the comments below, thanks!