Collecting data from your readers is really important for every webmaster, blogger or any other business owner.
You can get feedbacks, or complaints, or you can even sell products using the right application.
Also, you want to be able to use the same tool to build your email list, linking it to your favorite autoresponder service.
In this article we are going to talk about FormGet, a very intuitive and useful contact form creator, that offer you the above mentioned features and many interesting others.
FormGet
This video will introduce how this tool works and what you can do with it.
As you have noticed from the video, FormGet has a powerful and at the same time easy to use interface.
With a drag and drop feature, you have the possibility to create simple or complex contact forms, even collecting payments with them!
After registering to FormGet, in you will see in your dashboard the option to create your first contact form.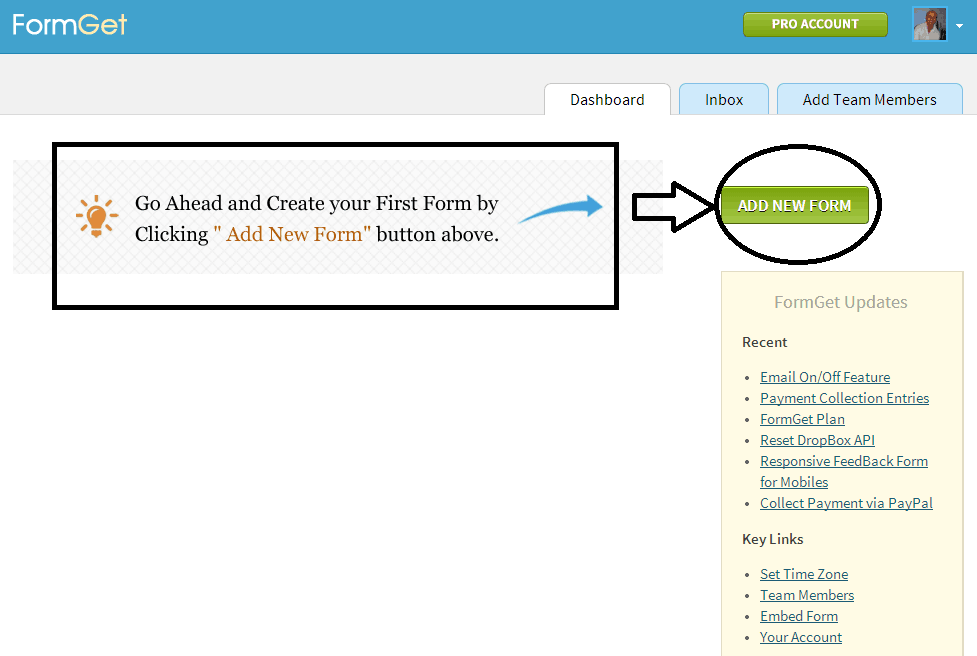 Clicking on "Add new form" will redirect you to the form creator tool
Simply add the elements you want to be present on your form, and click again on them once added, to activate the settings panel.
See a screenshot for demonstration: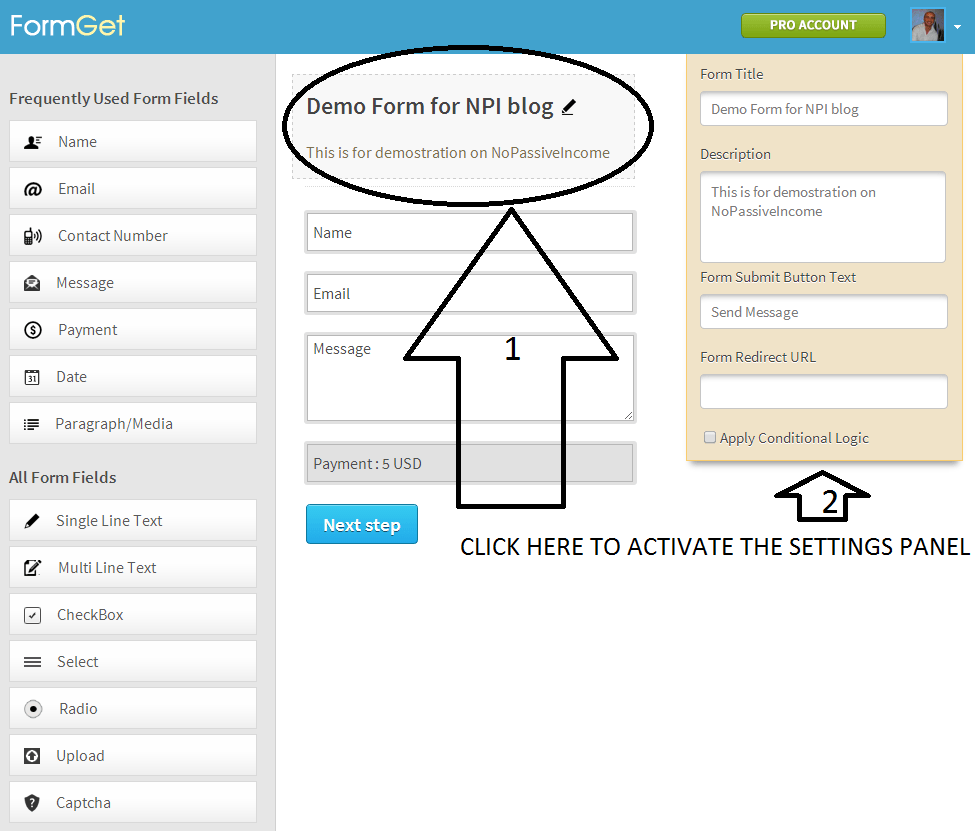 Once you add every element from the left side, you can adjust them by moving them up or down in your form.
Just click and maintain clicked to drag them to your wanted position.
As shown in the above image, on position "2", there is the settings tab activated once you click on your element in the middle of your form creator page (position "1" in the above image).
This is where you may want to personalize the form fields, writing all the proper texts and information.
Collecting Payments
One of the most interesting features here is that you can add an element in order to sell your product directly via this contact form.
It could be an ebook, a training course, a webinar.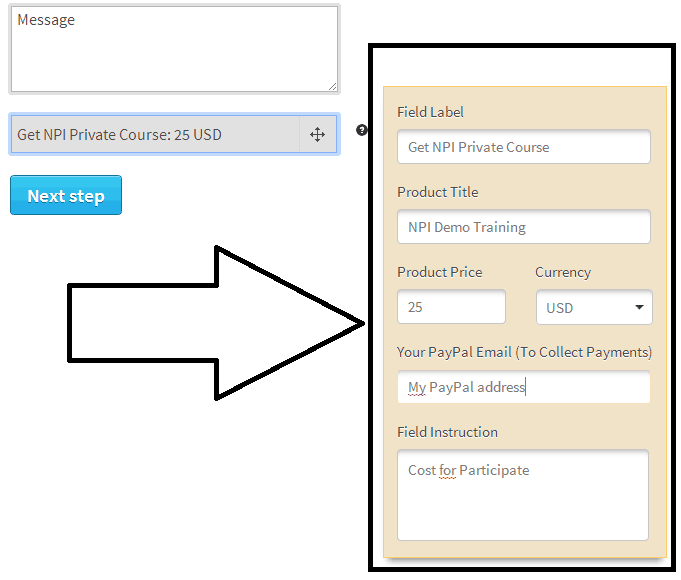 You simply need to edit title, description, price and then adding a redirecting URL where your customer can check and download your product.
Of course, remember to add your PayPal address! 😉
Design Personalization of your Form
Once you added every element you need, you can click on "next step" to be forwarded to the design personalization page.
Here you can add a header banner to your form, you can choose a template from the ones available or even adding a featured image for background.
See an informative screenshot here: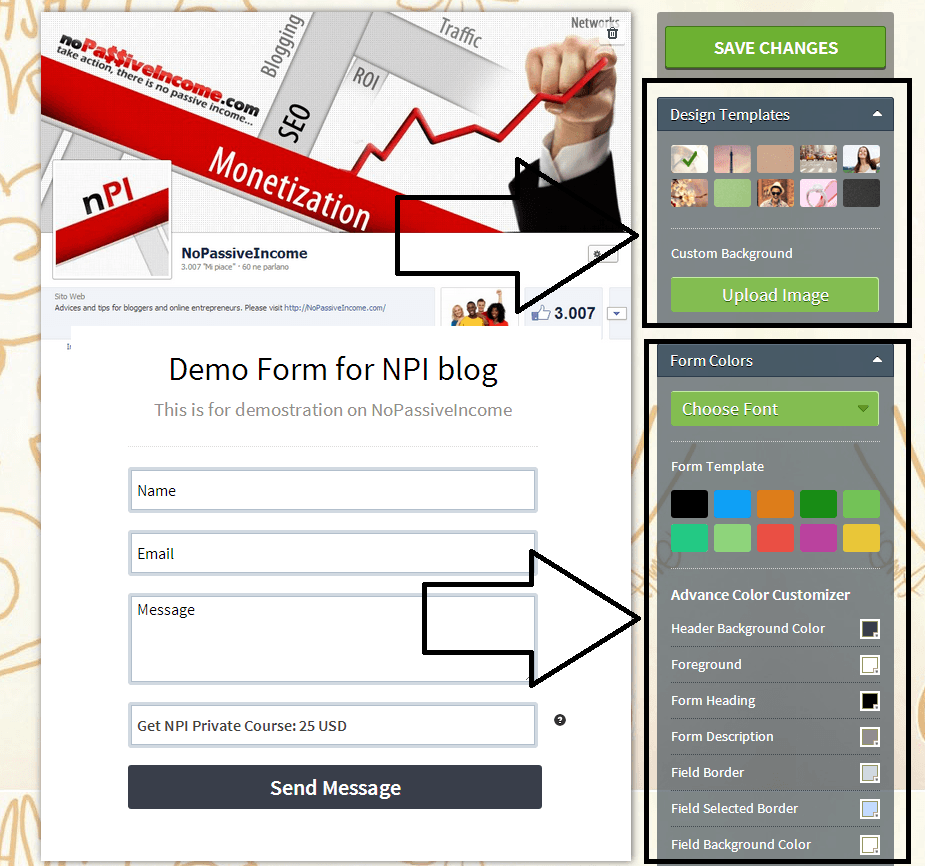 You can choose the font, change the colors, and personalize different elements like Form Heading , Form Description , Field Border, Field Selected Border, Button Color, Button Hover Color or Button Text Color, and many others.
Also, you may want to edit the footer settings, adding your company name, description, social media profiles, address, etc.
Once you've done, just click on "save changes".
Your Form Settings
Once you have saved your project, you can click on your form settings to display additional features.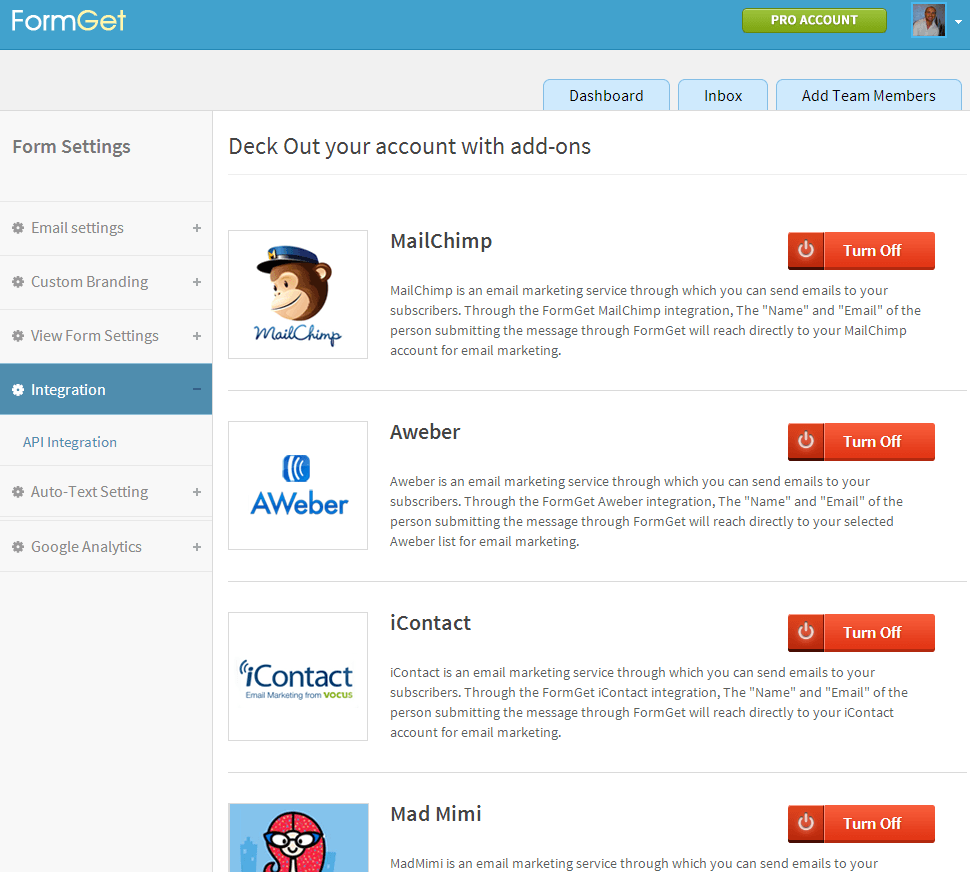 You can use the "API integration" feature, for example, to link your form to your favorite autoresponders and automatically add the users to your list.
There are many autoresponders supported, like for example MailChimp, Aweber, iContact, MadMimi, Constant Contact, Active Campaign or GetResponse.
Adding the Form to Your Site
You can easily add your FormGet html contact form to your site, by visiting your dashboard, clicking on the "Embed Form" link on the form and get the code.
You can these embedding options : copying the code where you want your form to be seen on your site, using the free FormGet plugin in order to get it displayed on your sidebar, content, etc or (and this is a great feature) if you do not have a site, you can directly link to your form.
Here's my demo form.
Conclusion
FormGet is definitely an interesting tool to communicate with your audience, to build email lists, to sell products and for many other functions.
It has an easy to use interface and with its robust features you will be able to create your form without technical knowledge.
Just give FormGet a try and let me know what you think!
Be sure to share your views in the comments below, thanks!