If truth be told, trying to influence Internet users to visit a website is already challenging. That said, converting these visitors is more difficult, but essential because it's how a business profit.
Fortunately, there are a lot of conversion optimization tools specifically built to track features that ensure that the visitors would fall into the sales funnel. Not just that; another wonderful thing about this is the fact that most of them are free of charge; allowing the user to track insights, such as the usability, landing page design, call-to-action effectiveness, and features without the need to spend much.
Here are some of the most useful tools when it comes to conversion rate optimization.
1. Analytics Services
Probably the well-built tools of online marketing are the analytics services because for the past few years, these tools have gotten more extensive than how they were originally created. As a matter of fact, even the free analytics tool is capable of providing comprehensive data about where the traffic originates from, how long the visitors remain on each page, and the path visitors usually take, and so on.
Once a website has an integrated A/B testing tool, the owner would be able to see the way the traffic segments that see each other usually behave. Not just that, data such as site paths, bounce rates, and period on page for each variation are also measurable elements of analytics. With the help of this very powerful tool, it's easy to locate the services and discover ways on how to incorporate more services after.
Google Analytics is probably the most popular free tool available for bloggers and internet marketers.

2. Marketing Automation Platform
This tool helps in converting a simple lead into a customer, because an automated marketing tool involves measuring and automating all the connection between the business owner and the prospective customer. Wherein, a new prospect can be considered and it would be automatically included to an email program and distributed to the members.
Furthermore, linking the A/B tested pages with various marketing campaigns is also a great way to measure the quantity and quality of leads coming from these. Keep in mind though; when evaluating a lead generation page, it's important to ask yourself how the number of form fields affects the lead quality/quantity. Will it result to more leads or not?
Paying attention to both of these, together with the lead quantity and quality are also important especially if you want to scale your concern long term. Basically, if a specific page variation changes in quantity, but the quality decreases, then this isn't really a smart move at all.
3. A/B Testing Platform
A lot of experts consider A/B testing as an integral tool of conversion rate optimisation. Basically, the A/B testing tool allows the user to pit several versions of a web page against one another; as it directs these website to a funnel that determines which among these are capable of producing remarkable result.
For instance, it allows the website owner to determine if the "Add to Cart" button generates more clicks in version A or version B.
However, despite the fact that the idea of A/B testing is pretty straightforward, choosing the right services is a great way to make it fun and easy while being able to monitor the results and if the conversion rate optimisation is working the way it should.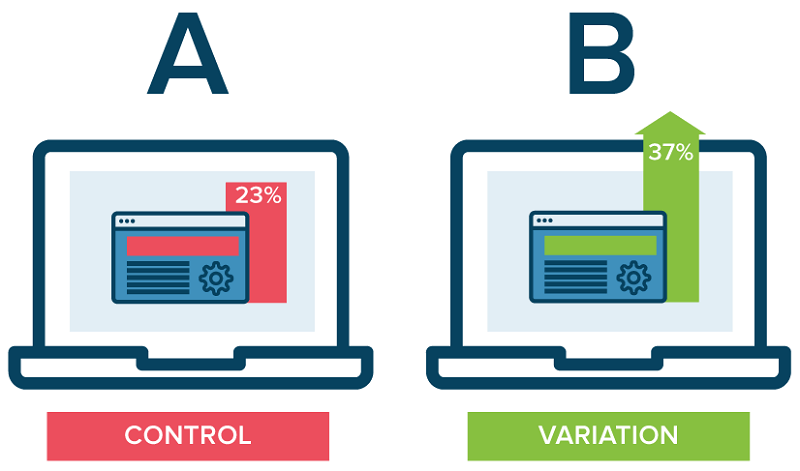 Image credit
4. Heat Mapping Service
Heat mapping tools offer the most relevant insight on how visitors act with a website. Through this, you'll be able to monitor the mouse clicks together with other manipulations that happen within the page– this includes scrolling. Aside from that, a heat map also offers a clear image of where users usually spend most of their time on the website, and where they really don't.
That said, it can also be used to figure out what elements on the page must be optimised. Though, as a rule of thumb, before you even consider website optimisation, it's important to examine the heat map of the web page. This would give you the ideas how the visitors interact with one another. Also, with the help of the best professionals offering conversion rate optimization, you'll have the assurance that your website would be properly optimised.
Have you ever tried the heat mapping service of Lucky Orange? Here's my review.
Final Words
Conversion optimisation is considered to be a long-term project.
It's important to pay attention to the every conversion tool you are going to use to ensure that the results you're going to get are positive.
What are your suggestions or experience?
Please share your views in the comments below, thanks!