CanIRank is a newly-launched SEO tool designed to help you identify low-competition keywords, and grow your traffic with the least amount of link-building and SEO work necessary.
CanIRank offers a number of useful features such as rank tracking, link building opportunities, on-page SEO suggestions, and a whole lot more which you can read about here.
Using modern data analytics, CanIRank analyzes the net to define all the variables which really will bring you to high rankings.
However, for this review I'm going to focus on using CanIRank's powerful competitive analysis features to uncover profitable niches where even a small website can successfully rank.
Wait, Aren't Niche Sites Dead?
It certainly has become a lot more difficult for niche websites and blogs to rank well in the past few years following Google's quadruple-threat of increased reliance on domain authority, Panda, Penguin, and the EMD update.
Passive income isn't really passive if we have to spend dozens of hours building links, schmoozing on social networks, and begging for guest posts every time we build a new site.
Besides, I don't know about you, but I got into niche site building because I loved writing about my hobbies and interests and sharing knowledge with others, not to spend endless hours on tedious link building.
Super-Charged Keyword Difficulty
Enter CanIRank, quite possibly the most advanced keyword difficulty tool we've ever seen.
Built by 3 Stanford engineers and one of the country's leading data miners, CanIRank says their raison d'être is helping small businesses and bloggers compete against the megasites like Amazon, Wikipedia, Yelp, and About.com that seem to dominate nearly every search result these days.
So, how do they do that?
First, by calculating your website's Ranking Probability for any keyword you're considering.
Ranking Probability is a new kind of keyword difficulty metric that is specific to your website, which the company says is over twice as accurate as other keyword difficulty tools like Moz, Market Samurai, or Long Tail Pro.
Next, CanIRank collects over 200 data points for every competing URL.
All the usual metrics are there, such as Moz's Page Authority and Domain Authority, keyword usage in titles, headers, and body content, and number of links.
But they also have some unique metrics, such as website relevancy, external relevancy (inbound anchor text), and usage of related terms.
With all that competitive data, CanIRank can show you specifically where your website falls short, along with recommended changes you can make to improve your rankings.
CanIRank's Niche Evaluation in Action
Great, so we have a highly-accurate keyword difficulty tool and a boatload of competitive data?
How do we use that to find profitable niches?
I'm going to walk you through a 4-step process:
– Generate Keyword Ideas for topics I'm interested in
– Find the topic that offers the best balance between difficulty and value
– Figure out what it will take to rank
– Make a plan to dominate the niche!
Step 1 : Generate Keyword Ideas for Topics I'm Interested In
The best niche site topics are at the intersection of high personal interest, high expertise, and high information need: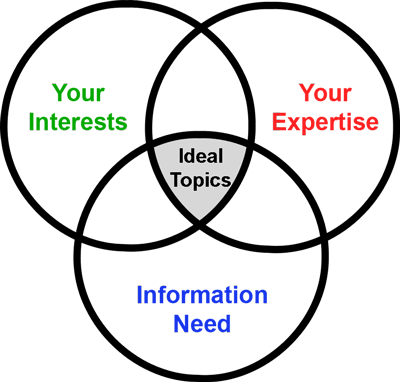 Would you be excited to write 20 or 30 posts on this topic?
Can you think of at least 5 killer post ideas right off the top of your head?
Is it something your friends are always asking you about?
I've been watching a lot of American Ninja Warrior and thinking about building some of the obstacles myself, so I searched "backyard obstacle course".
My friend recently flew all the way to Australia in business class on miles he'd accumulated from credit cards, so entered "mileage credit cards".
I recently discovered that it's super hard to eat paleo while camping or backpacking, so I thought "paleo backpacking meals" would be something others are looking for.
Finally, "organic baby clothing", "smart watch reviews", and "drone videos" relate to hot topics that are growing quickly and I have a lot of interest in.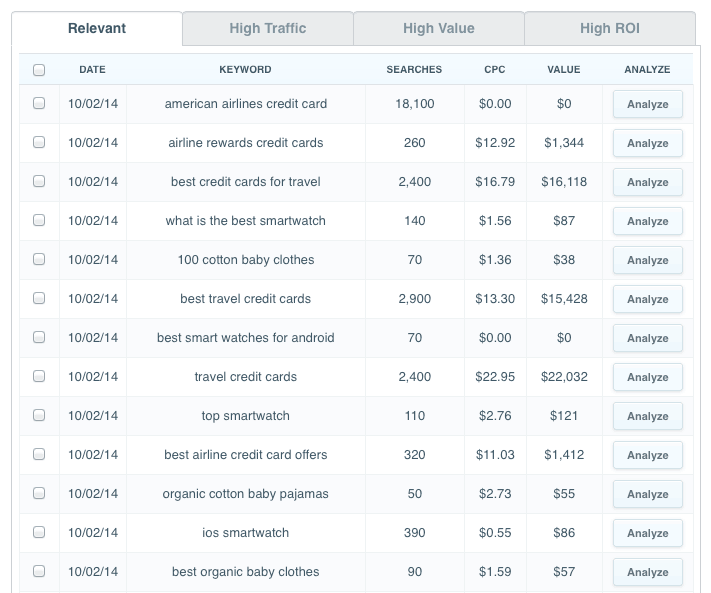 After entering all these potential topic ideas, CanIRank gives me a huge list of Keyword Ideas.
It doesn't matter if I've entered the most common term for each of these niches, CanIRank will automatically expand my list not just based upon the seed term I entered but also looking at keywords the competitors are targeting, terms the search engines consider related, and terms that are semantically related.
For each of those I can see search volume, CPC, and overall value.
This saves a lot of time over other tools that just use seed terms, but so far it's nothing revolutionary.
The good stuff comes when we start analyzing those keywords, which is the next step.
Step 2 : Find the Topic that Offers the Best Balance Betwen Difficulty and Value
The first difference you'll notice from other keyword difficulty tools is that CanIRank doesn't just ask for a keyword, it also asks for a reference URL.
The system uses your reference URL to compare to the existing rankers and determine if you'll be able to rank.
If you've already built your website, that's no problem as you can just drop in a few URLs from your site.
However, since we're trying to identify profitable niches for sites we haven't built yet, we don't have a URL.
Matt from CanIRank suggested using the URL of another niche site similar to the one we're going to build, so I enter the URLs of a few other niche sites I own.
Since I use a similar process to build out niche sites, if one of them is competitive for a keyword, chances are the others will be also.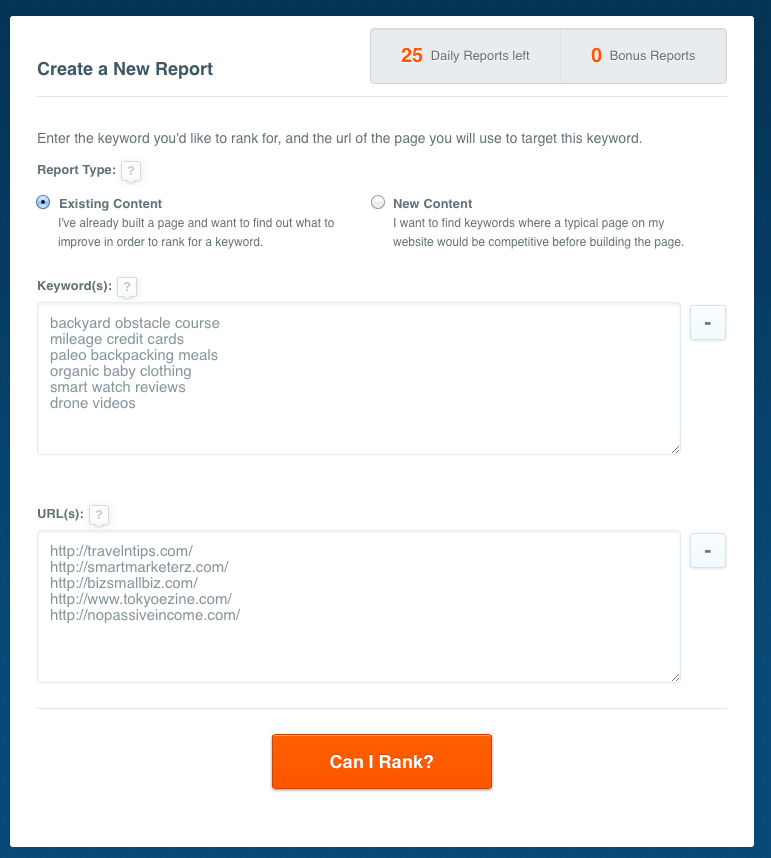 CanIRank calculates a Ranking Probability score for each website and keyword.
I can see if I would be competitive with a site like my strongest niche site, one like my weakest niche site, or something in between.
Finally — and this is where it gets really cool — CanIRank calculates a Keyword ROI score to show me which keywords offer the best balance between value potential and ranking difficulty.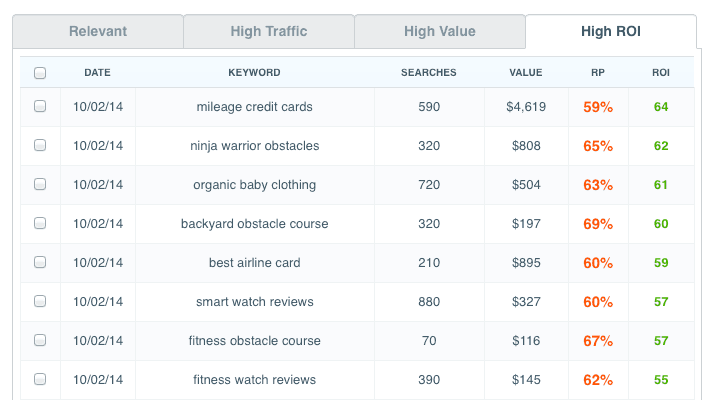 "Mileage credit cards" looks promising, but my Ranking Probability score is just too low — 58% means I'd need to make a much stronger site than my current ones in order to rank (a site with a good chance at ranking will usually score in the 80s or 90s).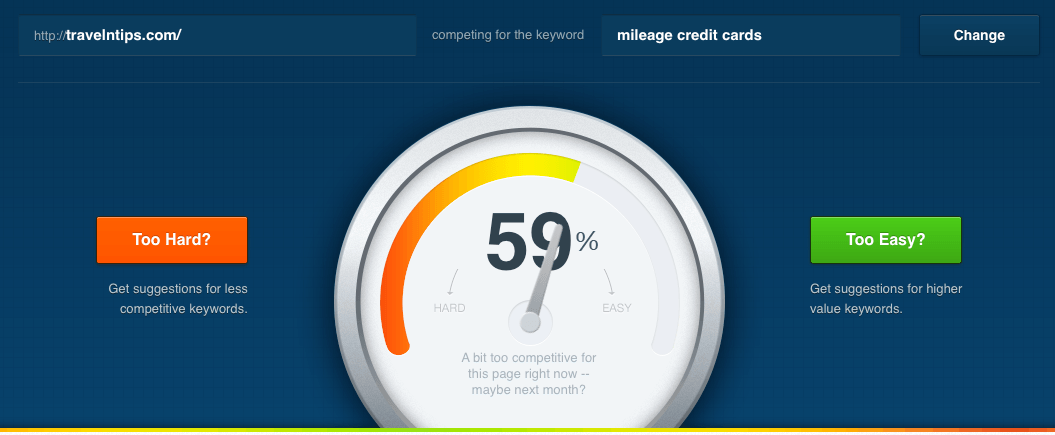 Scrolling down to the Competitive Analysis table, it's easy to see why: every site has solid Website Strength (over 10,000 links!), they're doing a good job targeting the keyword, and even have lots of keyword-rich external links.
That's going to be tough to match!
Instead, I click on the "Too Hard?" button to get CanIRank's suggestions for easier keywords.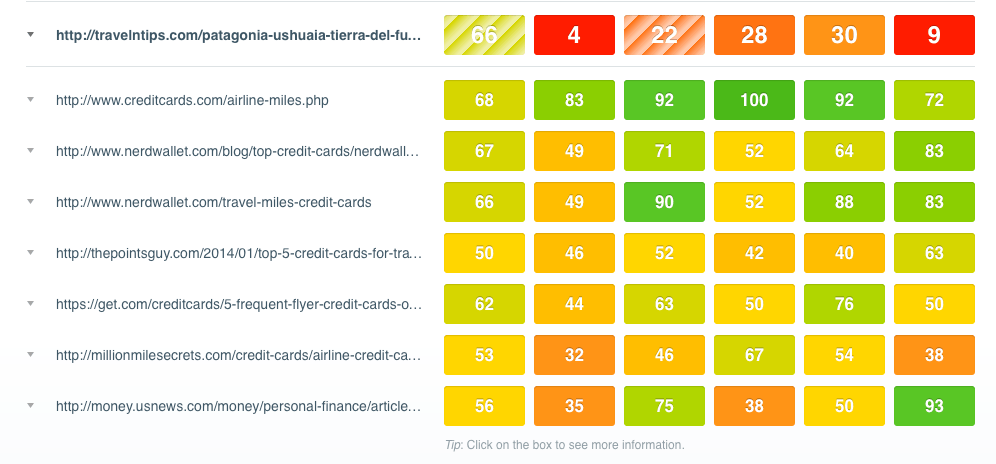 I still like the paleo backpacking meals, but clearly $9/ month is just too low value.
So I click on the "Too Easy" button to get suggestions for related terms that are higher value.
This helps me find "paleo camping food", "homemade backpacking food", and "DIY backpacking food", which all have more searches and advertisers.
Step 3 : Figure Out What It Will Take to Rank
Now that I've narrowed things down a bit, it's time to take a deeper look at the competitive landscape so that I can see what it will take to rank a new site in my chosen niche.
Let's look at "paleo camping food", which CanIRank says I will have the easiest time ranking for.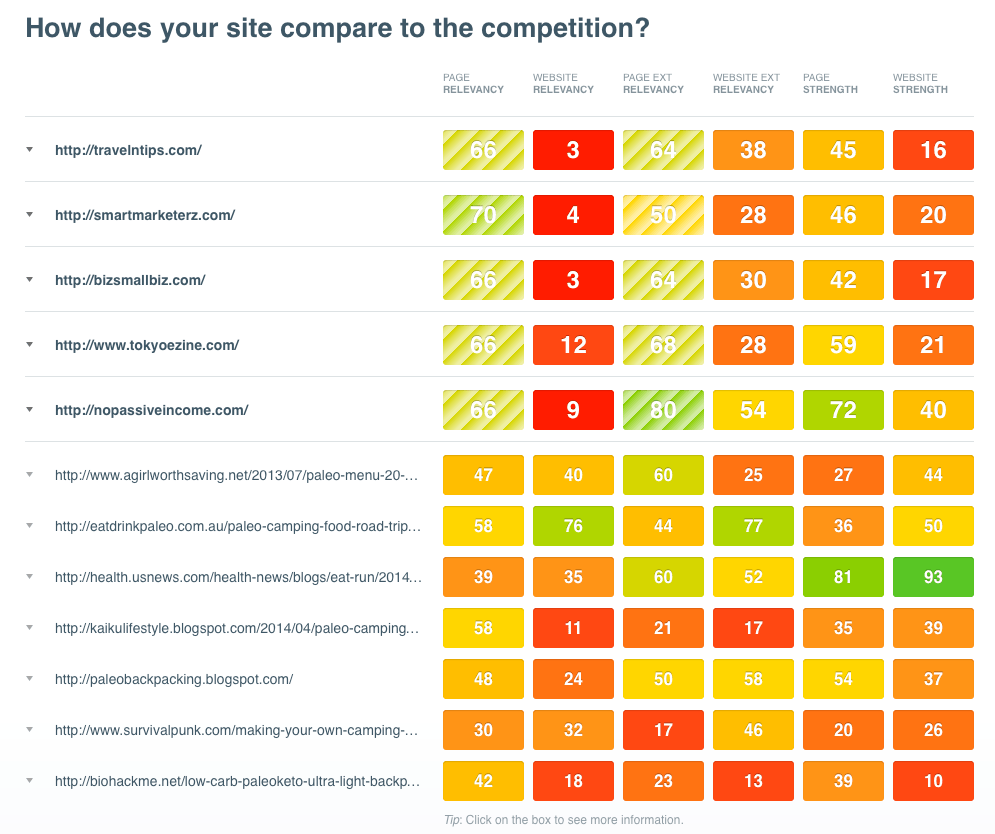 This looks encouraging! Lots of orange and red boxes (low scores) means that the current top ranking sites aren't particularly strong.
There's even one website ranking with a Website Strength of 10, weaker than even my smallest niche site!
The only big brand is USNews.com (with a whopping Website Strength of 93), but their article isn't very well targeted — Page Relevancy is only 39.
I like to click on some of the competitors' highest scores to see what it took to get them. Here's the Page External Relevancy for the #1 ranker:

These are fairly relevant anchor texts, but all but one are from internal links— that's easy to match!
How about the highest-scoring Page Relevancy?

Lots of content, but the keyword only appears partially in the title, and out of order in the body content. I could do a better job with Page Relevancy simply by including the keyword in my title tag, and using the exact keyword once or twice in my body content.
Finally, let's see what the minimum bar is for Website Strength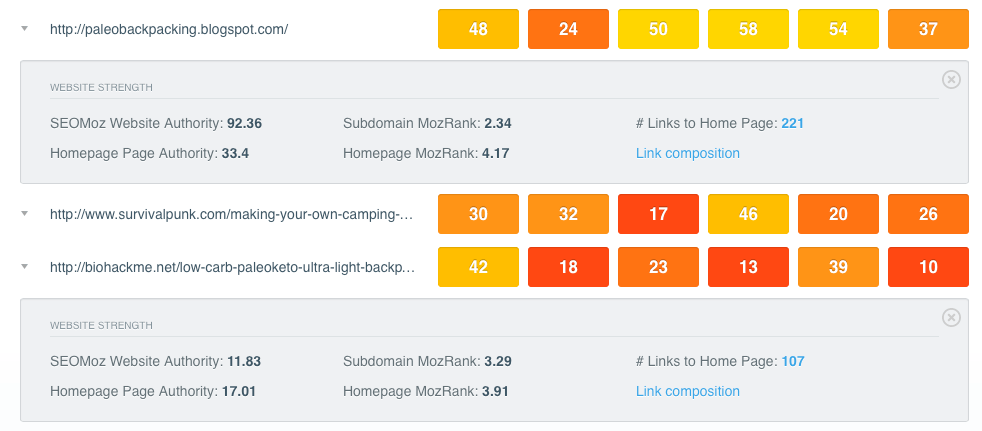 100 crappy links is all it takes to match Biohackme.net's Website Strength, and Paleobackpacking.blogspot.com is only slightly better with 221 links.
Both of them have very low MozRank and Page Authority.
Step 4 : Make a Plan to Dominate the Niche!
I now have a pretty good idea that I'll be able to rank a website about "paleo camping food" if I do a good job targeting the keyword, get a few relevant anchor texts, and build a small number of quality links.
That's easy enough to do, but wouldn't it be better if I could just outsource the process?
CanIRank offers a cool feature than can help with that too.
Just click on "Build Action Plan" and CanIRank will generate Action Recommendations with instructions for making the improvements necessary to rank.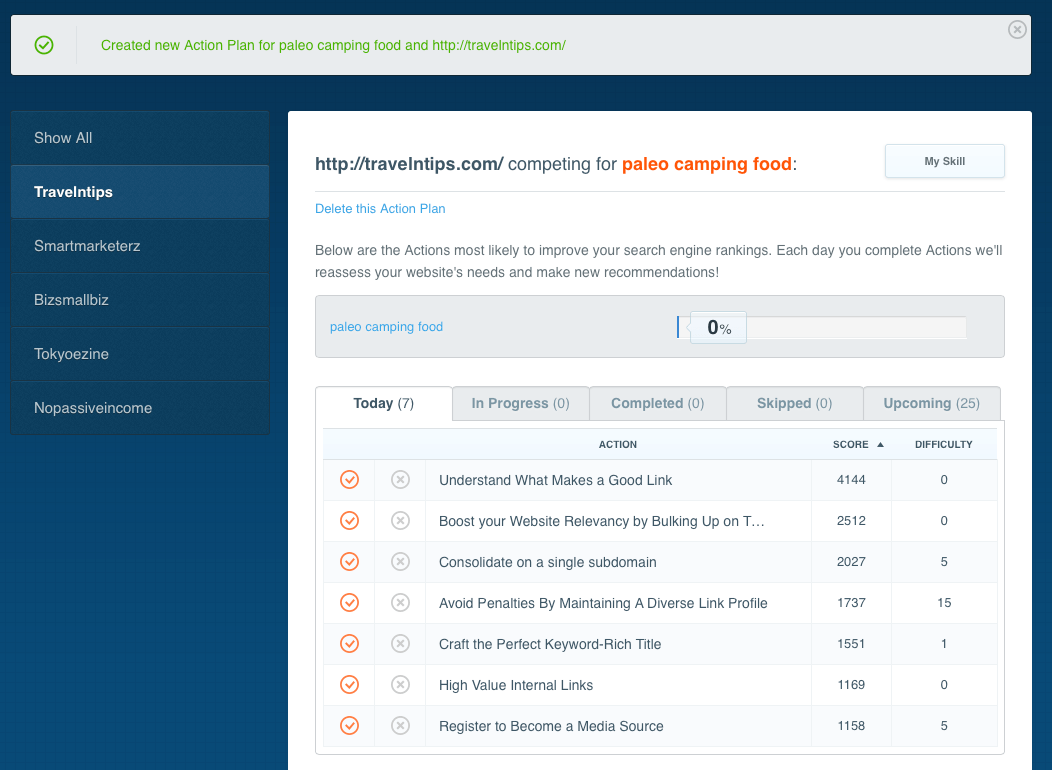 Most of the Action Recommendations are fairly standard SEO advice, but it's nice to have them tailored to the specific needs of your website.
However, I find them particularly useful for outsourcing: passing on your Action Plan to an outsourcer reduces a lot of the training and management burden because all of the instructions are right there in one place, easy to follow, and with references and examples for every Action.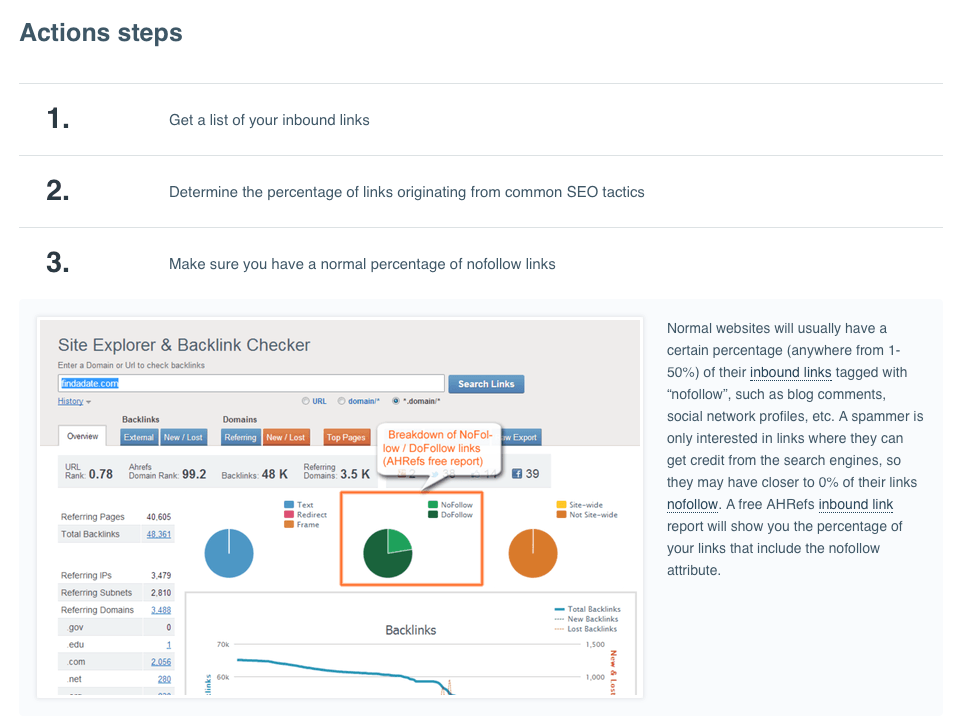 Conclusion
What I particularly loved is that unlike other SEO software, which will flood you with a large amount of data (most of it understandable only to SEO experts), CanIRank gives you just a number of important details to use through a series of actions to improve your ranking (and fight against the BIG of this online game).
CanIRank is accessible even to those bloggers with less SEO expertise. For each of your report, you will receive a number of suggestions to put into practice every day until you'll reach your goals.
This SEO tool is the solution to help you find highly profitable keywords and create niche sites accordingly to make money online.
But wait, there are many more benefits of CanIRank!
You can use it to track your websites ranking (and improve them), find link building opportunities, get SEO suggestions (you will be informed of what exactly you need to fix without having the risk to be penalized for aggressive SEO) and more.
I strongly suggest you to start your free trial today and unleash the power of this amazing tool.
Have you ever heard about CanIRank?
Have you already done a test?
Please share your feedbacks and thoughts in the comments below, thanks!
Sponsored via Syndicate Ads