One of the ways to stay updated in your field is to read a lot and follow the most popular sites in your niche.
In this way, you will be able to find useful resources, read about news and discover trending topics to write about on your own blog.
Then I am sure you are already following your favorite websites, may be via RSS Feeds, or just bookmarking them and visiting the URL occasionally.
If you are in the internet marketing or blogging niche, there is a juicy new resource that you may want to check.
This new site is Bloggerscope, you can find new connections or even discover your next favorite blogs here!
What is Bloggerscope
Bloggerscope is an aggregator site with the most popular marketing and blogging posts, coming from the authority sites, like Social Media Examiner, Copyblogger, Quick Sprout or Socialmouths, just to mention a few ones.
In the first page, you will see the last posts, published in the time you have set – today, yesterday, last 3, 7 or 14 days.
You can sort the posts by date, shares or popularity.
See an example in the screenshot below, with the last post coming from NPI blog too (click to enlarge) :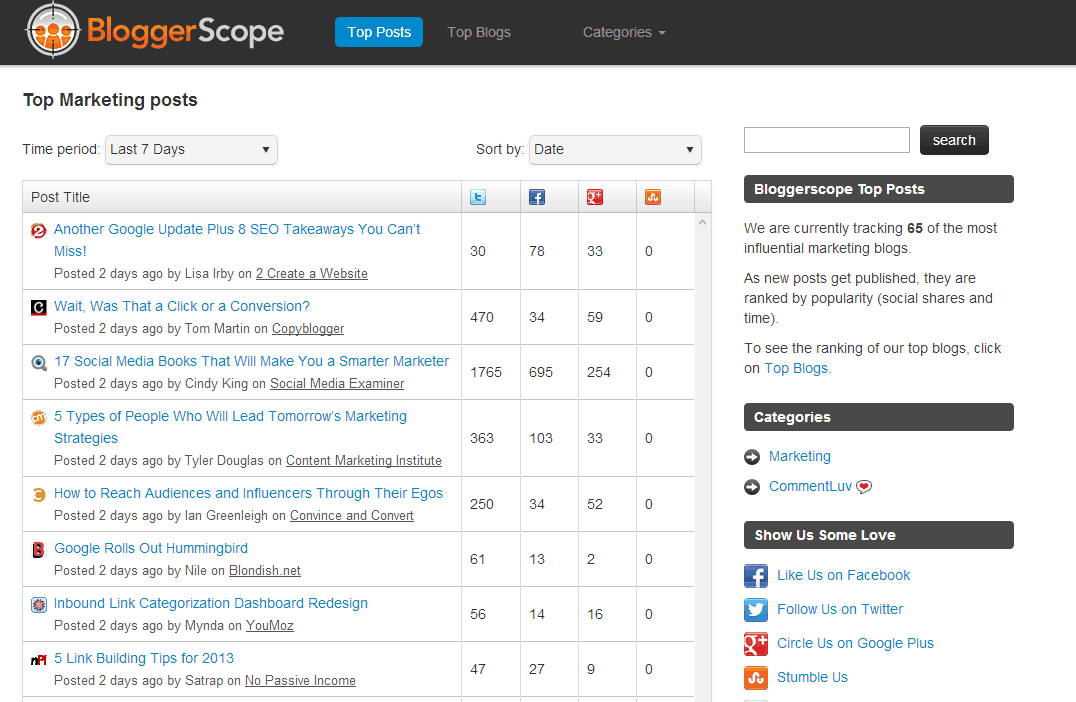 If you sort the posts for popularity, you can check at first glance which are the articles that you do not want to miss.
That's a great way to stay updated, even without investing a big part of your day.
You may decide to visit Bloggerscope once a day, or once a week. The site is pretty new, but it already includes most of the popular sites in the marketing and blogging niche.
Bloggerscope Top Blogs List
In the menu above of the site, if you switch from "Top Posts" to "Top Blogs", you will have under your eyes the most popular sites, ranked depending on Alexa, Twitter followers, DA – Domain Authority, MR – MozRank and SA – Social authority.
You can see Problogger in the first page, Chris Brogan site, Viperchill, Kikolani,John Paul Aguiar and Reviewz N Tips of my friend Daniel Sharkov, among many others.
If you click on a blog name, you will be redirected to the last posts of this site, ordered with the metrics mentioned above. This is also a pretty fast way to check the last most popular posts of a particular blog you like or you follow.
This is once again a method to save time when you need to choose which articles to read.
You may see NoPassiveIncome posts gathered in the screenshot below :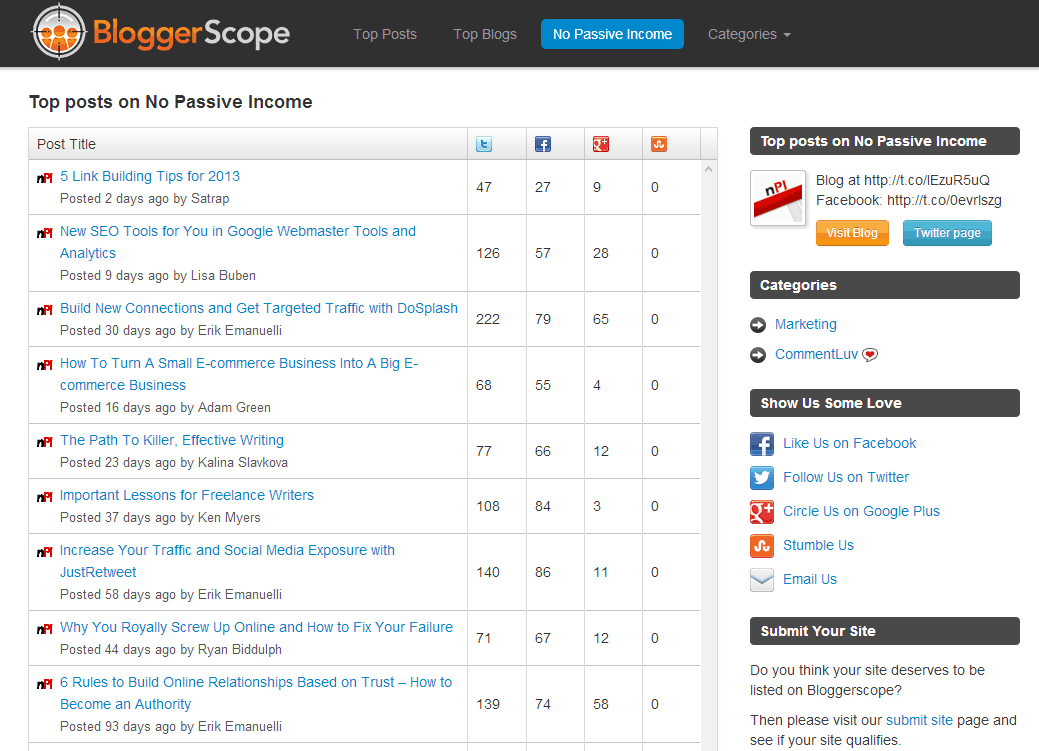 Benefits of Using Bloggerscope
There are many benefits you may receive using Bloggerscope, like :
– save time when finding updates in your niche or following your favorite blogs;
– discover new resources or new sites you may want to follow in order to find exciting new and quality content;
– find new topics to write articles in your own blog;
– use the list of the most popular blogs to find new sites for your guest posting campaign;
– have always quality content to share on your social media accounts (you know that you do not need to share always just your own content, right!?!);
– find new connections and meet new bloggers.
Conclusion
Whether you want to read the most popular marketing posts of the week or you want to find new ideas for your next article, I suggest you to take a look at Bloggerscope.
The system is currently tracking 65 of the most influential marketing blogs and if you feel your site should be included in this useful resource, you may submit your URL here.
What do you think?
Have you already heard of Bloggerscope?
Are you going to join the site? Please let me have your thoughts in the comments below, thanks!