I am sure you have your list of favorite bloggers to follow, but if you have the intention to stay online for a while, then you should keep visiting and reading others resources, in order to build new connections or simply learn something new.
I've published a blog post like this last month, and it received a huge response in terms of social sharing, comments and appreciation.
In case you have missed it : 8 Must-Read Blogs to Get Inspiration From.
Enjoy this list of amazing bloggers, because they share useful content on their sites and you are going to learn interesting new things (the list is not in a particular order).
Ryan Biddulph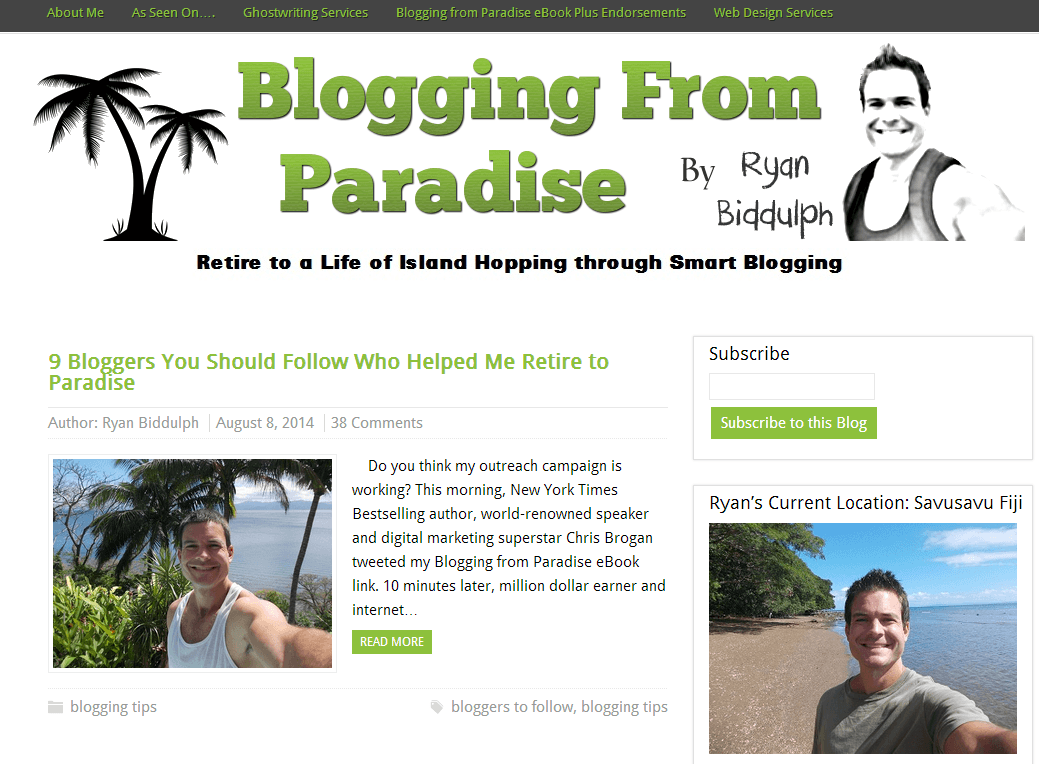 Ryan is well known in the blogosphere since a while already, as he's living the internet lifestyle.
Right now he's in Fiji, after taking a big decision of leaving his home (read the full story here).
He recently rebranded his blog, with the new title : Blogging From Paradise.
This name has never been more appropriate!
If your desire is to travel and reach the financial independence, then Ryan is the blogger you should follow to learn how to achieve your goals.
Daniel Sharkov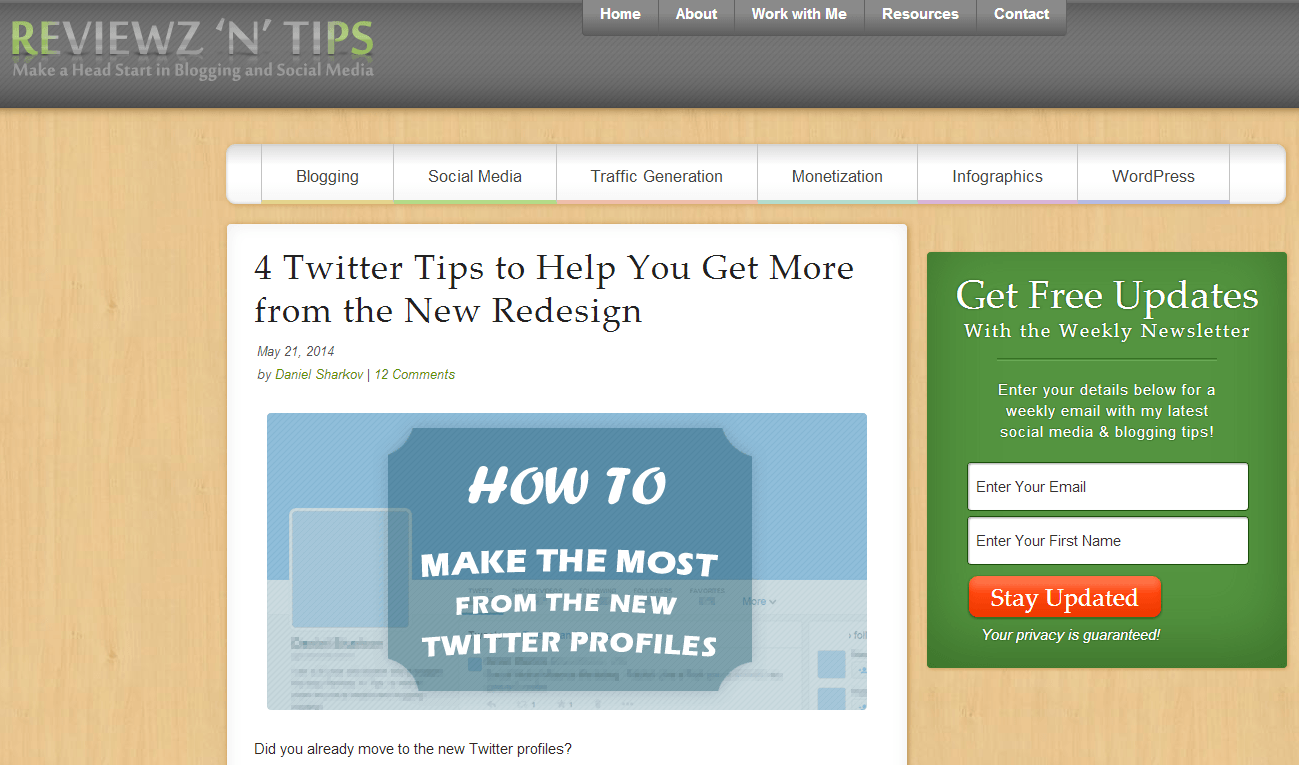 I know Daniel for some time already and I think he's very gifted.
In his blog "Reviewz 'n' Tips", he shares outstanding content about WordPress, traffic generation, monetization and more.
He offers different services, like content writing, social media marketing help, blog review.
Although he's quite young (20 years old), Daniel is very influential in the blogosphere.
Just take a look to his Twitter followers!
Adam Connell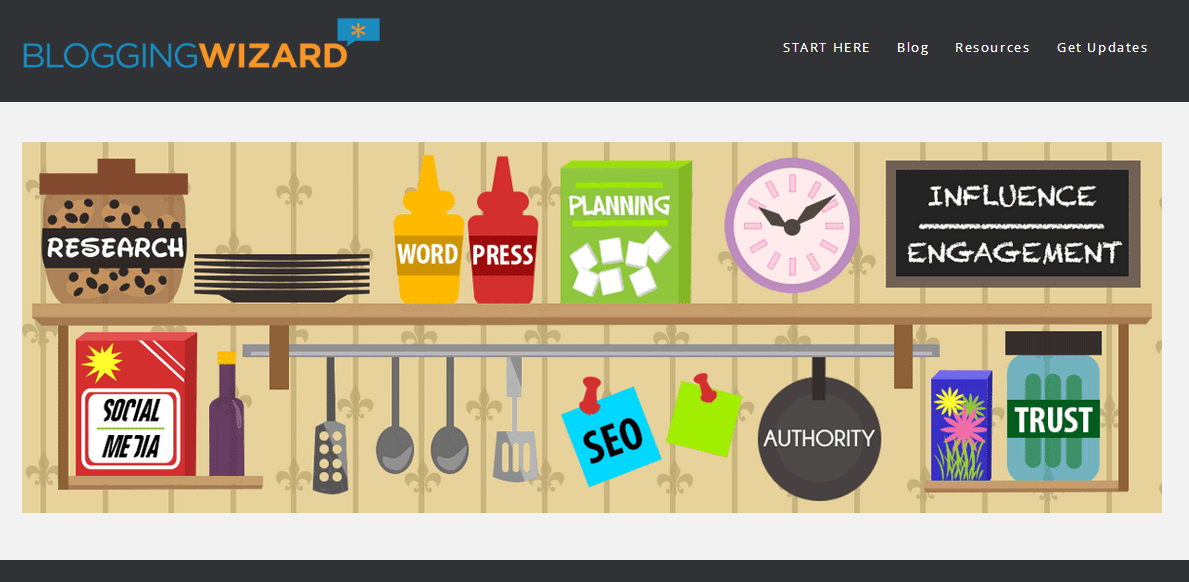 Adam has been featured on several popular blogs, like Social Media Examiner and Problogger.
He shares outstanding content on his site "Blogging Wizard" and if you want to build a successful blog, then I suggest you to subscribe to his mailing list here.
I've always loved the design of his homepage (just take a look to the screenshot above) : what a creativity!
Wade Harman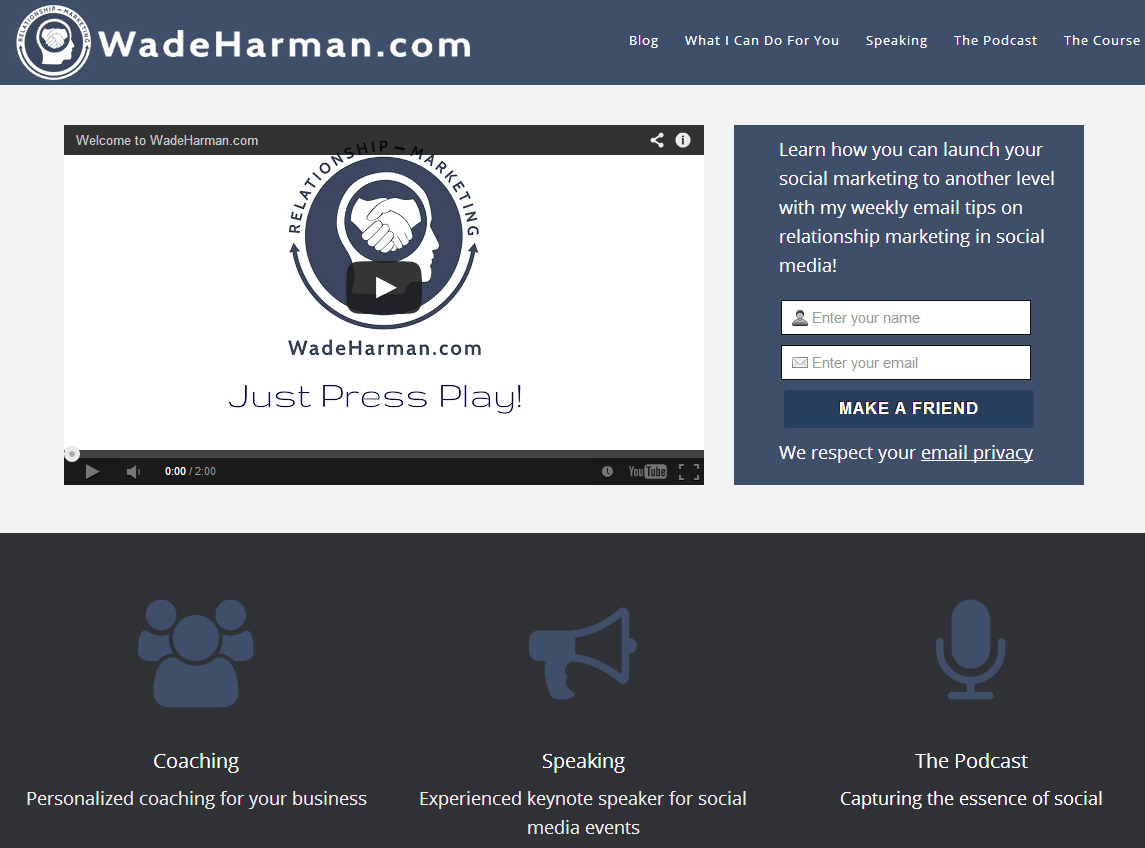 I've met Wade at the start of his online career, when he shared with me his story as an ex coal miner.
He started his internet journey with BloggersMakeMoney blog, then he has grown very quickly, building a strong social media presence and offering different valuable services on his new site Wade Harman.
I suggest you to follow Wade, you will learn a lot from him : he has 15k followers on Google+!
Harsh Agrawal
If you are online since a while, then you surely know Harsh Agrawal's blog "ShoutMeLoud".
The site has been live for so many years, that it has become very popular (3000 alexa rank!).
I remember to have guest posted for ShoutMeLoud few years ago : you can find a lot of impressive articles on this blog.
Harsh is earning a solid monthly revenue.
You may want to learn more about his story here.
Lisa Buben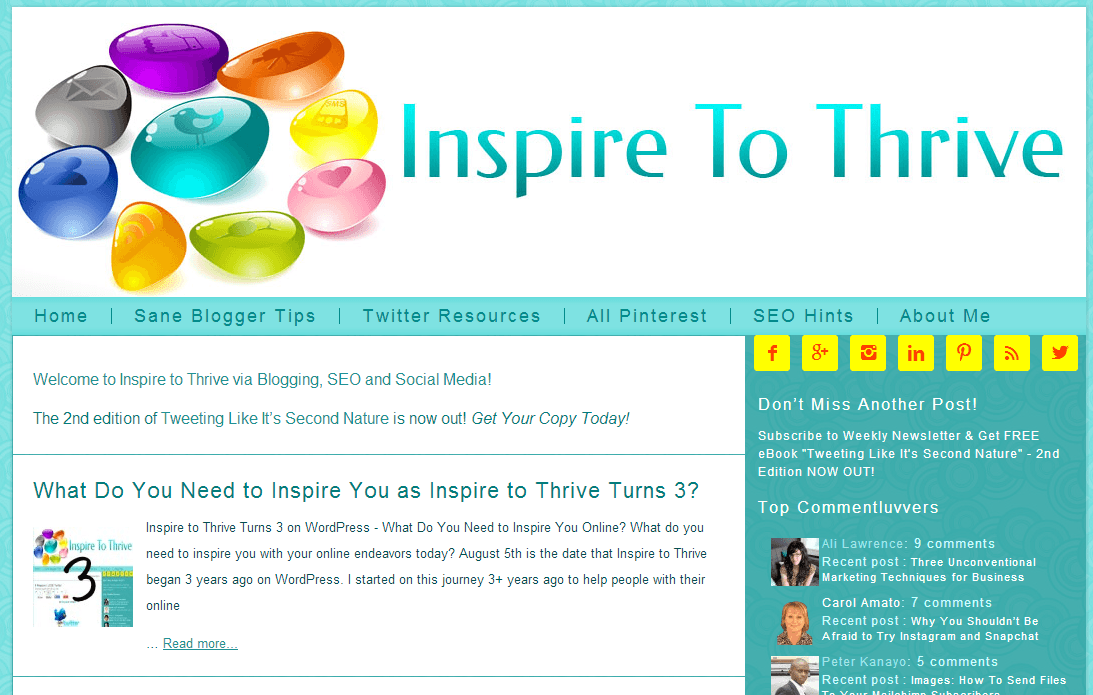 Lisa's main site is "Inspire To Thrive", where she shares valuable and interesting content about social media and blogging.
She has recently released her eBook : "Tweeting like it's Second Nature".
Lisa has been always very gentle with me, she's the kind of person you want to have in your circles.
Rebekah Radice
Rebekah is a professional social media strategist, speaker and digital marketing specialist.
She has a solid online presence, with a strong reputation.
She offers Social Media Business Coaching, and many other services (check them here).
In addition to being extremely prepared, she has an amazing smile and following her will enliven your day!
Reginald Chan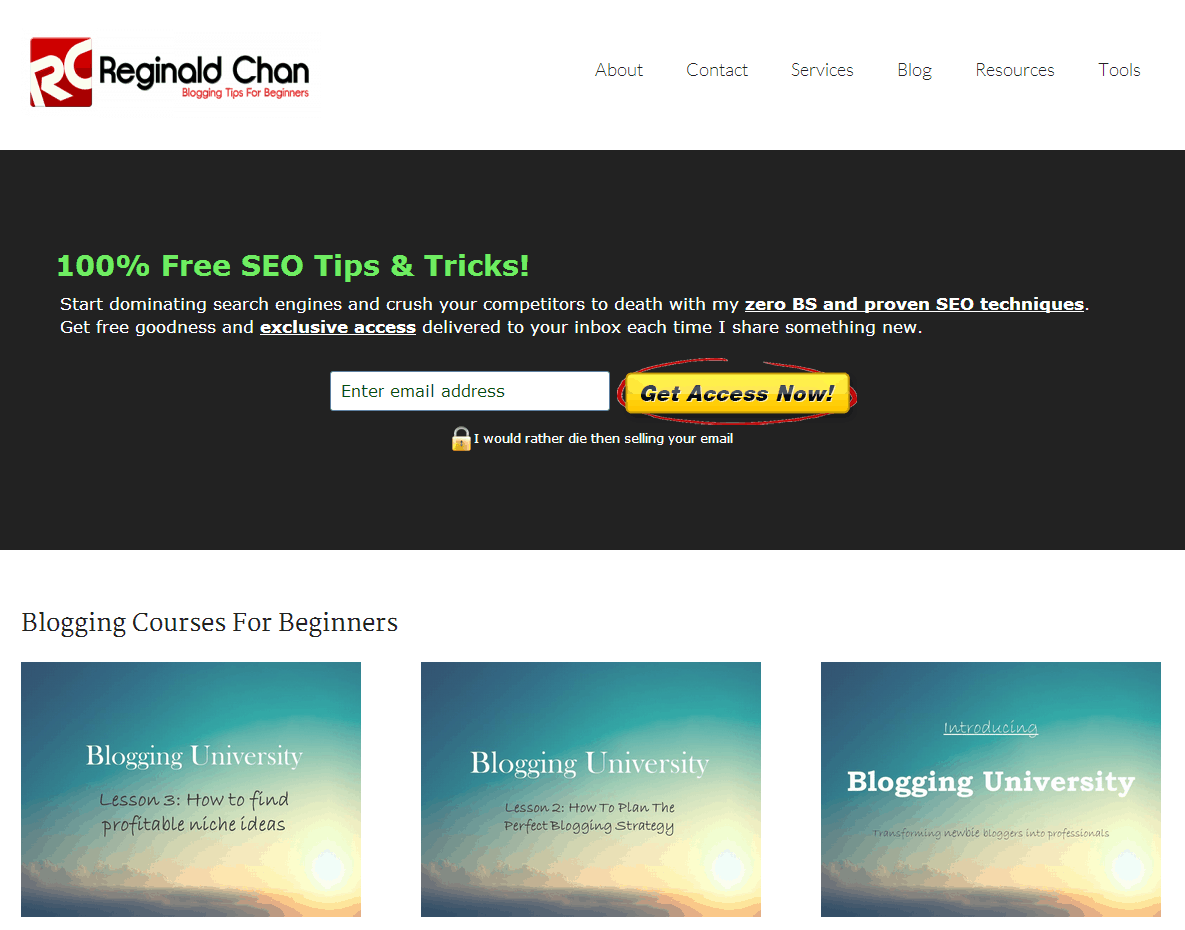 Reginal Chan blog is full of interesting content about social media, SEO, internet marketing and WordPress.
He's offering several services of consultation, check them here.
I know Reginald from some time already and I suggest you to connect with him!
Conclusion
I hope you will find new names to follow in this list, as they are all interesting people and it's really worth to get in touch with them.
The connections are one of the first things you should take care when starting your online journey, not just for the help you can receive, or new things you may learn, but also for the benefits in terms of friendships.
Blogging may seem a lonely activity, but if you have a lot of incredible people in your circles, then you are not alone! 🙂
What do you think?
Do you already know all these powerful bloggers?
Please let me have your thoughts in the comments below, thanks!