If you are into the blogging world for some time already, you surely know that having strong connections are everything.
There are many ways to build relationships online, as via blog commenting or social media.
One of the most effective methods to improve your audience is participating in blogging communities.
I am sure you are member of many of them, but in this post I want to introduce you a special place: Aha!NOW blog community(ABC).
How Aha!NOW Blog Community Works
ABC is founded and managed by a kind and open minded blogger, Harleena Singh, together with her husband, Vinay.
It's composed by bloggers of all around the world, who want to engage, share and learn by each other.
If you want to become a "Ahaian" too, be sure to register now at Aha-Now blog community.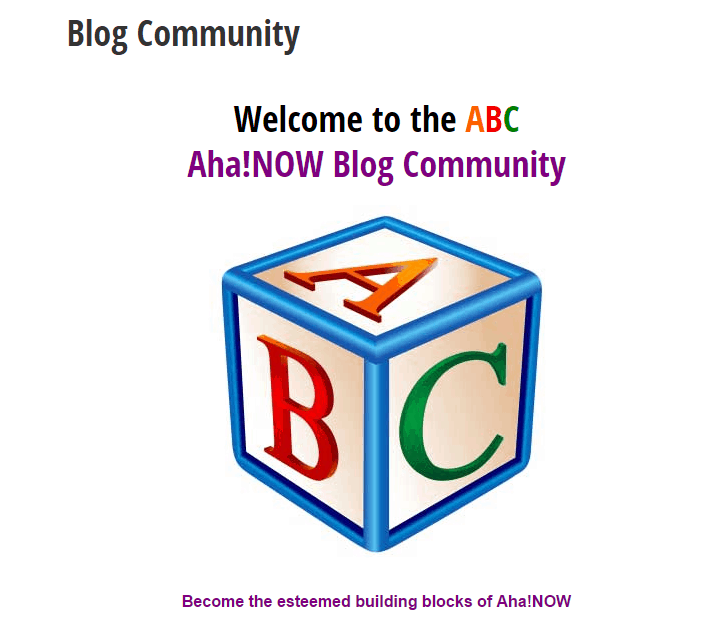 Choose your username and create your account.
Confirm your email, and be sure to complete all the settings in your profile.
Add your website URL, and your social media profiles : Facebook, Google+ and Twitter.
Write your full name and personal information like your bio, location, profession, favorite niche and birthday date.
Basically, you want to have your account as more complete as possible : a 100% profile progression!
See:
Once you have done this, if you take a look at the top right of the page, you will see your account menu.
Here you can manage all the activities on ABC, such as your AhaPoints or AhaREF balance, any notifications of friendship request or mention, new messages, groups and forum news.
Finally, if you take a look at ABC top page, you will notice the "Community" menu, which you can browse to navigate within the site and engage with other members.

It's not so hard to understand how ABC works.
You'll soon realize it's like being at home, among family or friends.
Advantages of Becoming ABC Member
There are many benefits of joining ABC :
1 – build relationships;
2 – engage with top bloggers;
3 – learn from influencers;
4 – join groups and interact;
5 – market your content;
6 – promote yourself;
7 – create good backlinks;
8 – enhance your blog traffic;
9 – receive many comments on your new articles;
10 – get new visitors and readers.
Other than that, if you end up being one of the most active and engaging community users, you will be mentioned in the monthly "Member Spotlight" (GEMS) post.
Plus, if you rank in the top members at the end of the month, you will have the opportunity to guest post for ABC, which will give you particular exposure.
After that, you can create your own group, a place where you can talk about what you feel more expert in, helping you build authority in your field.
Join Aha-Now Blog Community Now – completely free
How to Get the Most Out ABC
For everything you do on Aha-Now blog community, just consider to be yourself, honest and real.
Don't join ABC just to promote your content on the groups or forum (after all, there is a specific place for doing that).
Consider ABC like your own blog, your home. A place where you want to genuinely engage and interact with other members, in order to learn from each other and build long lasting relationships.
Commenting
I am sure you already use blog commenting as a method to get traffic, new backlinks and increase your audience.
The same works at ABC.
Visit new blog posts, leave meaningful comments and interact with members.
This will increase your score activity at ABC (visit here to read the site guidelines).
Promoting Your Content
This is one of the feature of ABC you are going to love.
Visit the forum, under the "promote your blog" section, to create a new post and market your articles.
Do not submit content older than one week and be sure to visit and comment other members websites, before submitting your new posts.
After all, this is a community. It's about giving at first, then receive.
Interact with Members
This is the core of ABC.
Interact with other members, improving your connections.
You have the chance to get to know new people, who share the same interests.
You can join groups and participate in the discussion, sharing your knowledge about the topics you like most.
Or you can engage within the forum, with its specific sections.
Follow the Rules
As for anything online, you need to follow the site guidelines.
Basically, if you behave like a "real" person, you don't need to worry about being banned.
If you are honest and you already know how to "be social", you don't even need to read the rules page.
But of course, under the ABC menu, you will find all the pages you need to visit to be a good "Ahaian".
Also, if you subscribe to the site newsletter, you will be always notified about updates and announcements.
Conclusion
I've been a member of Aha-Now blog community since last year and I must say I got so many benefits, that I strongly recommend you to join.
Harleena and Vinay are doing a fantastic job there and I am sure you will enjoy the cozy atmosphere of this community.
Most of all, if you are kinda new in the blogosphere, it's the perfect place to start building your name and new connections.
Are you already an ABC member?
What's your feedback?
Please share your experience in the comments below, thanks!