The monetization of your online efforts is one question that all bloggers have to face, sooner or later.
You may decide to blog just for fun, in your spare time, of course for passion, but after months or years of hard work, you likely want to receive "something back".
One of the best way to earn money with your site is through selling banners. But you need to find the sponsors first!
In this post you will read how to find advertisers for your blog.
A premise. As you can imagine, you will find people willing to pay you, if you respect some points, like :
– having quality content;
– receiving a good amount of traffic;
– having a decent number of pageviews;
– not displaying 50 ads on the same page.
Also, it will help to have reached a certain authority in your niche and if we talk about traffic, let's say at least a thousand unique visitors daily.
1. Look at the "Sponsored Ads" on Google
Obviously, you know very well what are the most important keywords for you and your niche. Well , then visit Google and search for them.
See which companies appear in the "sponsored ads", keyword by keyword.
It is likely that companies can and want to invest money in advertising. Contact them one by one, proposing to invest money in paid advertising on your blog.
2. Check Who is Advertising on Blogs in Your Niche
Like all niches, you know which are the popular blogs and which sites are considered authoritative by the public within your industry.
Well, what are the sponsors who publish advertising on these sites and blogs?
Again, these are companies that probably want to invest money in advertising. Contact them all!
If your blog is able to publish quality content and receive good web traffic, they might also become your advertisers.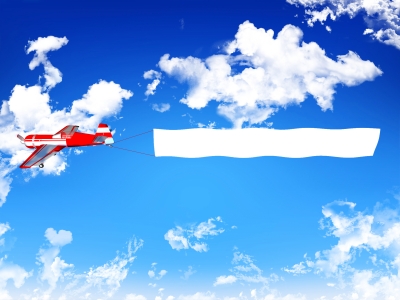 3. Take a Look at Affiliate Programs
You could do a thorough research online, trying to find out what are the affiliate programs that offer advertising consistent with the topics of your niche.
Companies that promote these subjects, could become advertisers on your blog.
This applies even if your proposal is dropped from the affiliate program you already use.
4. Search via Traditional Media
Here is a very simple method that – because of its simplicity – it could work out great.
Just observe what are the companies and brands that are promoted through traditional media : ie newspapers, periodicals, radio, television, etc.
Select businesses that have some relevance to your industry and try to contact them.
They might be willing to extend the range of media on which to promotion, and so may decide to place their advertisements on your blog too.
5. Analyze Google's Organic Search Results
For each keyword in your niche, find business websites that are placed worst of your blog on Google.
Contact those companies and tell them about the advertisement opportunity on your site.
To clarify this point, this is an example.
At the time of this writing, my blog is in good position for the keywords "how to get a lot of likes on facebook" (How to Get Likes on Facebook – 500 and More FB Likes in 2 days).
If I wanted to, I could for example contact companies that offer Facebook likes and are positioned below my site on search results. These businesses could benefit from advertising on my blog, which is best positioned for keywords critical to their business.
6. Analyze Your Incoming Link
In the inbound links to your blog is there someone which come from a company? Well, maybe then that company would be interested to put their ads on your blog.
In fact, if you have links from their website, it means that they consider you an authoritative blogger, who is able to create quality content.
So, why not deepen the discussion? 😉
7. Bonus Tip
These are some tips on how to monetize your blog selling banners directly to companies, especially to those who belong to your niche.
I did not mention the easiest way to sell banners, which is via BuySellAds.com .
If you are able to be listed on their network, this will mean easy cash every month (I am actually using their network on NPI blog).
And you, what do you think?
Do you have any other suggestion to add to this list?
Please leave a comment below and share your experience!
Image courtesy of David Castillo Dominici at FreeDigitalPhotos.net