Building niche sites and monetizing them with Google Adsense is one of the most popular ways to make money online.
When it comes to optimizing the Adsense ads, you mostly think about adjusting the colors of texts and links to match the design of your website and then place them in tactical spots on your pages.
After years of experience (and you probably know this too), I found out that the most converting places to insert the Adsense ads are on top and below the content, or, if your articles are long enough, within the blog posts.
But the overall characteristics of each website are always different. I'm talking about the topic covered, layout and design of the site, type and format of ads, etc.
If Adsense is one of your main income streams, then I'm sure you are running different tests on your ads, to find out the most converting solutions.
Of course, this requires both time and knowledge.
What if there was an online tool (free for up to 10,000 daily page views) that does this for you?
In this post, I'm going to introduce you AdNgin, a solution to boost your AdSense revenue and optimize user experience through continuous testing.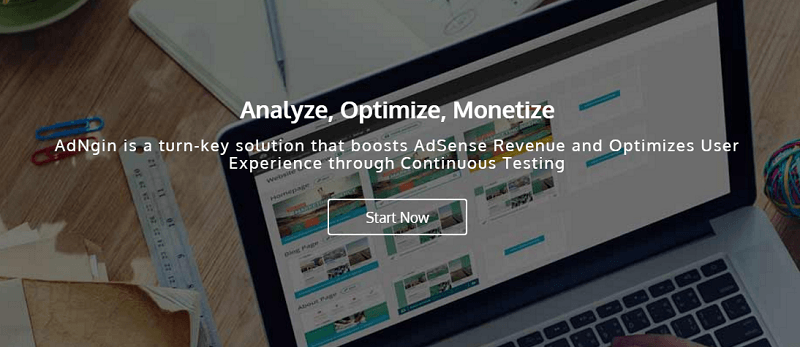 How to Get Started with AdNgin
To get started, you can visit this page to request a demo.
Just add your name, email, website URL and estimated daily page views: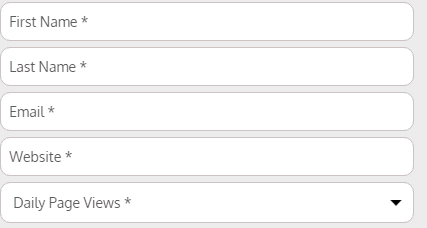 Once you get access to the dashboard, you can add a project and grab the script code to install on your site.
If you are running a WordPress blog, it's even easier, because you can download the AdNgin plugin, by visiting this link on WordPress directory:

Now you're ready to start testing and boosting your Adsense ads!
How to Use AdNgin
On your account, you'll notice the "dashboard" and the "experiments" tabs.
Visit the dashboard tab to check your analytics. This section is divided into 2 areas:
Earnings tab, showing what you earned with Adsense in that specific period, with indication of "page RPM" and "CTR"
Performance tab, with the number of optimized views, clicks and CTR
The experiments tab is where you can set up everything.
If you want to do it by yourself, you first need to define "pages", which are actually the subtype of pages within your website.
Now you want to create experiments for those pages, which are blocks of ad placements that you add within a live preview. The editor is quite simple to understand and you can choose a diverse type of ads.
You may also want to build different versions of each placement within your experiments. This way, you can evaluate what performs better: if a text or an image, for example.
Does this seem quite hard to understand?
Then the support team will be very happy to set up everything for you (this was my case).
My Experience with AdNgin
I tested AdNgin with one of my niche sites (monetized with Adsense), which unfortunately generated just a few dozen of page views per day.
After three weeks of testing, the results were really impressing!

CTR went up from 0.2% to 0.8%, which is an increase of 400% in a 3 week periods.
The experiments being ran on the site were:
On Desktop:
Sidebar ads rotated between 250*250 ad unit and a 160*600 ad unit
An Above the fold ad unit that rotated between 3 ads: 486*60, 336*280, 300*250
Below the fold unit: 300*250, 336*280
As mentioned, here were barely enough page views to assess this, but the 160*600 had a lift of 6% over the 250*250.
Surprisingly, the 486*60 had a lift of 12% over the other ad units in the group and the below the fold group didn't get any clicks so hard to assess.

On Mobile:
Above the fold box banner rotated between 250*250 and 300*250
Another below the fold ad group rotated between 160*600 and 300*250
Note: there weren't enough clicks on either.
Bottom line is that the experiments increased CTR by 400% compared to the same period of time before the experiment ran.
Pretty impressive, right?
Now think about this improvement on sites with big page views numbers!
AdNgin Features
AdNgin uses a particular and original algorithm to keep A/B testing AdSense ad units and therefore improve revenue.
The features listed:
Turn-Key Solution: AdNgin integrates with your Adsense account so all your Ad Units can be controlled and manipulated from within AdNgin.
Code-Free: AdNgin provides code-free deployment of new ad formats or ad units. drag and drop new ads at new page locations and customize the size, color and behavior.
Optimize a Single Page: AdNgin allows users to create a template for all pages OR optimize each page differently.
Exclude Pages: With AdNgin you can choose to exclude certain pages from receiving specific ads such as error pages.
Multi-Site: An account can have multiple sites in it so you can use AdNgin's unique algorithm to optimize multiple sites at the same time.
Mobile Optimization: AdNgin is optimized for mobile so mobile traffic can receive mobile optimized banners.
Privacy: AdNgin does not maintain or share user data with third-parties including Google.
Perpetual A/B Testing: AdNgin's proprietary Revenue Per Page (RPP) technology uses a Multi-Arm-Bandit algorithm to ceaselessly test various variables and implement and display the ultimate outcome for your visitors.
Customization: At AdNgin, we believe that every website is unique, and every website has a unique audience. With so much individuality, AdNgin accounts can customize their analysis to focus and display various performance metrics.
Support: Continuos support through the editor or via the website.
Pricing
The good news is AdNgin service is free for website up to 10,000 daily page views.
However, if you own properties generating more than that, you can book a demo and request a customized pricing.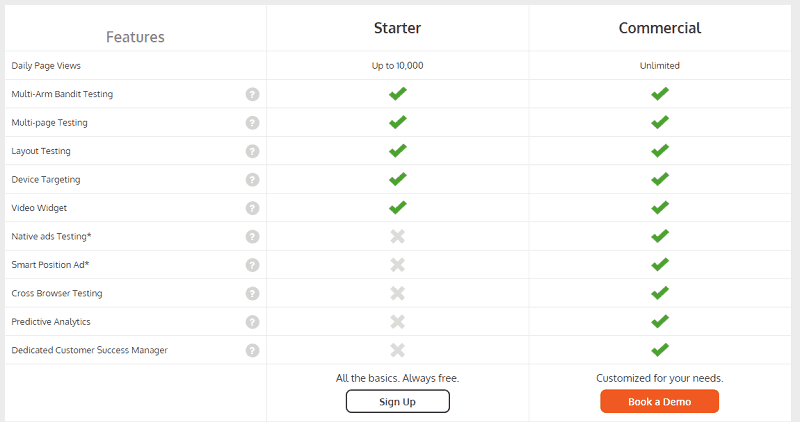 Final Words
As you can see, there is nothing to lose!
If you own websites that are monetized with Adsense, you need to give AdNgin service a try.
You'll be suprised of the improvement in earnings and CTR, after just a few weeks of experiments.
What do you htink?
Are you going to test it?
What's your experience with Adsense?
Are you earning enough?
Please share your thoughts in the comments below, thanks!