Recently, NoPassiveIncome has reached the astronomical figure of 10,000 comments.
Currently, the count is 10,018. This is something I never imagined possible when I started blogging.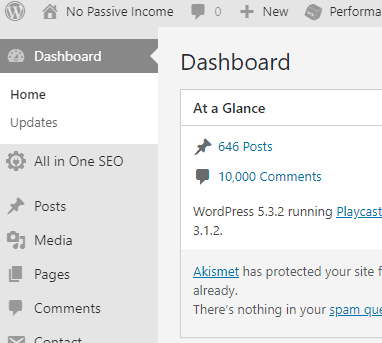 This blog is born 8 years ago, with this first post of Chris, the founder of NoPassiveIncome. Just one year later, in 2013, I received the property of this blog from him and started building audience and content.
I'm sharing these numbers to thank all NPI readers and commenters, with some tips that will hopefully help some other bloggers out there.
1. Many Comments Are Mine
A lot of the blog comments are mine, it seems obvious. A bit more than 3,000, at the moment.
Since the start of this website, I've done my best to reply to every single comment and, while I have recently fallen short, I have, for more than seven years now, done my best to engage with commenters of this site.
2. Commenting Is Different Than Before
Leaving comments and getting them accepted on blogs use to be easier, many years ago.
CommentLuv (as well as other plugins) made easier for bloggers and commenters to get a dofollow link and "steal" some juice from the website.
This is something that has changed, recently. Many blog owners have turned off the commenting feature on their site or they use more precaution, now, when accepting comments, in general.
3. Leverage the Power of Certain Comments
Have you ever found yourself in this situation, thinking about how much you learned from a particular comment, in relation to the actual blog post?
This is a fantastic thing to notice and, as a blog owner, it's great to learn from readers who are engaging and being so active in your niche.
Just have a look at this comment from my friend Atish Ranjan: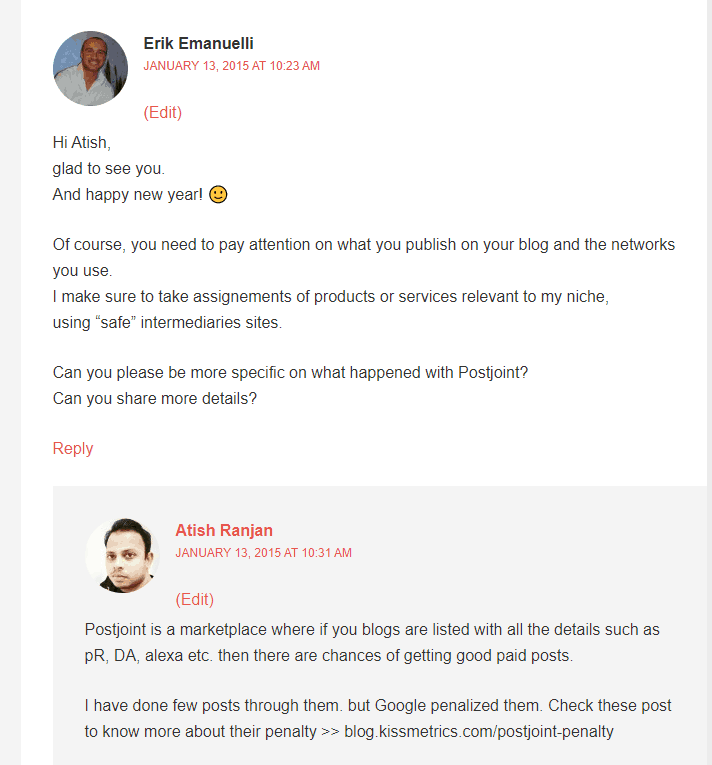 We talked about sponsored posts, in particular Postjoint, a platform that use to be popular to make money blogging, but then penalized by Google and went out of business.
4. Build Sincere Friendships
It's been my absolute pleasure over the years to have made some sincere friendships.
Just to mention a few:
5. Asking for Comments is Okay!
You will be surprised of how many comments you can get by simply asking for them!
Something like this will work:
What do you think?

Do you have any other resources to add?

Please share your knowledge and experience in the comments below, thanks!
6. Always Thank Your Readers
Remember to always thank your readers. They are the fuel of your blog.
Also, I would like to take the opportunity to make a special mention to (just as example):
Amar Kumar, with more than 50 comments
Sathish Arumugam, with more than 70 comments
Vishwajeet Kumar, with more than 40 comments
Phil Dews, with this very long comment
Christopher Jan, with more than 40 comments
Praveen Verma, with more than 50 comments
David Leonhardt, with more than 70 comments
Navin Rao, with 25 comments
Robin Khokhar, with 20 comments
Sylviane Nuccio, with 15 comments
Please forgive me, if I forgot to mention someone in particular, but within 10,000 comments, there are many names to mention!
Is Your Blog Getting Comments?
I'd like to ask you about how many comments you're getting from each blog post.
If you're having trouble getting people chatting on your site let me know below, so we can discuss!
Feel free to comment about others as well, if you have some tips.
Once again, thank you to everyone who has left a comment on NoPassiveIncome over the years. It means so much to me.