Earning a passive income from the internet is the dream of many people.
When I started blogging back in 2010, I was attracted too by the gleam of online gold, or else, the "easy money" with the web.
NoPassiveIncome blog was first created with this tagline:
"Take action, there's no passive income"
After 6 years of online experience, I can tell you that passive income exists.
Well, it actually depends on point of views.
To be able to generate revenue while you sleep, you need first to dedicate an amount of work, that is directly proportional to the size of your project.
An example?
The most common one is creating a website, adding content and then placing affiliate links.
Each time an user click on that link and then purchase a service or product, you gain a commission.
Can this be called passive income? I guess so.
When that happens, you actually earned money by doing nothing, for that specific action (but well, you did build the site and added content first).
The main peculiarity of blogs is post updates.
If you are running a blog and you are dedicated to work and achieve something with it, you know that you need to have a publishing plan.
You have to write content and periodically update your site with fresh articles.
But that requires a lot of time, correct?
I can tell you that I own, today, several niche sites and it's a pain to keeping them all updated with quality posts.
But what if there was a system that lets you have content automatically created from only a few minutes of setup?
Today, I want to talk about WPPumper, a plugin that lets actually achieve that.
How WPPumper Works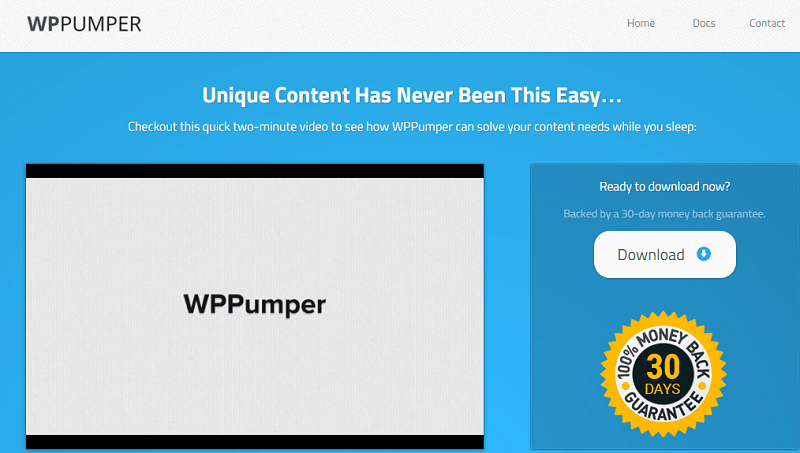 Creating a website from scratch is quite easy.
It just requires a few minutes, from purchasing the domain name to installing WordPress on your favorite hosting service.
But the real challenge starts with the content.
If you want to build an authority site, sure, you need to manually create the content. It starts from understanding your audience, providing solutions to problems, satisfying needs and delivering value.
But if you want to follow the niche site path, then WPPumper may be for you.
Of course, with the latest Google updates, it's not enough just to place content on your site. It has to be unique and human readable.
WPPumper plugin does exactly that: it delivers quality niche-relevant content pumped out to every site you own, without you to do anything else, other than setting it up.
Let's see how  you can do that.
WPPumper Plugin: Installation and Settings
In order to use WPPumper, you first need to have a WordAI.com or SpinRewriter.com account (they both have a free trial).
After you have installed the plugin (like any other WP one), click on "Manage Feeds" section of WPPumper plugin: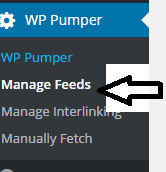 here you want to add your source of content.
Basically, the RSS feeds of a blog, based on your keywords.
(Note: WP Pumper supports the following feed formats: RSS 0.90 – RSS 2.0 and Atom 0.3 – Atom 1.0).
You can add more than one for each site you want to create.
Pick one that is updated regularly.
You can run the search, using this online free tool.
Once you have found the appropriate RSS feeds, click on "Add a Feed". These are the settings available: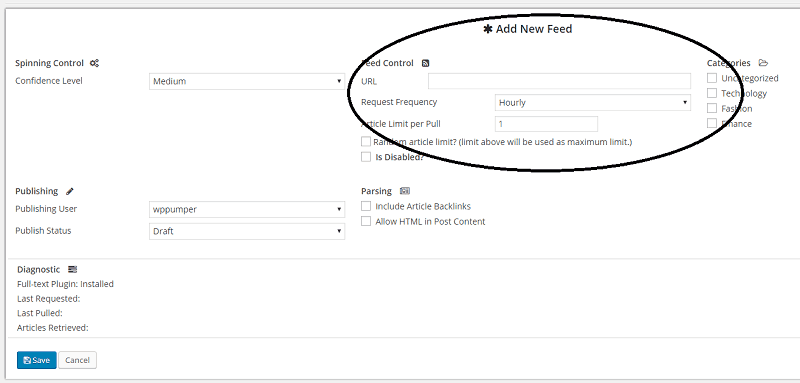 You may want to set the confidence level to "medium", under the "Spinning Control" option.
As indicated in the image above, under "Feed Control", you need to enter the URL of your chosen RSS feeds.
Here you can select the request frequency, based on your preferences:
hourly
every 6 or 12 hours
daily
2 days
weekly
Also, you want to set the article limit per pull, indicating the number.
Under "Publishing", enter your WP user, that will be the author of the content published and select if you want to save the articles pulled as drafts or to make them live right away.
Finally, before saving your settings, choose "Allow HTML in Post Content", under the "Parsing" feature.
That's all.
You are reay to go.
Note: aside from text, also images will be imported on your site.
Manage Interlinking
This is a relatively new feature that you can find in WPPumper plugin menu.
With this option, you can automatically interlink together the pages of your site.
Just play a bit with the following settings:

Basically, you need to set a keyword, that will be automatically searched for in all future posts.
If found, it will be replaced with a link to the URL you have indicated, up to a maximum frequency you may also want to specify.
This is interesting not just for internal linking, but also for monetizing your website with affiliate programs.
Just add a keyword and connect it with your affiliate link.
TIP: you can use WP plugins like "Pretty Link" (which comes free in the Lite version) to make those affiliate links more beautiful – something like this:
http://nopassiveincome.com/HostGator
to promote your favorite hosting service, for example.
Note: there's an option in WPPumper menu to import the interlinking settings from CSV.
Manually Fetch Content
The last feature of the plugin menu is to manually import the content from a feed: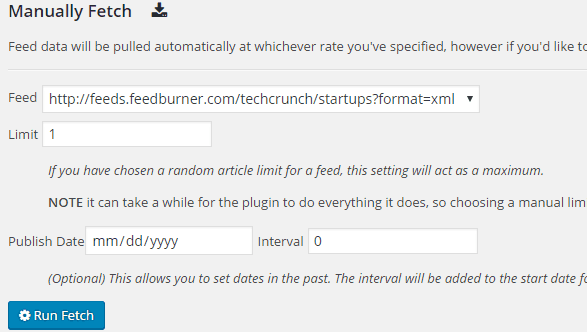 Simply select a feed from the ones you already added before and set a limit of articles to fetch.
Enter a publish date and you're done.
Note: it can take a while for the plugin to do everything it does, so choosing a manual limit of more than a few is not recommended.
A Video that Explains How WPPumper Works
If you are looking for more information about WPPumper, you can take a look at this video:
And at this page, where you can find the documentation.
Price for this plugin is $67.00, one time payment.
Final Words
This is something quite different from the traditional way to do blogging that most are accustomed to.
If you are ready for new projects and want to try to make money on auto-pilot using Adsense or affiliate programs, then WPPumper is for you:
What do you think?
Have you ever heard of WPPumper?
Are you going to test it?
Please share your views in the comments below, thanks!