Since three years, Wasp Barcode is gathering information among small businesses owners and executive leaders in different markets, creating their State of Small Business Report.
You may want to check the results of this survey for 2017, as it delivers an overall understanding of how small and medium-sized businesses are doing, together with their perspective and forecasts for this economic year.
Here are some of the most important points in this report.
Views on Government Influence
An outstanding 80% of small businesses interviewed think that President Trump's election will positively effect on their success (just a 9% predict an extremely negative outcome).
Some other key findings:
69% of SMBs anticipate revenue growth in 2017
50% SMBs think government does not do enough to support small business
14% businesses (size 5-10 employees) vs. 38% businesses (size 101-499 employees) think the government does enough for SMB
Views on Growth and Economy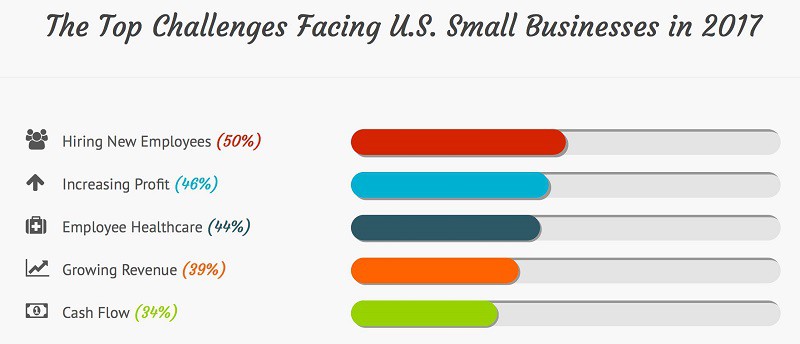 The top three challenges reported by small businesses are the following:
Hiring new employees (50%)
Increasing profits (46%)
Employee healthcare (44%)
It follows the growing revenue (39%) and the cash flow (34%).
42% of companies surveyed are optimistic about the future of the economy, while 29% think they won't change.
An interesting finding is that businesses with larger workforces are more optimistic about the economy.
A stunning 69% of the companies interviewed expect a revenue growth between 1 and 5%.
Strategies to Improve Revenue Growth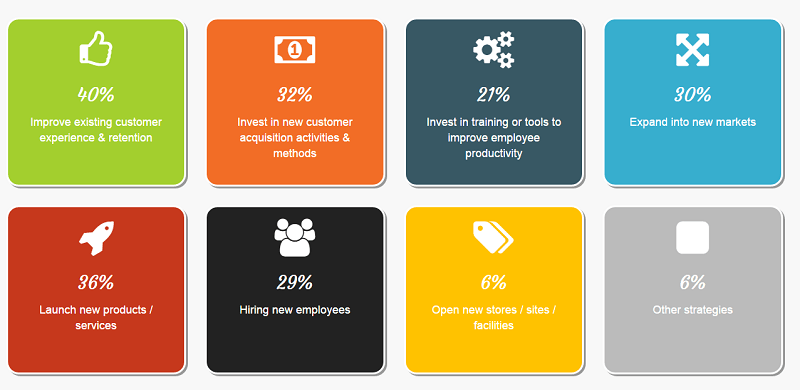 Here are some of the strategies companies are using to improve their revenue:
40% says they will improve existing customer experience & retention
21% are going to invest in training or tools to improve employee productivity
36% will launch new products or services
30% are going to expand into new markets.
Also, more than half (52%) of SMBs surveyed are planning to hire in 2017.
Views on Marketing
54% of small businesses invest 4% or more of their revenue in marketing, while roughly 1 in 10 does not invest.
And here are the top 4 marketing tools used by companies interviewed:
website (56%)
email (50%)
social media (48%)
word of mouth (48%)
Some interesting facts about digital marketing include:
use of LinkedIn and Instagram have increased. Twitter, YouTube, Pinterest and Facebook have decreased
37% of small businesses use designated business social media accounts to reach their audience
33% of small businesses use social media to gain likes and fans
54% of small businesses outsource graphic design and website design
14% of small businesses outsource their marketing, public relations and advertising
Only 77% of small businesses use social media to promote and grow their business, while 23% of small businesses do not use social media at all (a 4% increase from 2016).
Such a shame, because social media can be a powerful marketing tool!
Small Business is Booming!
Small businesses are more confident that they have been in years.
Let's break down how SMBs leaders plan to grow their businesses in 2017 and where they plan to invest their hard earned cash.
Check the infographic below:

More information can be found at the Wasp Barcode official blog post.
So what do you think?
Are you confident that 2017 will be a great year for the economy?
What are you planning to do to grow your business?
Please share your views in the comments below, thanks!