There are many online networks where you can find guest posts for free, but not everyone has an intuitive and fast interface, authors of good quality content and in addition, the possibility of earning some dollars online.
I have found the network that has all these benefits : PostJoint.
PostJoint helps connecting webmasters and businesses, bloggers with advertisers. I have tested it during the last weeks and even made some easy dollars : let's see benefits and main features.
For Bloggers : Get New Content Easily
You just need to sign up and select up to 10 categories for your blog. Be sure to check the correct topics for your blog, as then PostJoint will show you the opportunities available that fit with your site selected subjects.
You can check the article snippet to review the quality of the post and author (you may want to see also the number and details of feedback), and if it sounds good to you, then you can make an offer – check the advertiser content policy here.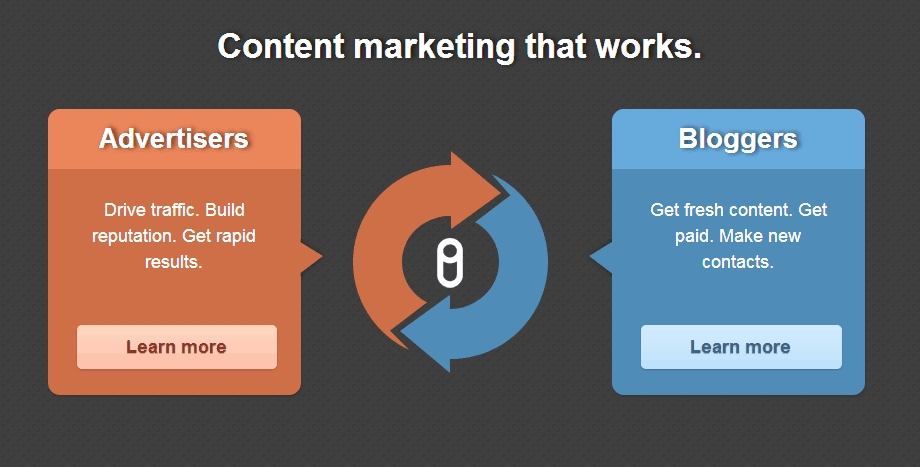 Your Are Safe from SPAM
Consider that you are the one who need to make an offer and your blog won't be added in a database available to any advertiser, so you will not be hammered by the traditional link hunter.
You easily understand how this is different from many other guest blogging platform, because PostJoint is not a blog network!
You will get just the right content for you and for your website, without doing a daily spam filtering job.
How to Make an Offer and Earn Some Cash
Add your blog title, URL and description, the country focus, your Twitter ID and your categories.
After it's approved (check the blog application policy), you are able to browse opportunities for free and paid content. See the screenshot below – click to enlarge :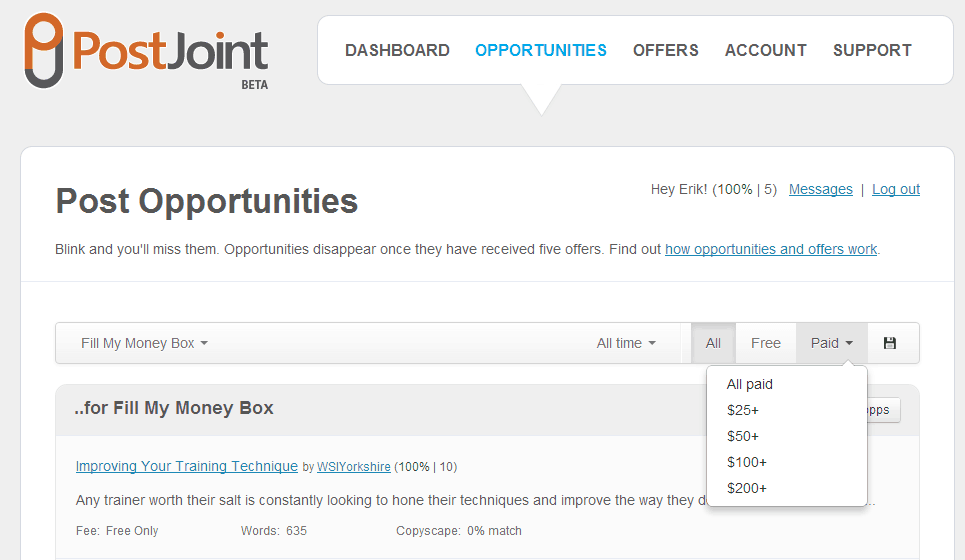 There are many authors and advertisers who accept just free offers, but if you apply the filter, you'll find also paid ones.
Personally I have used PostJoint just to get content for one of my new blogs, FillMyMoneyBox, and when I had to make an offer, I did it for just $5 (I was not looking to make huge money, I needed some good content).
I got 5 posts accepted and published until now, see the screenshot of my account today: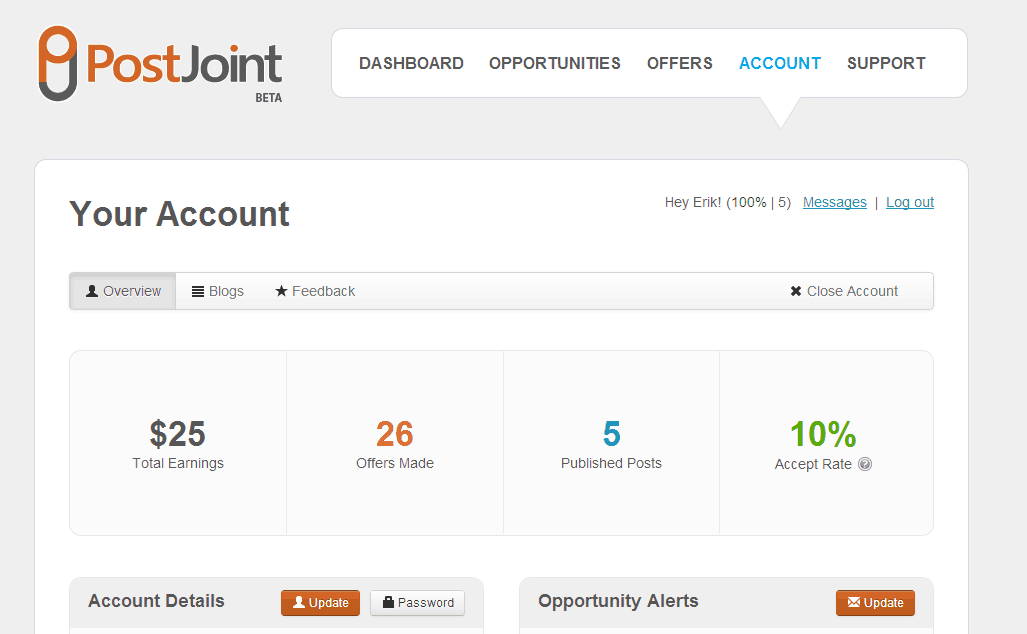 But here are many advertisers who accept offers up to 25$ or $50, or even without limits.
And I think that since now on, I can definitely use PostJoint to look for advertisers on my other blogs, and then increase my offer limit (hence make some good money).
If you are wondering how much is worth an article on your blog, just check this table which show you indicatively the value of the suggested fee, in relation to the monthly unique visitors.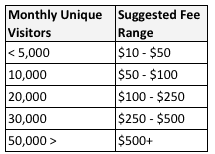 You will get paid directly via PayPal from the advertiser account, once you report that you have published his post (and tweeted, if you placed the offer this way).
Benefits for Advertisers
For businesses the benefits are many.
First of all you do not need to look for a blog to have your content published, but you just need to submit your articles to PostJoint. You will be found by bloggers depending on the topics.
Your content will be published in niche blogs, as the same webmaster will look for your particular articles.
You can choose between the offers you receive and select the one you like the most, for example based on the active community on the site or on the number of Twitter followers.
You do not need to reformat your articles to fit the blog that will accept your content. The blogger himself will take the post from PostJoint and do what is needed.
Feedback System
Both for advertisers or bloggers, there is a feedback system useful to check the status of an user.
So once you publish an article (and if it is the case, get paid), you will get rated from the author and you can leave your feedback yourself, in order to keep the network safe from bad users or SPAM.
See the screenshot below of my account status – click to enlarge :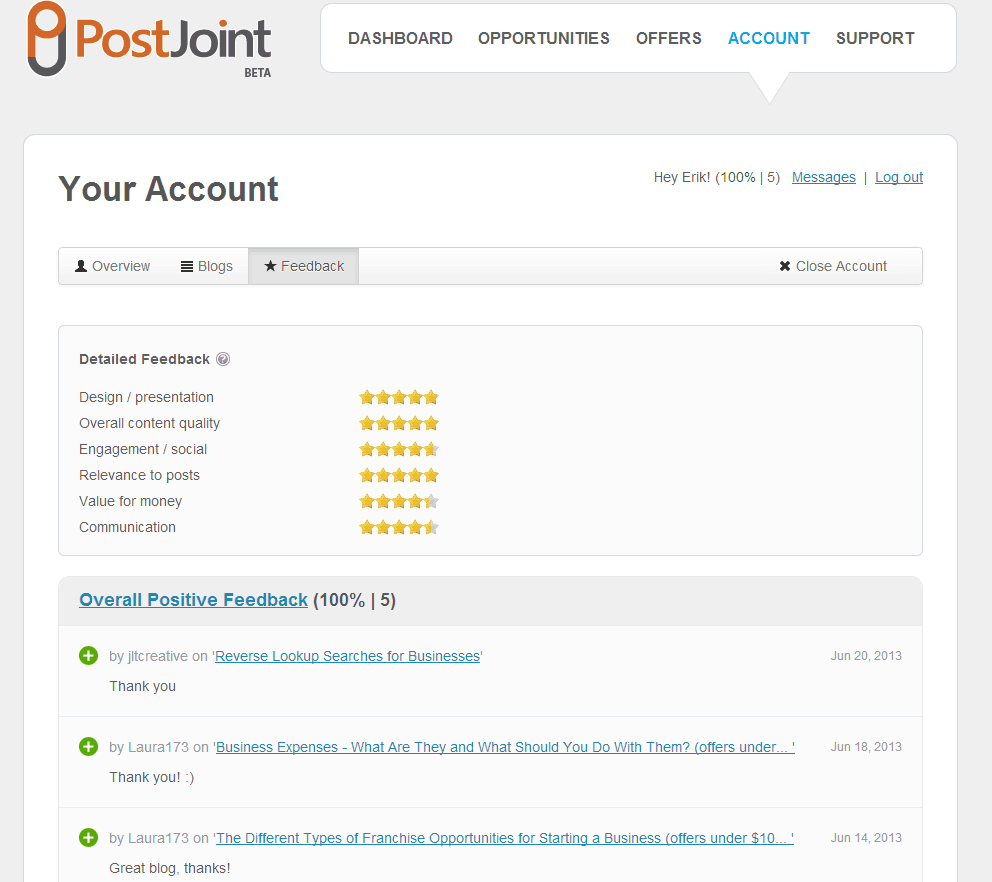 Make your Test for Free
If you want to get your content published on niche websites or you just need to find good content for your blog (and make some money online), you can try PostJoint for free.
It's still in beta : you can sign up as business or blogger.
Do you have experience with PostJoint or any other different guest blogging platform?
If so, please share your thoughts via comments below, thanks!
UPDATE APRIL 20TH, 2014
Mentioning PostJoint's blog:
Google has knocked us off their engine too and just like MBG we received a nonsensical warning about "unnatural inbound links".
So if you want to use it (and if you haven't received any penalties yet), proceed with caution.