Social Networking, out of 10 at least 9 people keep their fingers busy commenting on others status or tweeting tit bits of their life. You will be wrong to think that only teens are caught in the fever of social networking; people like celebrities, executives, entrepreneurs and even intellectual geeks like to use their Facebook or Twitter Profiles.
With a bang, back in 2010, a new social site named Pinterest announced their presence and it is now the third most, the active social site in America. Expansion of markets along the global map, and social media is the perfect guide for getting that new edge.
Twitter is no doubt a perfect bride for those companies who want to marry quality business deals. However, with approach of Pinterest, you will see that Twitter is getting a tough compete.
Let us take a journey around both the sites.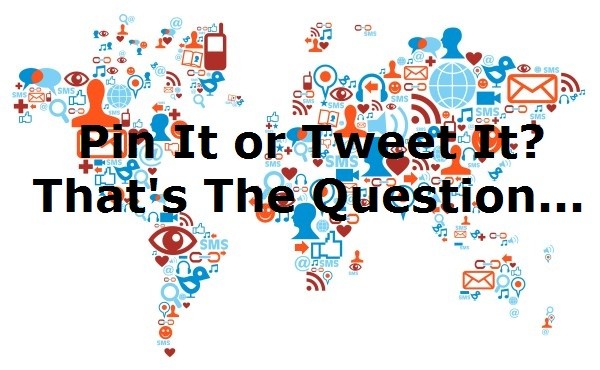 Just Pin It!
A new site for social networking and sharing the hot and favorite ideas, just pinning them on virtual boards.
Better let me give an example, you love baking, so you create a Cookie Making Board. You post pictures of your home-made cookies, recipes that you may have found online, videos of how to prepare a perfect batter, notes on flavors and choices of toppings and even question from ever-growing users, regarding the presence or lack of dough. If you share the board openly then your audience will quickly grab it and will add more details, as well as preparing a veritable encyclopedic database of cookies-related goodness.
Pinterest is visually appealing and versatile. I heard of online fashion schools to share their designs encouraging students to share and pin what interests them. I also have made delicious sandwiches learning the recipes straight from the site. It is a great way to share what you love or find out those lost and memorable sweet desires.
You may be interested in reading: How to Use Pinterest to Drive Traffic to Your Site
Is Anybody Tweeting?
Twitter just a 140-character info-burst that share your immediate thoughts in small phrase. You may be a Facebook animal and love to post long status on those things that interest you a lot. However, say for example, you stood in a queue for buying your favorite gadget; well you do not post about your strenuous evening. However, this feed is the perfect fodder for Twitter.
Well different social network, satisfies different personalities and Twitter is that site which attracts people with minds on the go. It is instant and it is used to coordinate revolutions, share links and at the same time express irrelevant yet clever interpretation of daily life.
You may be interested in reading: How to Use Twitter
Battle Begins: Twitter Vs Pinterest
Marketing Via Twitter
Marketing Via Pinterest

Tweeters gears post to an audience within a short span. You just have 140 characters to capture the attention of your customers. Just throw w link or tag someone and that number goes down and you cannot hold forth. It needs to be precise and enticing.

If you go on tweeting then, there are chances that your audience is going to miss the opportunity to miss the important ones, so you have to gone on tweeting the same post several times.

Twitter gives the option of retweet, reply and message, and this allows you to engage your customers directly so that they can respond quickly.

Being visual is the first thing that one will get at Pinterest and it is really a delight to your eyes. Their content is plain, beautiful and simple.


Just like other social network, this is not one-way posting. But too much of stuffs like your ads won't be shared or pinned by your audience. So keep it simple, post those that your company has done.

Nurture your creativity, and for this their visual format works brilliantly, do create a board for your customers to share what they have done with your products, give pictures of happy customers along with the review.
Must Read: How to Use Pinterest in Your Marketing Strategy
Who Wins The Battle?
Pinterest is our winner, as it drives more traffic than Twitter and brings success to companies. Pinterest follows a successful market strategy and thus proves itself as the great marketing tool.