Guest Crew is a new, but already pretty popular platform where to meet quality websites and excellent guest posts together.
It was created in 2013 by Uttoran Sen, an experienced internet marketer who has been featured on popular sites like John Chow, Problogger, Kikolani and Copyblogger.
As a guest blogger, you may use the platform to find publishers for your articles.
Guest Crew helps you connect with popular blogs in your market, which means new audience and new opportunities.
If you are a blog owner, you surely understand the importance of publishing fresh content on your blog and Guest Crew is the right place to find great articles to post on your site.
Pay attention – if you don't know it yet – on Guest Crew the money that you receive is named as "Coins" :
where 1 coin = $1 USD.
The goal is pretty simple here : the more coins you collect, the more money you can withdraw.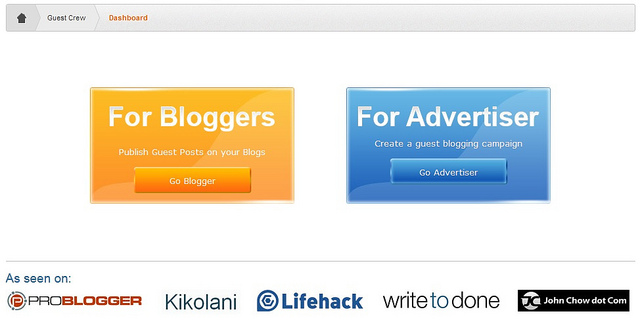 New Social Features on Guest Crew
If you are already a member (if not, you can register here), you are familiar with Guest Crew dashboard.
Here you can add your social profiles : Twitter and Google Plus.
Uttoran Sen has announced that will finish soon to develop the app for Facebook, so for now you can connect your Twitter and Google+ account.
See a detail of your dashboard where you want to add your social profiles: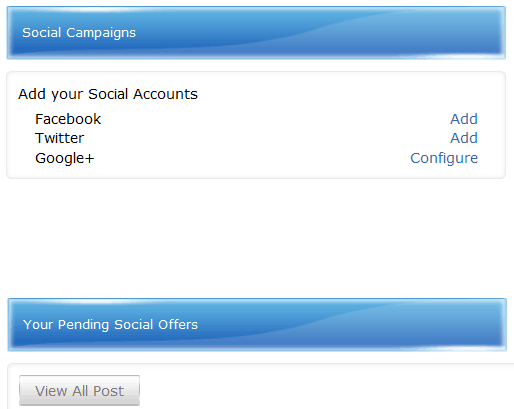 After you have connected your accounts, you can configure them, setting how many credits you want to receive per post.
A suggested amount could go from 0 to 5, but some popular and influential marketers could easily ask much more.
After everything is set up, you can check your social offers here, where you want to approve or decline the available posts.
Starting Your First Social Campaign
As an advertiser, this is your dashboard on Guest Crew :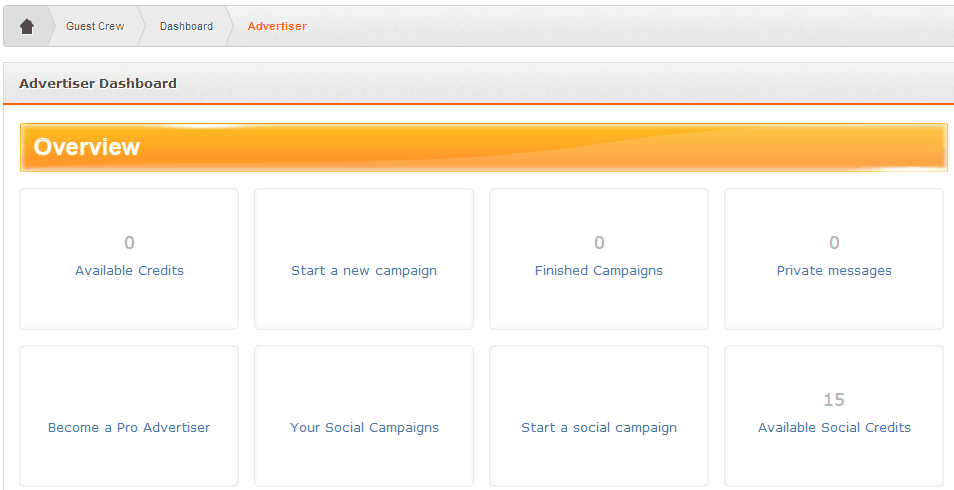 You can start a social campaign, in order to promote Facebook post and page likes, post and link shares, or follow. Or else Twitter Status updates and retweets, or Google Share.
An example of social media campaign could be a promotion of my Klinkk Google+ page latest post
Qasim of Msocialh won the first prize of Klinkk contest – do you want some cash too?
see a screenshot :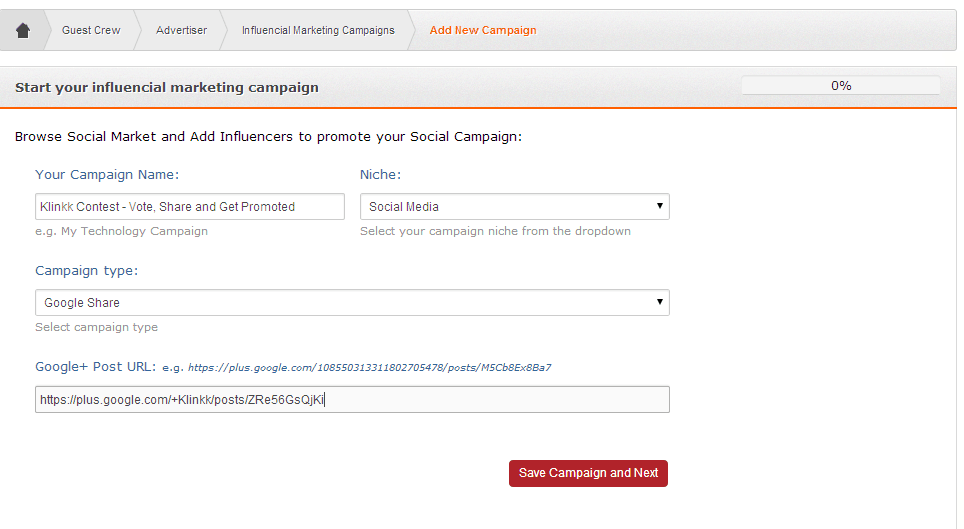 In the proper fields, you need to add your "campaign name", selecting your "niche", choosing a "campaign type" and then adding the link of your post.
After this, you simply want to submit your campaign for the review.
Remember that the credits you collect from the social offers you accept cannot be withdrawn for real money, but just used for social campaign.
In the above mentioned case, I had 15 available social credits, for having accepted and posted a social offer.
I can then use these credits to start a social campaign, like explained.
Since Guest Crew keeps credits under control, so credits are much more valuable here.
You should enter an amount from 0 to 5 credits for social actions like ReTweets, Google Plus, Facebook likes and the other social actions.
As advertiser, you can check the status of your existing social campaign here.
Top Social Influences of Guest Crew
On Guest Crew, this is where the Top Social Influencers are featured: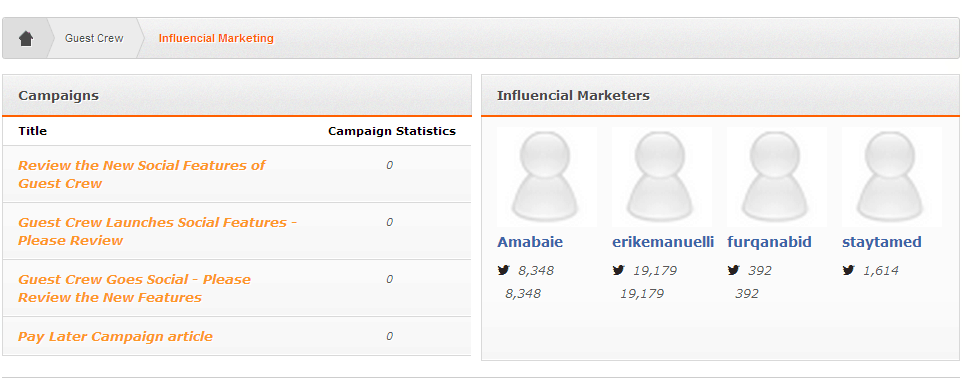 In the screenshot, you can see the influential marketers displayed here.
You can recognize my name, with my Twitter profile of +19k followers.
Also, be sure to follow me on Twitter here!
Conclusion
With social signals becoming more and more important in the internet marketing world, I find the new features of Guest Crew a great add.
Be sure to check them out, and enjoy this new opportunity to promote your posts.
What do you think?
Are you already a registered user of Guest Crew?
Are you using it with great benefits?
Please share your experience in the comments below, thanks!