Empire Avenue is a social game, where you can buy shares investing on people, whose values will depend and change based on their interaction with other users.
Officially existing since more than 3 years, it was founded on February 2010, available in a closed beta and launched for everyone on July 2010.
Empire Avenue is social network that pushes you to be active and to interact with other users if you want to see grow your value. In fact, your "share price" =your ranking) increases only if:
you can sell your shares (and to buy good actions of others);
people invest on you;
you are active on the most famous social networks connected.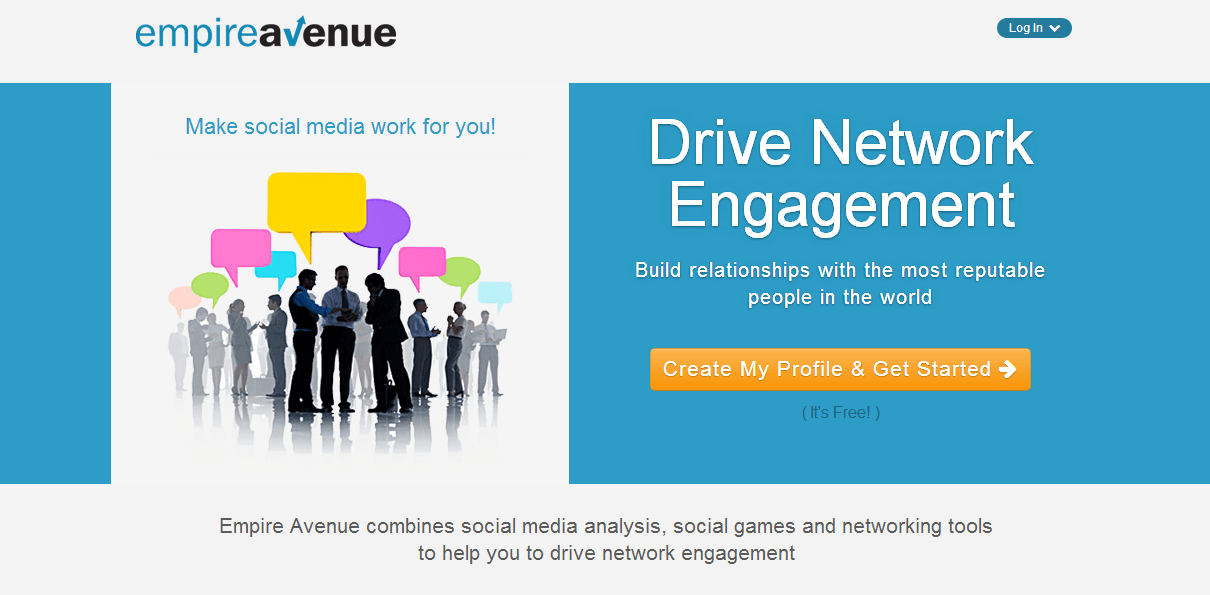 How Empire Avenue Works
Warning: when talking about buying and selling shares, we do not refer about real money. Inside this social game the currency is called Empire Avenue "Eaves", and it is a virtual currency: you do not have to spend any money to "play" (well, unless you want to, because you run out of eaves and you desire to purchase more – check the shop here), you just need to socialize and interact to earn eaves.
After you sign up, you set up your account connecting different social media networks like your profile of Twitter, Facebook, Flickr, YouTube, LinkedIn, Instagram, Google+, and also the feed of your blogs.
Any of the activities connected with your profile will be adequately compensated, also with special badges.
In Empire Avenue, in fact, there is extensive use of gamification mechanics : for example, with the increase of the mentions on Twitter or friends on Facebook, you will receive a different badge and a handful of Eaves, which you may use to buy new shares on users or start new missions.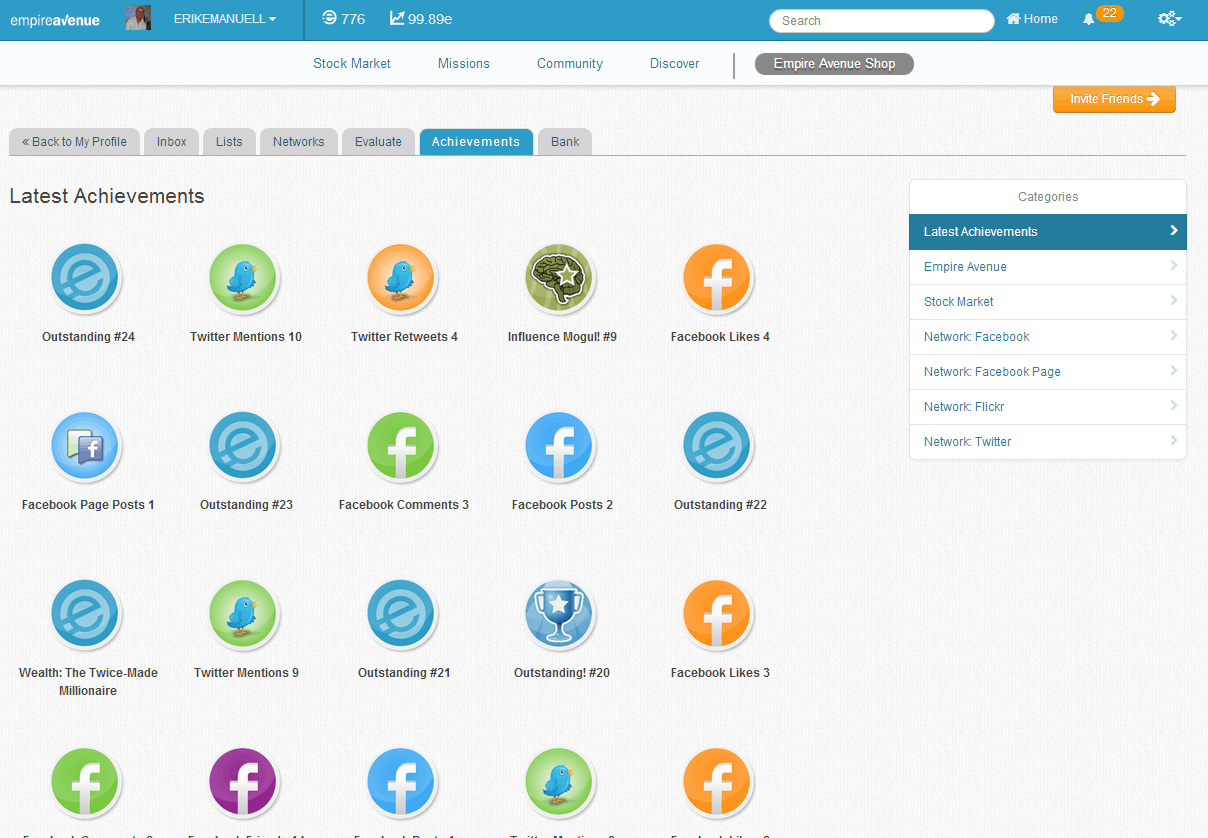 How to Spend Your Eaves Wisely
Always keep in mind that Empire Avenue is just a social game, and it's easy to get addicted to it.
After this reminder, let's see how you can invest your eaves wisely.
First of all you want to interact with other users (this is the secret of your Empire Avenue success), so you need to understand who you want to invest your eaves in.
You can check the leaders in your network or you can search for people you already know outside Empire Avenue.
May be you just want to let the system suggests you the people you might invest in (I guess it's based on a fast share price growth).
See the screenshot below :

Then you can spend your eaves starting a mission and rewarding people suggesting what you want them to do.
For example, you can create a mission inviting people to like your Facebook page (let's say, for 5000 eaves for example) or rewarding users to ReTweet some of your content (for 3000 eaves, for instance).
Basically, you can increase your social media audience with different networks "paying" for it with eaves.
Of course, you can complete the missions of other users, in order to increase your eaves.
Key Benefits of Empire Avenue
There are some clear benefits you can receive using Empire Avenue :
– you can get in touch with experts and authoritative people in your field, in a more simple and direct way than using Twitter or Facebook;
– you may earn visibility for yourself, your product or your website, doing marketing and promotion with new partners, customers and potential fans;
– reward and stimulate yourself psychologically for your social media activities outside Empire Avenue;
– perceive other techniques of social media marketing, as well as new tools;
– learn from those who are "network leaders" in Empire Avenue;
– enjoy the power to help others to succeed, in order to have success for yourself;
– interact with the team of social media marketing for international companies and look at their approaches and strategies;
– learn how the stock market and stock trading works – this is a funny consideration (but may be real, sometimes). 😉
Conclusion
Honestly, Empire Avenue is not easy to explain in a few words, but at some days if you have a little "free time", I invite you to try it and give me your feedback.
Maybe you will find there are some nice alternative to the traditional and more popular Facebook or Twitter.
Just pay attention to not get addicted to Empire Avenue!