Writing and science are two completely different things: left brain and right brain, black and white, Jedi and Sith.
When you think of the writer, you probably imagine a free spirit sitting at a desk with a half empty cup of coffee writing his heart out in the late hours of the night.
Now, when you think of the scientist, you probably see her in a big team working around some fancy machinery and concocting things in flasks.
Woah, two different universes.
Except not really. Behind the scenes, the process that led the writer to writing and the scientist to experimenting is pretty much identical; two variations of the same idea.
The scientific method is the literary method and vice versa. Pretty cool, right?
Despite the whole creative, impulsive perception of writing, you can't produce effective content just by sitting down with pen and paper or computer and going for it.
You actually have to plan things out step by step, just like with an experiment. I know, it sounds kind of bothersome, but it makes the difference between good writing and outstanding writing.
So what's this literary process?
It'll seem familiar if you remember your 5th grade science class.
1. Observation
Something you read or hear or observe catches your attention and sparks a desire to produce your own input on the matter.
It could be something in the news or an idea in a blog post or a movie or a personal experience or anything, really. Mental stimuli come in all forms.
Knowledge and education is power. That's why collecting knowledge on a topic is crucial.
2. Research
Now that you know what your subject is, you're going to need to brush up on some facts so that you're armed with appropriate information.
If you were inspired by a movie, you might want to check out some critic reviews and see what people are saying about it.
If it's something you learned in a blog post, you might want to find out what other bloggers are saying on the subject.You definitely can't shun this step.
Readers like facts because facts are concrete information that corroborate your opinion and make you an authority.
Always do your research.
3. Hypothesis
This is a little different from the scientific definition since you're not predicting something per se.
In this step, rather, your setting your goals for your writing by asking yourself these questions:
> What's the point of your writing?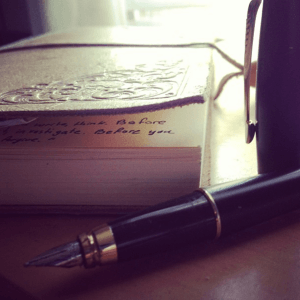 > What point of view are you establishing?
> Most importantly, what do you want your reader to do/feel/think?
Just like proving the hypothesis is the point of a scientific experiment, your goals are the point of your work of writing. Yay connections!
Don't rush into it. Sit, think, and plan things out. Be pensive.
4. Planning
So far, you know what you want to write about, but you're not sure how exactly you're going to do it. You lack an organized plan.
Sure, you could start writing what comes to mind, but you'll likely end up producing a very convoluted, disorganized piece of work.
That's why planning is crucial.
I can't remember a time when my teachers in school didn't make me outline my thoughts before writing them down. Microsoft Word and Apple's Pages have tools for creating those nifty outlines with the roman numerals and numbers; though, you can go rogue and come up with your own outline style.
The important thing is that you actually do it.
Bonus Tip #1
I learned an interesting tip from my 12th grade history teacher: always reference your point throughout your work.
For example, my teacher asked us to write an essay on why American Reconstruction failed. In each paragraph of my essay, I'd lay out some facts, do some comparisons, and write a brief sentence or two at the end that explained how the facts support the main idea (point) of the essay.
It's as simple as that and it prevents your leader from getting lost along the way.
Bonus Tip #2
If you want your reader to take some sort of action (like clicking a link or commenting), then you really need to plan your words of influence.
I learned from one of David Wood's articles that the way you write something and how often you write does matter!
For example, if you want your readers to click on something in a blog post, then you have to strategically place the link three times throughout the post in a way that makes sense.
Apparently it takes us three times of being told to do something before we do it. Man, the human mind is a mystery!
David's article is marketing focused, but the information is definitely universal, so check it out here if it serves your goals:
Adverbial Clauses – How To Use Indirect Suggestion Patterns To Create More Influence and Sales…
Bonus Tip #3
Formal writing, like articles takes a good deal of concentration because you want to convey your authority on the subject.
Here's a really valuable post right here from NoPassiveIncome that shows you how to write an effective, professional article if that's your wish:
How to Write an Article – Writing Tips from a Professional Writer
Write. Woooooo! You're finally ready to write!
All you need is your trusty outline by your side along with these helpful yet optional resources:
> A dictionary. We all forget that one, perfect word that we desperately need.
> A thesaurus. Redundancy and repetition are bland, but a thesaurus can remedy those ailments.
> Grammar resources. My high school teachers revered the Perdue OWL, and it certainly served me well whenever I felt unsure about my grammar.
Revisions Revisions Revisions
Your first draft will have mistakes. So will your second and third and fourth draft. It's inevitable.
You need to revise multiple times before your final product perfectly fulfills the goals you set in step 3. Einstein once said "Make everything as simple as possible, but not simpler."
This principle is the cornerstone of writing that really speaks to its readers. You want to be clear and concise so that your readers can sail through your words without stumbling or scratching their heads.
As you peruse each sentence in your text, ask yourself this: "Are there any words here that don't contribute to the meaning?" If your answer is yes, get those words out of there.
There you have it. A method you thought you'd never remember after high school (unless you're a scientist) proved to be just as useful for producing awesome, effective writing.
Now the next step: getting eyes on your literary creations. If you put your content out there on the web, check out this article from NoPassiveIncome that tells you how to increase traffic to your content:
How to Increase Traffic to Your Website : 11 New and Old Effective Tips
Over to you, now. Did you find this post helpful? Do you have any tips or tricks of your own that you'd care to share? I would absolutely appreciate it if you shared your thoughts in a comment below.
May the force be with you,
Sith Lord Kalina (Kalina Slavkova)
About Kalina Slavkova