Every blogger knows how valuable is the amount of traffic to his website.
And how hard is to get organic visits!
You need to write search engines friendly content, create a lot of backlinks (or better, get natural backlinks) and work a lot on on-page and off-page optimization.
Even traffic from social media requires its part of the efforts.
You need to be active in your social networks account, participate actively and engage in conversation.
Basically, more efforts means better results in term of online marketing and traffic.
I always love to try out new tools.
Recently, I came to know about a great project of a dear friend, Enstine Muki (I am sure you already know him, but this is his popular blog).
He created BroadedNet, an awesome platform you can use to get traffic without SEO or social media.
How BroadedNet Works
BroadedNet is a free marketing tool you can use to promote your content, among a group (becoming larger every day) of bloggers.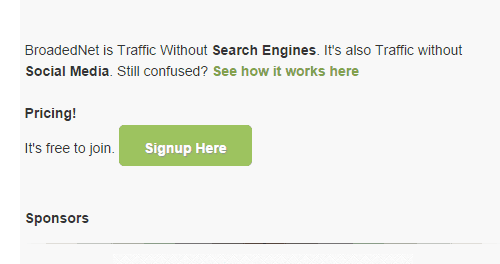 After you sign up, you get 100 credits bonus.
You can then submit your blog posts, under "create a new campaign" menu.
Simply enter your article title and URL, selecting the most appropriate category, and choosing how many credits you will give users per their clicks on your content.
You will find out that, even if it is in beta, BroadedNet has already a lot of members, among the blogpshere.
So your 100 credits will probably finish soon.
You have the option to purchase credits, or gaining them installing the BroadedNet widget on your blog.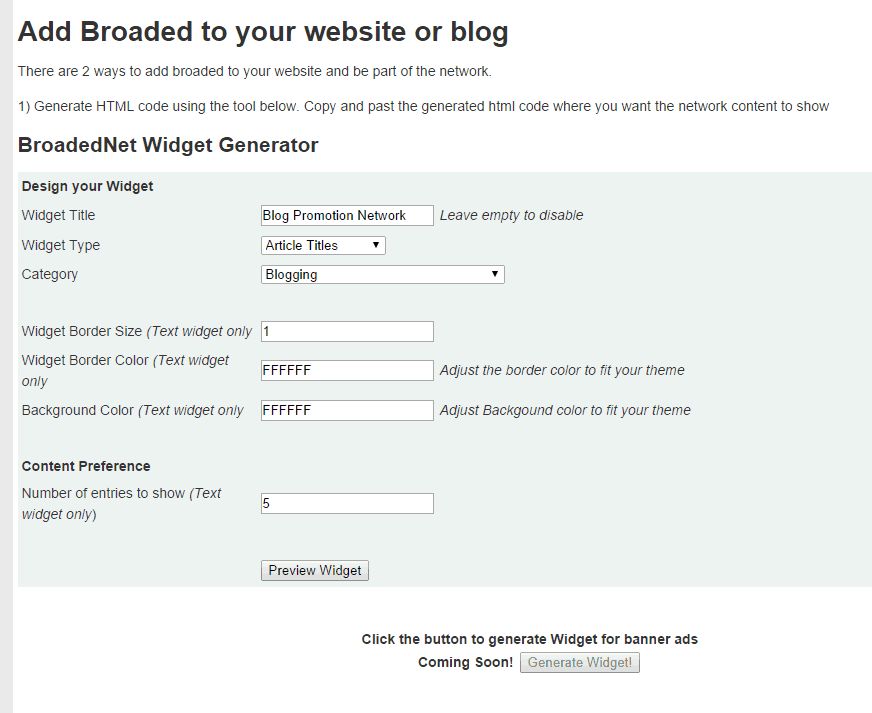 As you can see in the screenshot above, you can use the code generator to create the HTML code to install on your website.
You may want to tweak some settings like the widget title, type or category, and select the border size or colors.
If you use WordPress, then it would be easy to get the BroadedNet widget : just grab the plugin (get it here)!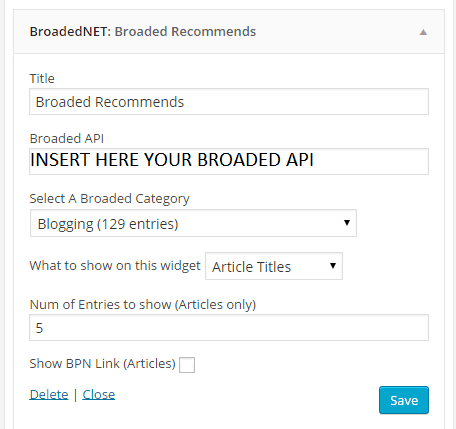 As you can see in the screenshot above, you may want to personalize your widget, giving a title, selecting a BroadedNet category and entering the number of articles to show.
You can also decide to display content as the article titles on the widget, or banners of different sizes.
Mandatory is entering your "Broaded API", which is unique for every user.
Once you have installed it, you'll start showing the content of the bloggers within the BroadedNet community.
Don't worry about SEO, as the articles shown include a nofollow tag.
From the clicks your widget will generate, you will earn credits, which you can spend to create new campaigns at your BroadedNet account.
You can choose to submit your blog posts, or even decide to enter your banner details, in order to get a great exposure for your brand or product!
Attention : Do not click on your own widget articles, or you will be banned. Just natural clicks from your blog visitors should be made.
Does BroadedNet Really Work?
As per my experience so far, yes!
It really brings traffic!
Take a look at the screenshot below.
It shows my campaign at the moment.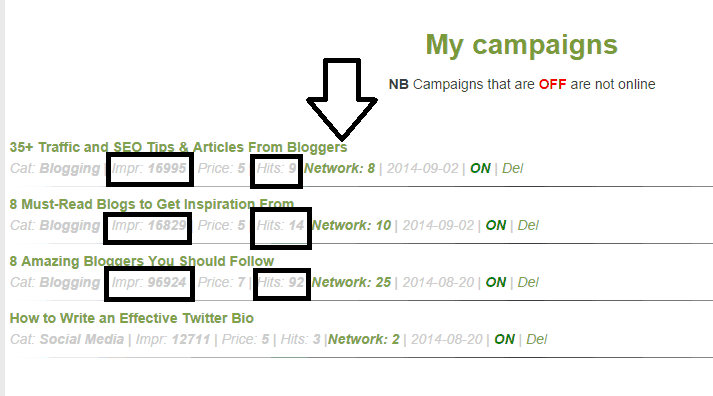 You can see the impressions generated for each article submitted and the hits received.
Clicking on "network" (as indicated in the image), will show you from which blog you got the visits.
This is also a great way to increase your connections, by visiting these websites, as they are within your niche.
Conclusion
The project has been launched recently (it's in beta right now), but as mentioned, it already counts a lot of members.
Just be sure to jump on the train and register now, as BroadedNet is a great way to get easy, fast and safe traffic!
Wht do you think?
Are you already a member?
Please share your thoughts in the comments below, thanks!